Have you ever been to Sicily? Sicily is one of the twenty regions that make up the Italian Republic, besides being one of the biggest islands of Europe. It's an island full of history, white sand beaches, the best food, delicious wines, hiking routes and volcanoes. The historical capital Palermo has many cultural heritage to offer but also the towns such as Taormina, Syracuse or Cefalu have hidden gems that you should discover. The best way to explore the island? Rent a car and stay in one of these 8 stunning houses in Sicily to easily move around the island!
Discover our 8 most beautiful houses in Sicily
You might already have been looking around for a while which destination you are going to visit next. Well, we will tell you, Sicily will definitely be your next holiday destination after seeing these 8 amazing houses in Sicily!
The place where you'll have the best breakfasts
This seafront house is located in the east of Sicily, in a small fishing village named Santa Maria la Scala. Why you'll have the best breakfasts here during your holidays? This house has a huge terrace with an amazing view of the sea and Italian coast, enjoy your morning coffee while listening to the sound of the waves…
This house can accommodate up to 6 people, has 3 bedrooms with all en-suite bathrooms. The sitting room, living room and kitchen open onto the terrace. It is decorated in a modern and retro style, recently renovated. If you would like to visit the nearest sandy beach, make sure to rent a car because it is 15 kilometres away.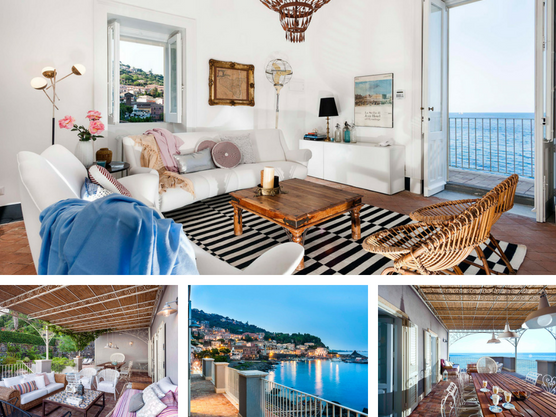 In the middle of nature
This house is located on the volcanic island Salina, the second largest island of the Aeolian Islands. When you're staying in this house, you'll be totally surrounded by impressive flora and ocean scenery, which will result in total relaxation. This means that you do need transportation to visit the nearest town centre with shops. However, it does have a rocky beach on 900 metres away.
The house is suitable for 7 people, has 2 bedrooms, 2 bathrooms and the interior consist of wooden furniture from the region, local blue tiling and wrought iron. It is the perfect Italian rural holiday home. Do you already see yourself watching the sunset in the hang mat on the terrace with amazing views?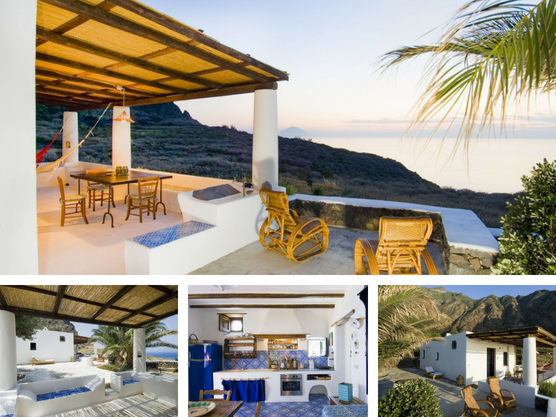 The beach at your feet
This luxurious villa is located in a small seaside resort on the southern coast of Sicily: Marina di Modica. It has many terraces to relax overlooking the private pool. In addition, the beach is only 400 metres away and the house also has a Jacuzzi and sauna! This villa definitely offers you full relaxation.
It is a perfect villa for families or groups of friends since it can accommodate up to 10 people. The villas has 5 bedrooms and 6 bathrooms. In addition, it has a fully-equipped kitchen to prepare your own meals and have a great family dinner. Not to mention that all rooms have air-conditioning to endure the summer days.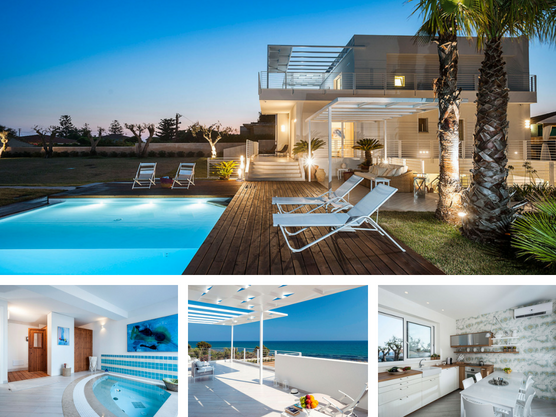 Living in a "Game of Thrones" house
This splendid villa is located in the countryside of southern Sicily – and you're definitely going to love this one if you're a Game of Thrones fan. It was recently renovated but they preserved the old charming elements such as the traditional old walls. It has a pool, large and sunny terraces and a typical, internal courtyard.
This unique house has room for 12 people, with 5 bedrooms and 4 bathrooms. When you stay here, you should have a car so that you can easily visit the towns of the Noto Valley and the beaches of Punta Secca, Marina di Ragusa, Donnalucata and Sampieri.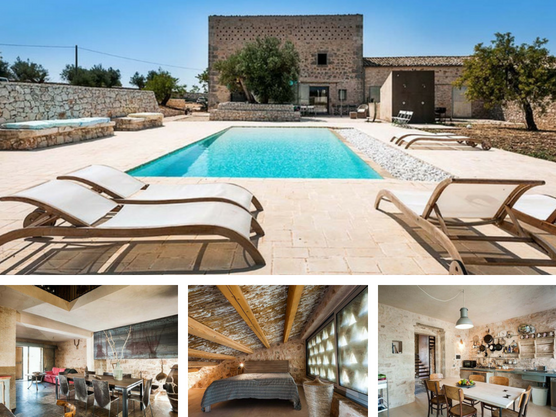 The house where you live on cliffs
Spending your holidays on a cliff, yes that's right! This amazing villa is located in Sicily's southernmost point, a few hundred metres from the town centre of Portopalo di Capo Passero. It has impressive views of the island of Capo Passero and from here, you can easily access the sea by a footpath.
This modern style villa can accommodate up to 10 people and has many terraces to enjoy the scenery as well as the warm temperatures in the summer months. In addition, the town centre is only 600 metres away if you would like to discover some cultural heritage.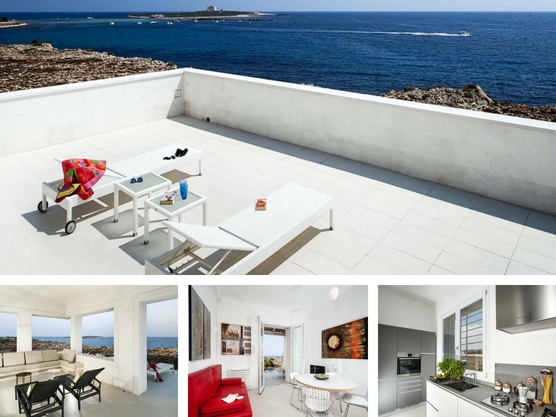 The perfect holiday home
This gorgeous white villa in located in front of the sea, just south of Syracuse, and is definitely one of our best houses in Sicily. It's the ideal place to go swimming and relax in the sun after. Its interior is all white with blue, it's like staying on one of the beautiful islands of Greece. It has several terraces with lounges and sunbeds and the garden also contains a shower and a barbecue.
The house can accommodate up to four people and would be perfect for a small family or two couples enjoying the tranquillity. Besides having the possibility to have a swim in front of the house, there is also a sand beach only 1 kilometre from the house.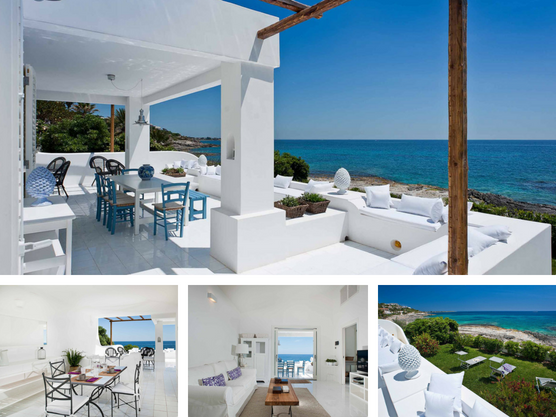 The best location
This small house for 4 people is located directly next to the Mermaids bay and only a few kilometres from the town of Taormina, the "Pearl of the Ionian Sea". It has direct access to the bay, but this house also has a pool that is shared with the owners. The interior is modernly decorated and in has the perfect terrace to relax.
It is a small house but it has the benefit of being able to easily discover Taormina. Here you can discover the enchanting Greek Theatre, Piazza IX Aprile or the Cattedrale di San Nicola. Go exploring the cultural heritage during the day, and in the afternoon/evening relax in the pool and enjoy the magical views.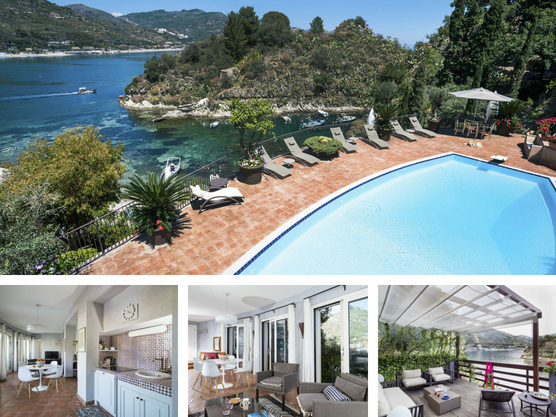 This… is luxury
If you love luxury, you definitely would want to spend your summer holidays in this stunning villa situated south of Syracuse. It has a large pool and it is also located only a few hundred metres from the sea. Besides that, it has a hot tub and sauna! What else do you need?
This house can accommodate up to 6 people and has 3 bedrooms with almost all of them having en-suite showers. The interior is amazing, in the living room and in one bedroom they preserved the traditional stone walls and combined this with modern furniture. In addition, it is closely located to Syracuse where you can also discover a Greek theatre, many museums or the Temple of Apollo.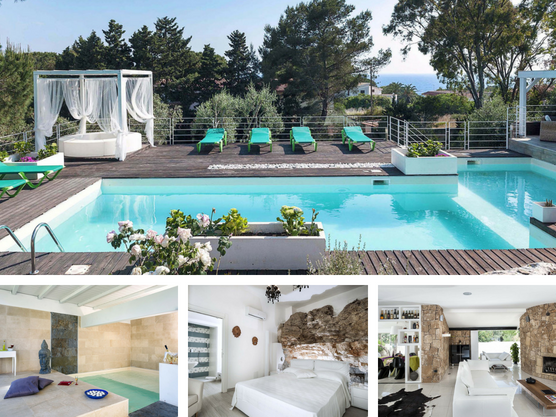 What do you think of our houses in Sicily? Have we persuaded you to visit Sicily? If so, choose your favourite one and discover more things to do in Sicily to prepare your next holidays!