Who doesn't love eating? Let's be honest and hands up if the food thoughts don't make everyone happy. Have you ever felt that excited about ordering food while sitting in a restaurant of your choice, that it takes all your mind off things? Now imagine being on an exotic island, the sea breeze is blowing your hair while you are on a terrace of a stylish local restaurant. That can be you if you visit the best restaurants in Lanzarote! Moreover, Canarian cuisine is a mixture of multiple cultural influences between African, Spanish and Latin American tastes. Read on and you can find some local specialties that Lanzarote is so famous for.
Enjoy the Canarian cuisine while staying in a beautiful holiday home
What to eat in Lanzarote: the must-try local food
First of all, everyone likes to try the local dishes while on a holiday rather than just going to McDonald's. In that way, you aren't only staying healthy, but on top of that, you are helping stakeholders to develop their small businesses. Before we let you know the places to eat in Lanzarote, first, let's see what are the local specialties. 
☛ Fact: If you eat/buy locally, you are reducing the carbon footprint of your food by up to -25%.
Fruits & vegetables
Thanks to its nice climate throughout the whole year, the agriculture in Lanzarote is well developed and farmers grow many fruits and vegetables in these lands. Moreover, there are agricultural markets all over the island.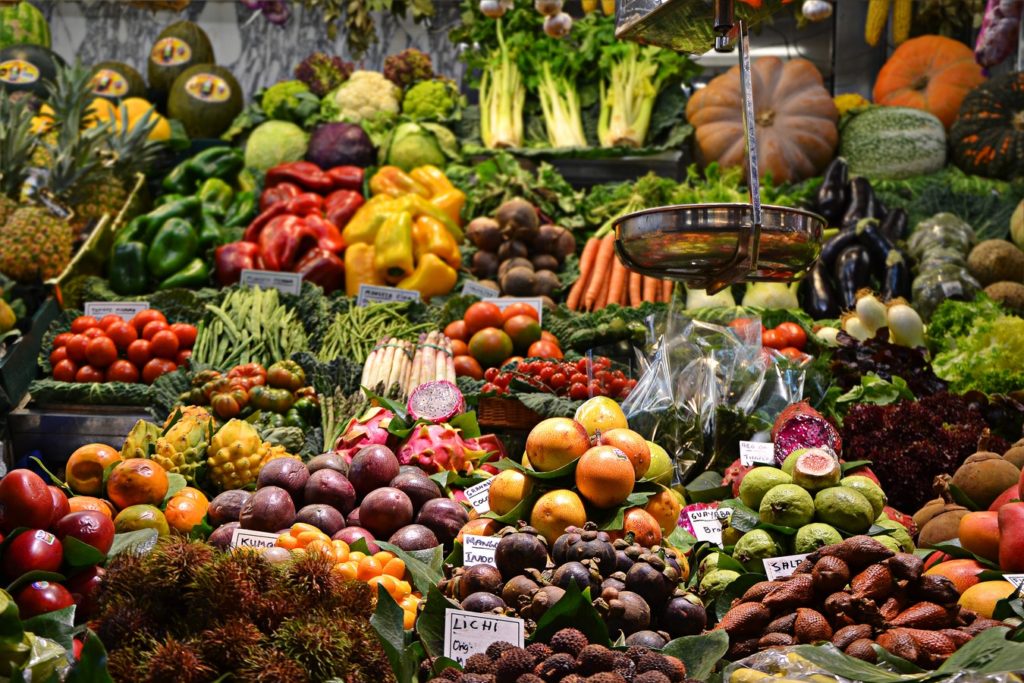 Similar to Gran Canaria, the ''papas arrugadas'' which are potatoes cooked in sea salt with their skin on are a mandatory dish on your visit to Lanzarote. You can also dip them in mojo sauce (usually chili or with herbs)…mmm yummy!
Local fishes
Having an advantage of the island and that Lanzarote is surrounded by the sea, there are great varieties of fish. Some popular dishes with fish include the Sancocho (a dried fish stew) and the fish soup. Also, in that list, we can include the ''Pescado a la sal'' which is a fish baked in salt.
While you are walking down the promenade, you will probably notice that the most frequent fishing are Dorada (sea bream), Vieja (parrot fish) and Cherne (sea bass) usually prepared on a grill.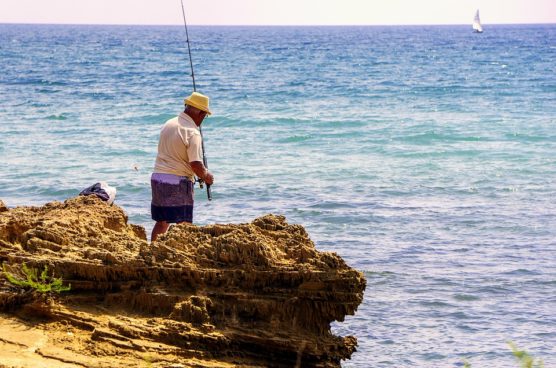 Another seafood specialty includes the ''pulpo a la plancha'' which is a delicious grilled octopus that it's a truly Canarian experience.
Gofio
Of course, we can't miss out this important ingredient of the diet of the locals. The recipe has been passed on for centuries from generation to generation. This type of flour made with toasted corn, wheat, and barley is added to many foods including even ice-creams.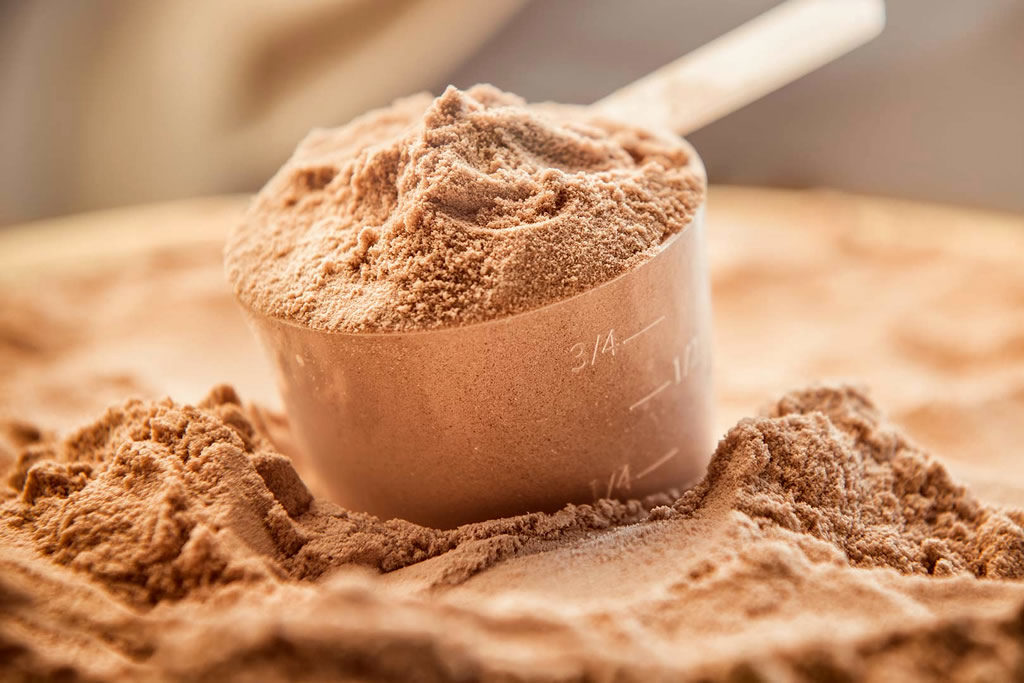 ☛ Fact: Do you know that gofio is the second most consumed product on the archipelago after the bananas.
Fried Limpets (Lapas)
The fried limpets with ''mojo verde'' are also obligatory to try during your holiday time in Lanzarote. Enjoy the Canarian fusion of flavors together with pine of cold beer. You can try this dish in almost every place but wait until we reveal the best restaurants in Lanzarote!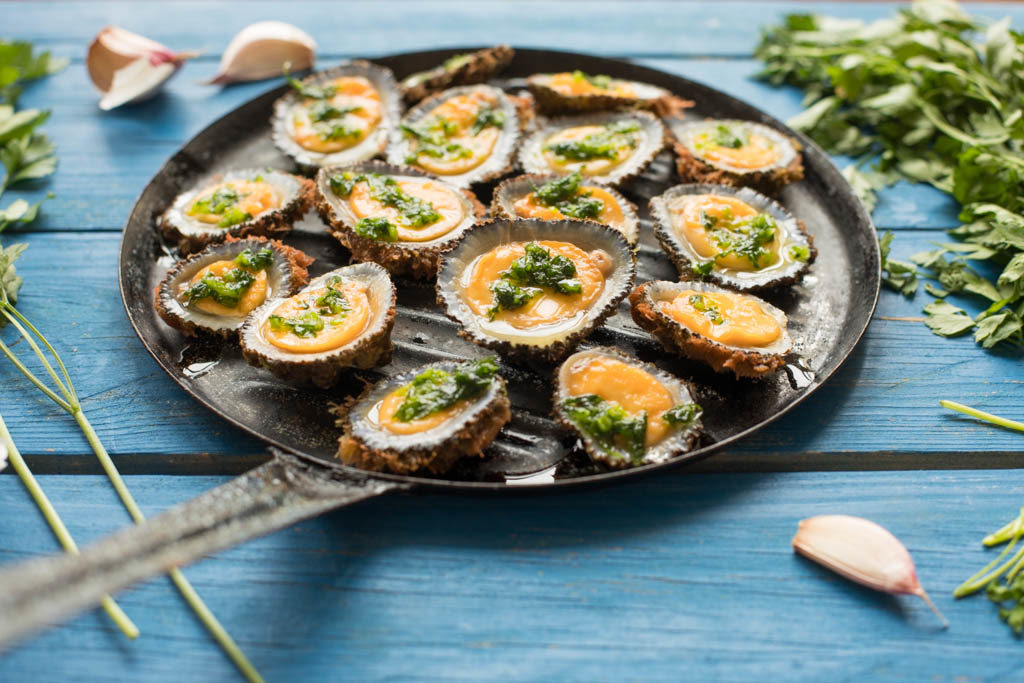 For Meat lovers
Although locals are fans of the volcanic grills, it's important to mention that due to the land type, the meat is mainly imported. However, visitors can still try the local's favourites which include Goat (Cabra) and Rabbit (Conejo).  You can find these dishes with a high-quality in the majority of the best restaurants in Lanzarote. 
Desserts
Here comes everyone's most loved part! Because a meal isn't finished without dessert. If you don't have any room left, you know what's the saying: A dessert doesn't go to the stomach, it goes to the heart.
The first typical dessert of Lanzarote that comes to our mind is the bienmesabe, which is a sweet combination of honey, almond cream, eggs and rum.
A must-try is also the traditional frangollo (a corn-based milk pudding flavoured with cinnamon, honey and brandy) or torrijas (sweet fritters of maize flour flavoured with honey and cinnamon). Locals normally eat them around Easter as part of the tradition but they are available all year round.
Other typical desserts to try out are: Panes de maní (peanut buns); Roscos de alma (a typical kind of doughnut); crème caramel (flan), ice cream (helado) and fried bananas (plátano frito) with a topping made of sugar, brandy and lemon juice.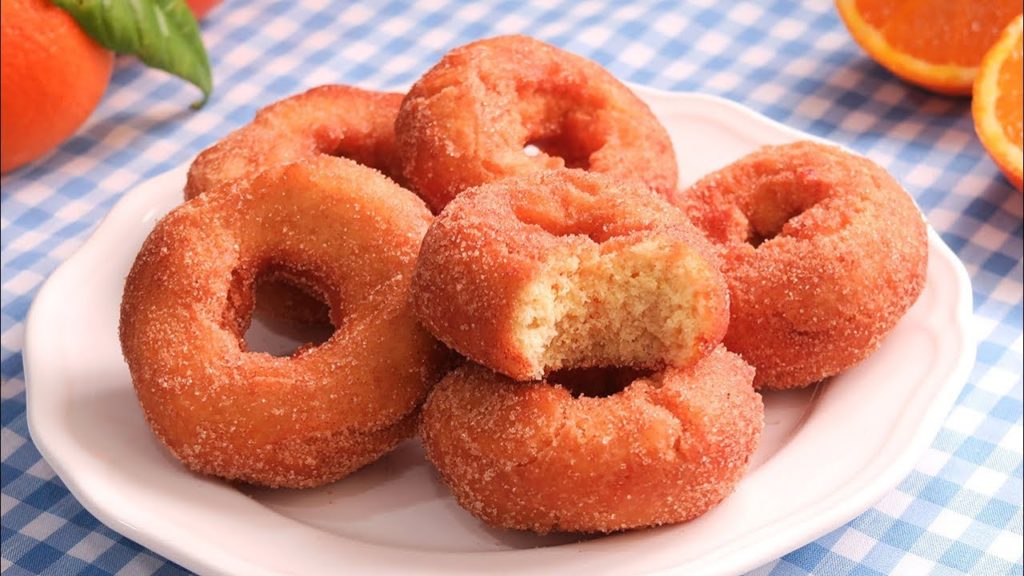 Enjoy that fusion of flavours! What more appropriate accompaniment than a glass of wine.🍷
Wine
The soil in Lanzarote is so fertile thanks to its volcán, therefore the cultivation of grapes has some very special qualities. Good news, wine lovers! Wines from Lanzarote are strong as the lava which makes them stronger than most of the European wines. If you want to immerse in that wine culture that Lanzarote offers, follow the wine route!
Which are the best restaurants in Lanzarote?
1. El Diablo Restaurant, Montañas del Fuego
El Diablo Restaurant will offer you amazing views of the volcán since it's confined in a glass. Since you are sitting over a volcanic ground, the dishes are prepared by superheated 300-degree air from the volcanic vent under your feet (and we must admit that the heating process is a very spectacular view for the visitors). What's the chef specialty? The answer to that is, of course, the different kinds of stews.
The restaurant opens every day from 12 pm to 4:45 pm but there's a cafeteria that opens at 9 am.
The average price per dinner is €24.
So, don't miss your chance and visit one of the best restaurants in Lanzarote because how many times do you have the chance to eat out with a viewpoint of a volcán?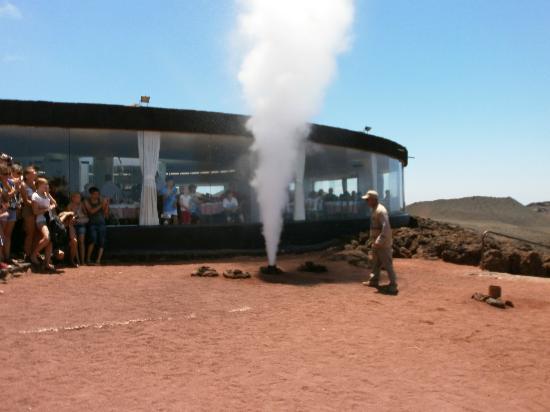 2. El Lago, Arrieta
If you are heading to Arrieta, then El Lago should be on your plans. Located by the sea, you can relax on the sunny terrace of the restaurant after a long day of sightseeing. It's also a favourite spot for the locals on the weekends. In addition, if you want to try a traditional Canarian cuisine including the typical dishes of Lanzarote, then that's the place to be. The friendly staff will guide you through the menu if you have any doubts. However, we recommend the "lapas con mojo" (limpets) or try the local sea bass which is also a very delicious option. As we said, no dinner is complete without a dessert. Therefore, try the typical dessert of Lanzarote – bienmesabe.
The prices are relatively low and you can enjoy the menu from 10 am to 10 pm. Let us know, how your experience went?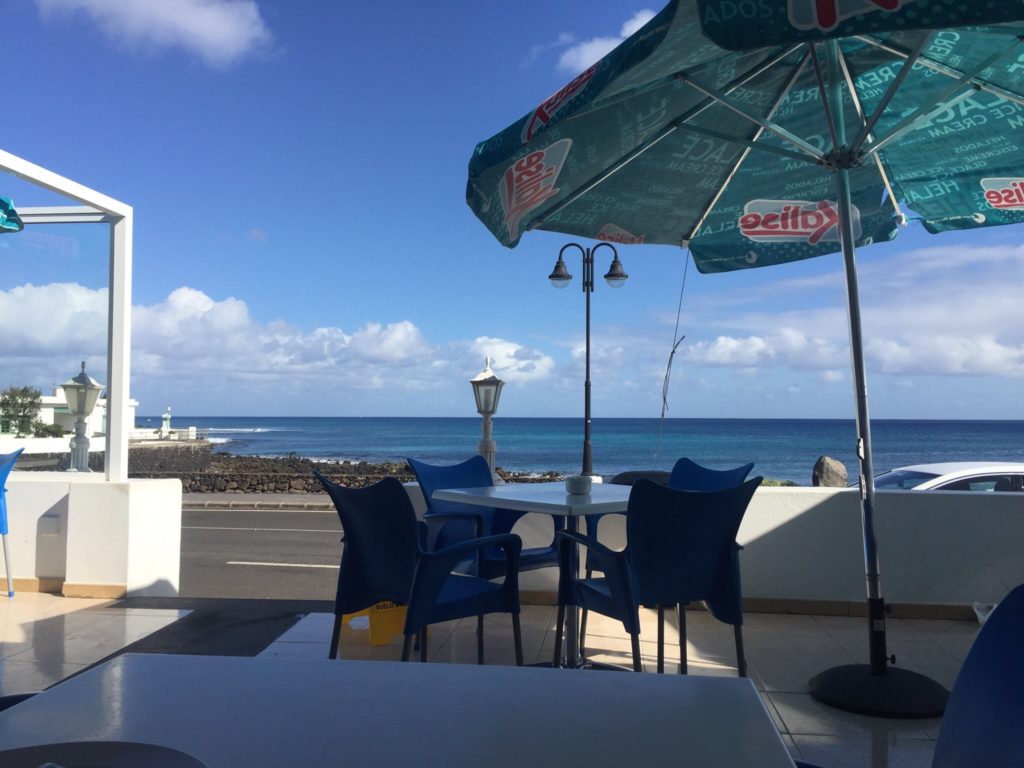 3. El Toro – Luis Leon, Puerto del Carmen
You don't want to miss the El Toro foodie paradise. Often called – the paradise of the carnivorous, the stews are a must-try and this recommendation is a spot on. The outside terrace of this upper-class restaurant is the best place of it, so make sure you book a table in advance to enjoy this experience to the fullest. With a guarantee of high-quality products, your experience in Lanzarote is promised. The great food and the nice and friendly service, leave thousands of customers satisfied each time.
You can experience the cuisine of Lanzarote every day, between 12 pm and 11 pm. Take note, that time schedule might change in festive days.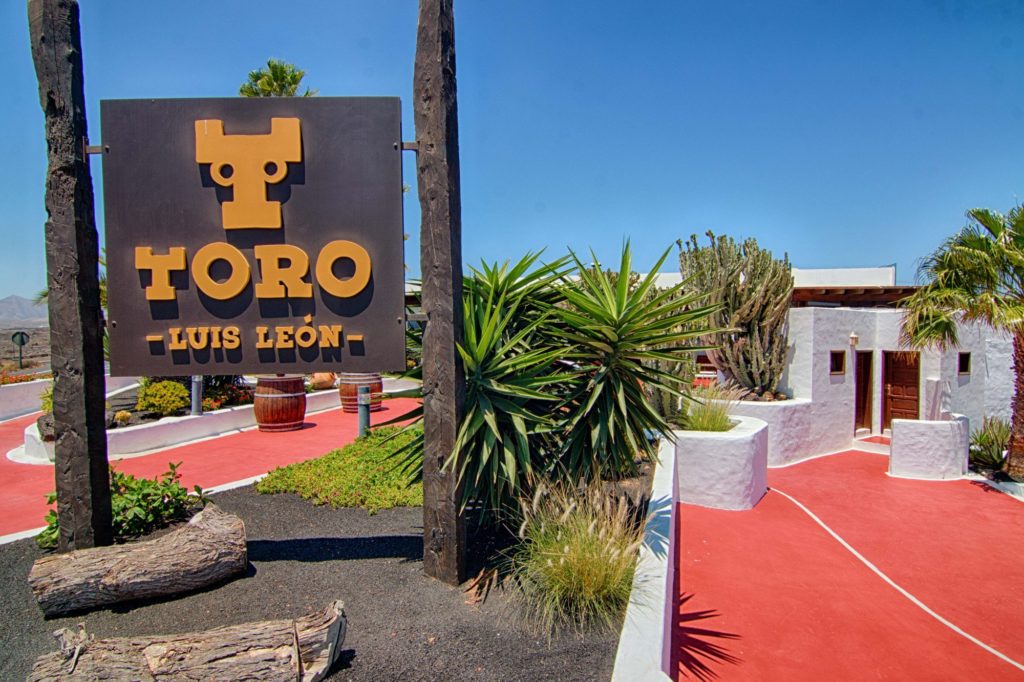 4. La Casa Roja, Playa Blanca
La Casa Roja perfectly combines the Mediterranean and Atlantic cuisine, in a dishes that will satisfy your palate. However, the food isn't the only impressive thing about La casa Roja. Its location between the city center of Playa Blanca and the beaches of Papagayo, turn it into an attractive spot both for locals and tourists. On top of that, it's on the first line of Harbour Marina Rubicon, so you can dine in style while staying in one of the best restaurants in Lanzarote.
If you are looking after a combination of different experience and high quality, then take note! It's open every day from 1 pm to 11 pm. Ready to relax in a peaceful environment?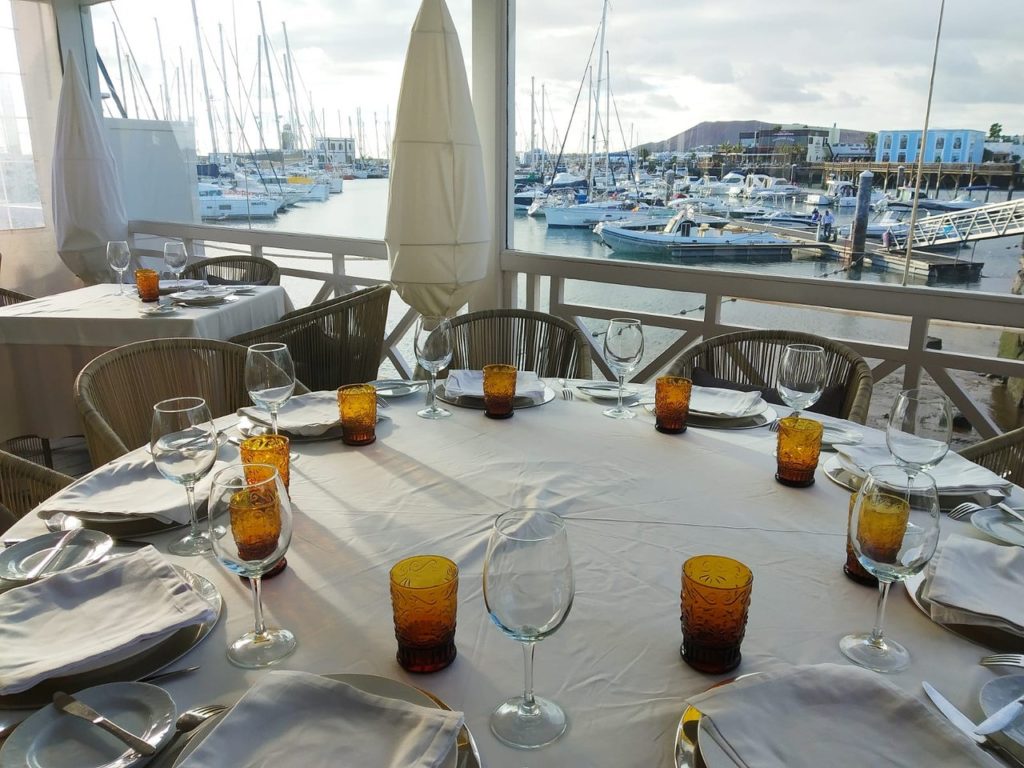 5. Balagué (Lagomar) Restaurant, Nazaret
Balagué restaurant is more than just eating out on a vacation. In addition to the food, the impressive setting also contributes to the whole experience. The restaurant, designed by Cesar Manrique, is integrated into a rocky wall inside of the volcan's quarry. There are several tunnels, formed caves and installed exotic gardens with a lake. Moreover, with special treatment and cozy but unique interior, you will feel like home at Balagué Restaurant.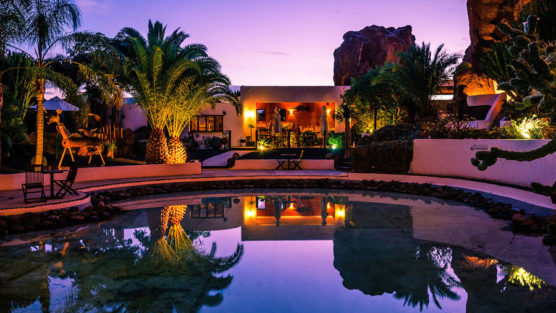 Did you know the legend? In 1973, the actor Omar Sharif who played in the Mysterious Island fell in love with the construction that smoothly combines art and nature. So, there are rumors that he bought Balagué, back in the times. We aren't surprised as this is one of the best restaurants in Lanzarote.
Therefore, if you wonder where to eat next time, Balagué is open from Tuesday to Sunday from 6 pm to 1 am but bear in mind that the kitchen closes at 11 pm.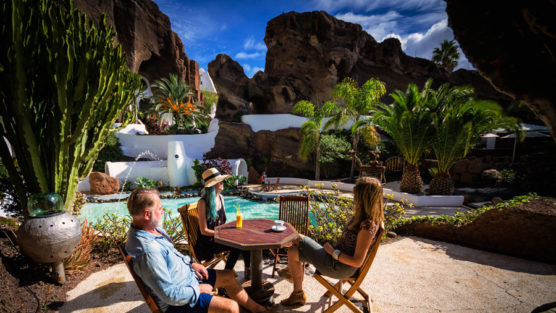 Is your mouth-watering yet? Gastronomic specialties await you in the best restaurants in Lanzarote. Don't skip these dining experiences because it's more than just the food. Explore the cuisine of Lanzarote in unique settings. In addition, if you are in Lanzarote, perhaps you would like to know how to get to la Graciosa, too?