Halloween night is approaching! What a nice chance to gather with your family and invite some friends over to decorate the house together with your toddlers. Get the snacks out of the fridge, put on your ''terrifying'' costumes and you are ready to start the workshop decoration. The best news – your pockets won't be ripped off, you can do it completely by yourself. Check out our list of crafts for Halloween for a perfect afternoon with the loved ones.
Crafts for Halloween: have fun all together
?Shining fear balloons
Your living room will be a brilliant place in all its senses with these floating balloons decorated with spider figures, confetti, purple glitter and mini bulging eyes. The balloons are easy to find for a cheap price and you can ask for every colour from the rainbow. Inflate them with air (they last longer than helium), put a layer of white glue halfway and sprinkle confetti or glitter over it. You can find special Halloween confetti-like pumpkins or spiders in a costume shop or just a simple supermarket. Halloween decorating isn't tough at all.
You can also play with little pieces of frayed cotton to make it look like a cobweb. The only thing that remains is to tie a white or black thread through the knot and hang them in a lamp or any other furniture. You can also stick your creations with a tape on the ceiling. Have fun and let your imagination play!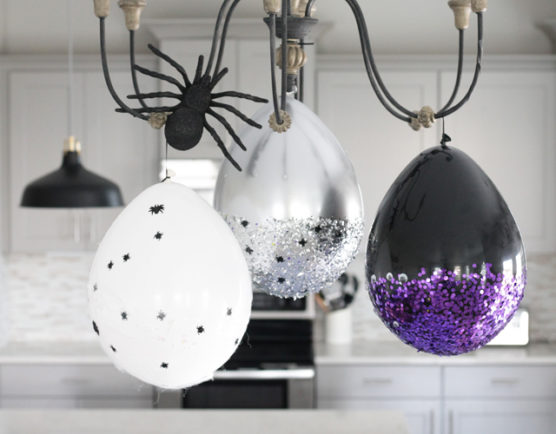 ? Bags for sweets or gifts
These paper bags are very handy and easy to make. You can use them to offer some treats to your guests or for children to collect their candy, type – "trick or treat" basket. Buy a few bags of different colors from a stationery. Another option is to make one yourself from coloured cards, scissors and glue. Easy peasy lemon squeezy ?. 
Just cut out the shape of the witch's hat or a smile for the pumpkin and glue it all onto the bag. That's it, we let you to improvise!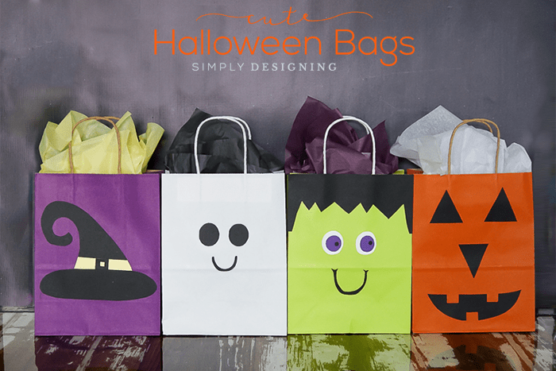 ? Pumpkin posters for your party
A very interactive workshop for the little ones! All you need is a half of the apple, white and black cardboard, green and orange paint and a brush. Permeate a half of the apple into the orange paint, then stamp it on the white cardboard as many times as you want. After it gets dried, paint the green tail of the pumpkin with a brush. Now you can cut out the scary faces out from the black card and stick them on the pumpkin with the help of a glue.
You can add a title to the poster and hang it on the door. You can also make several ones, plasticize them and use them as placemats for your children. They will love to see your design!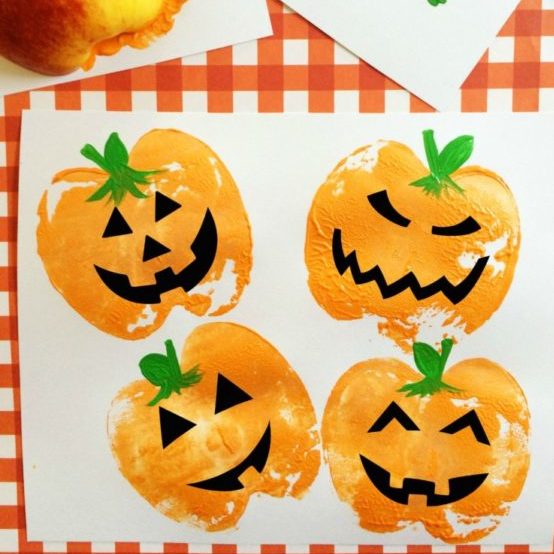 ? Chupa-chups ghost
Very quick to make and it's great to put them into a gift bag. You need Chupa-chups lollipops (or any candy with a stick), paper handkerchiefs, small rubber bands, orange and black ribbon or a string, and a black marker. You can follow the steps from the image and quickly produce one yourself.  Just wrap the part of the candy with the paper, attach it to the rubber so that the down part looks like a "little skirt" and make a ribbon from the string of each colour. Now all that remains is to paint the face of the ghost with a black marker.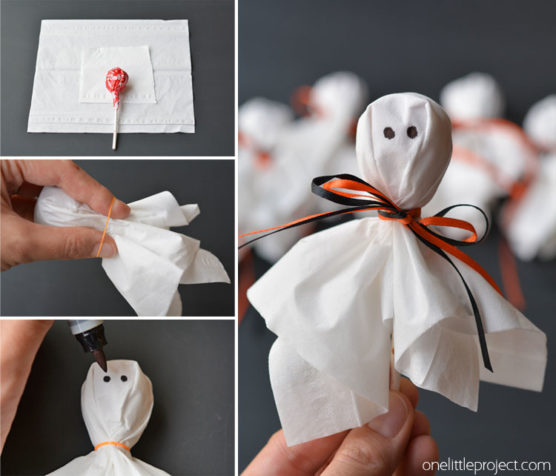 ? Halloween puppets
Another super easy and very entertaining idea for children is to create puppets out of paper or colored cards. You will also need a printer.  Draw the pumpkin or the skull by yourself. 
Now, cut the chosen shape along with two long strips, stick them from behind so that you can hold the puppet. In this link, you can download the templates, print them out if you want and follow the process step by step. Surely they will look amazingly "scary"!  Watch the video for a further guidance ?.
These are our crafts for Halloween! Motivate yourself to try one. By the way, we almost forgot, if you like everything related to Halloween, don't miss out our list of terrifying places to spend Halloween. This is a real fear!