The first period as a couple is always exciting as well as the first trip. Planning a journey with someone whom you don't know that much, but you are attracted to, can be a lot of fun but also very complicated. You aren't completely aware of the other person's interests however you are confident that the first trip ever as a couple will be the most amazing one!  To make this task a bit easier, here we bring you a list of places for romantic weekend breaks if you have not had much time with your partner.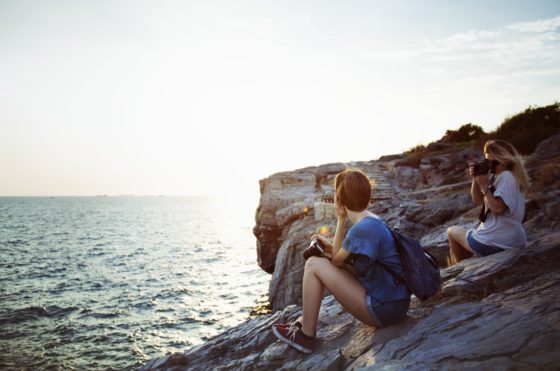 Places to travel as a couple on your first romantic weekend breaks
Prague: with a romantic twist
Prague has that romantic vibe and if you want more space and peace with your partner is also less busy than Paris.  The interesting and beautiful places to visit are numerous and they are a guarantee for a good time. Start by visiting Prague Castle at night, it's a huge and impressive historical monument, and the alleys around it are lighted up at night.
Book a morning for a lovely picnic in one of Prague's more than 200 gardens. Some are dating back from the middle ages! Stromovka, the Alameda de Rieger, the Alameda de Havlíček, Letná are just a few examples of the romantic spots.
Do you feel like becoming part of a fairytale? Hire a carriage ride around the Old Town Square, or take a ride in an old convertible car in the same area. If that's not your cup of tea, how about a cruise on the Vltava river? There are some companies that offer tours with the dinner included. Another cool plan to make as a couple is to arrange a scenic flight over the city center. The views, as you can imagine, are breathtaking. If you are scared of flying, there are other romantic places with incredible views over Prague such as the Žižkov Tower, the Jindřišská věž Tower and the viewpoint of the Old Town Hall.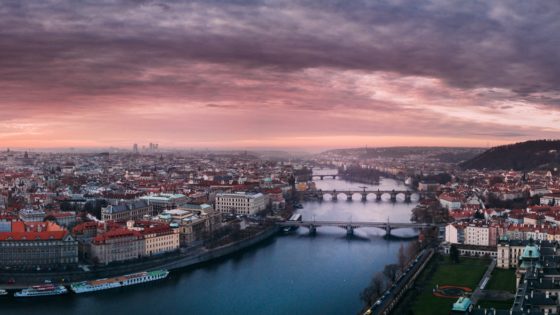 Porto: to suit your budget
An important factor to take into account when looking for places to spend a romantic weekend getaway is to save money. Everything will be easier if sightseeing didn't cost an arm and leg. Take advantage of the free things to do as a couple and visit the 6 bridges of the city. You can do it on foot or embark on one of the rabelos boats that will take you on a 1 hour long trip through the Douro river.
Whilst you are in Porto, there are most certainly two things that you shouldn't miss out! The first one is, to not forget to take a bottle (or two) of Port wine. You can do it at the Wine Quay Bar, which was awarded as the best wine bar in Porto for 2016 and which has a very nice view over the river. The second thing you should do as a couple is to hop on one of those, typical for Portugal, yellow retro trams. The urban route 22 (Linha da Baixa) will like you on a nice tour through the city.
In addition, if you want to declare your eternal love, you can do it in the Crystal Palace Gardens. They are in the upper part of the city and have some very beautiful views of the Douro. Right there you will find the Romantic Museum of Porto and the Garden of Feelings. Both options are very appropriate for the occasion ❤
Do you need more inspiration? Do not miss our list of 10 free things to do in Porto.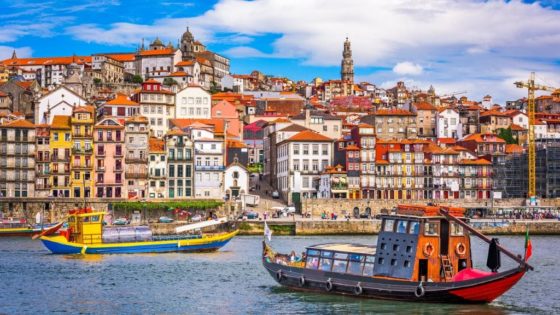 Gran Canaria: a little bit further away
A destination that is far enough to disconnect from the daily routine but relatively close in case you have to return because things aren't going so well with your new love. However, Gran Canaria is one of our favorite places for romantic weekend breaks. 
Gran Canaria is comfortable because it is very well connected with direct and cheap flights from several cities such as London, Glasgow, Leeds, Manchester, Bristol and Birmingham and many more. It only takes to board on the plane for a couple of hours and you will be in paradise before you even notice. 😜
In addition, with temperatures between 21ºC and 27ºC, you can enjoy one of the best climates in the world throughout the entire year. Do you feel like going to the beach? Perfect! You are on the right destination. Nonetheless, if you prefer sightseeing around the city and its natural surroundings, that's a perfect choice too.
You would like the urban beach of Las Canteras, there are a lot of things to do there as a couple, from sunbathing to practicing sports such as surfing or snorkeling or having a drink in one of its beach bars for the lazy ones. In the afternoon, you can go for a walk around the neighborhoods of Vegueta and Triana and see their colorful houses, the Santa Ana Cathedral or the Museum House of Pérez Galdós.
What about places to have a romantic dinner? Of course, you can stay in a lovely apartment and prepare a candlelit dinner. However, we suppose you will also like going out and get to know the bars and restaurants. If that's the case, take note of these 6 places where you can taste the gastronomy of Gran Canaria.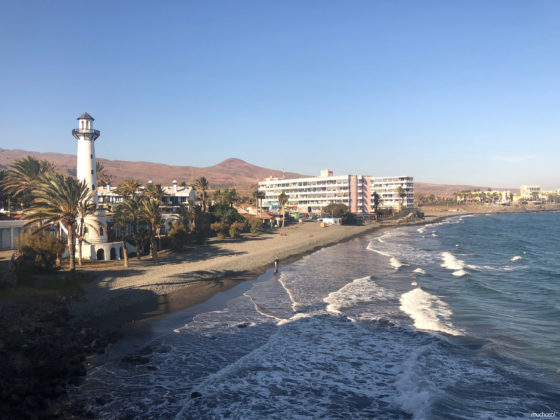 The best views of the beaches of Gran Canaria are in our apartments
Dublin: with beer, everything is better
Dublin is possibly one of the best places to travel to as a couple if you want to combine it with pine of beer. In addition, we've heard that locals are known as very welcoming people and of course, if something goes wrong on that trip, you can always search for the Irish luck (hehe). However, with art that conquered the Dublin's streets and medieval castles, success is assured.
This city is one of the best places to travel as a couple for one of your romantic weekend breaks. If you both like wandering the streets and enjoy days of intense tourism that Dublin is the right destination. What else can't you skip while in Dublin? The St. Patrick's Cathedral, Christ Church Cathedral, Dublin Castle, the library of Trinity College, St. Stephen's Park, the Green, the Guinness Storehouse, the Temple Bar (a neighborhood full of places to have a drink), the commercial street of O'Connell are ''a few'' example of places for romantic weekend breaks. Last but not least, don't forget to cross over the Ha 'Penny Bridge during nighttime. It's very beautiful.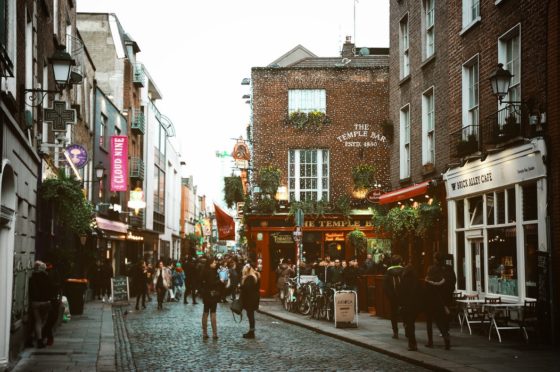 Tarifa: as if you were friends
Are you still getting to know each other and the thought of something like romantic weekend breaks sound scary? How about a destination like Tarifa? Perfect for "friends" thanks to its wide range of leisure activities. Kitesurfing on the beach, beach bar at sunset with a mojito (head for the Tumbao, on the beach of Valdevaqueros), fried fish at a bar, a walk through the Moral neighborhood, a hike through the Natural Park of the Strait, the opportunities are endless.
Do you know what else is cool? Make a one day trip to Morocco. Ferries leave from Tarifeño port that arrive in Tangier in only 45 min. Take a tour of the bazaars, try completely different flavors and live a different culture in an expressway.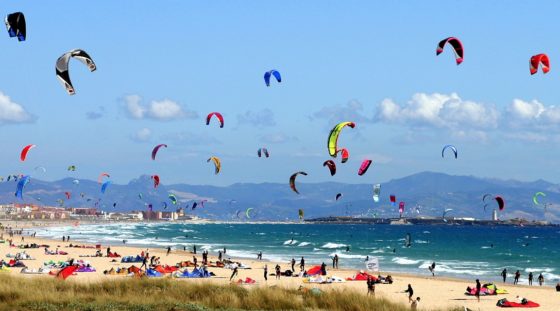 Take a look at our accommodations in Tarifa and live your best holidays
What do you think of these romantic weekend breaks to travel as a couple? You already know that we love to read your experiences, so recommend us other destinations that you've visited with your partner. Do you need more activities for two? We know a journey can be long, so here is a list of travel movies that you can enjoy while traveling.