The biggest issue of every woman when it comes to traveling is packing her clothes and the problem that a woman never has something to wear (although she has a full closet full of clothes and shoes). However, we are here to show you that traveling comfortably but with style is possible and not that difficult following the next travel looks. 
That's why today we show you some travel looks for the most adventurous souls. Become a traveling fashionista with our ideas!
12 comfortable and elegant travel looks
On a flight
First of all, comfort. Hereby, you will find two girls combining style with comfort during a flight. On the left, we can see Emily, from The sweetest thing blog, who opts for a black set of tights, sweatshirt and hat. This last accessory is very useful, so you know that the hair doesn't go messy during the journey ? The shoes in metallic pink complete the final touch of the outfit. In her bag, she carries a scarf and, in her hand, a warm jacket. On the plane, it can be quite chilly but so does the destination. Therefore, it's recommended to match your clothes well with the weather so you can feel comfortable during your travels.
On the other hand, on the right, we can spot Brittany Xavier and her daughter going a little hipster but stylish. As you can see, she is wearing ripped jeans and a thick and oversized cardigan, sunglasses (essential!), sneakers and a backpack that completes the final travel looks. Jadyn, the little one, can also inspire you with her look: tights, sneakers and cardigan, a safe bet.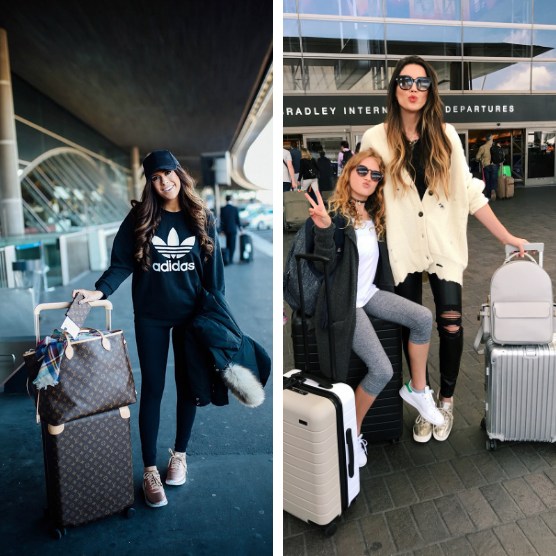 For sightseeing in the city in winter or summer
To get the most out of your city break, the best thing is to wear comfortable jeans and sneakers especially if you travel in the cold months. It's important to be warm and comfy because you will probably walk large distances when sightseeing (of course, depends on the destination). Regarding the outfit, there is no need to give up stylish clothes (we know sightseeing means a lot of selfies too). But let's take an example of how Julia from the Gal Meets Glam blog (on the left) combines the sneakers with an elegant outfit.
Now, let's get those summer vibes and look to the right. This is the ideal appearance for a trip in August. A city trip in the summer can be very hot in most of the European destinations. However, Emilie is coping with the heat very well wearing a white set of skirt and tank top with comfortable sandals, straw handbag and sun hat.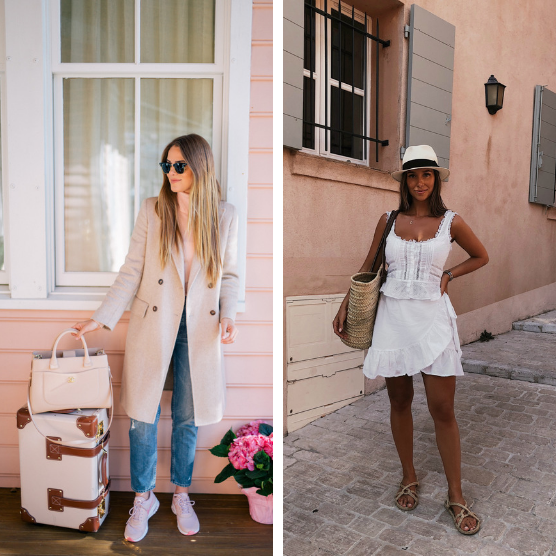 Discover Benidorm's charm through our Muchosol accommodations
?For a rural destination
There are two ways to enjoy a trip to the countryside or to a rural destination. One is to put on the mountain boots, load your backpack and go out and explore the surroundings. You can always give the cool touch to your outfit by combining a hat, sweater and sneakers, as Aggie from Travel in her shoes (on the left), has done.
On the other hand, we have a more fashionista way of dressing for a rural trip. The answer is a shirt, jeans and espadrilles. These three things are what Julie (on the right) has chosen for her trip to a small village on the French Riviera. The shoes are ideal for walking through the cobbled streets of the villages and the jeans give the freedom to move around easily.
✅Instagram TIP: if you plan to take photos, a good trick is to carry a second more fashionable set in the backpack. Make sure it's from a fabric that doesn't wrinkle! ?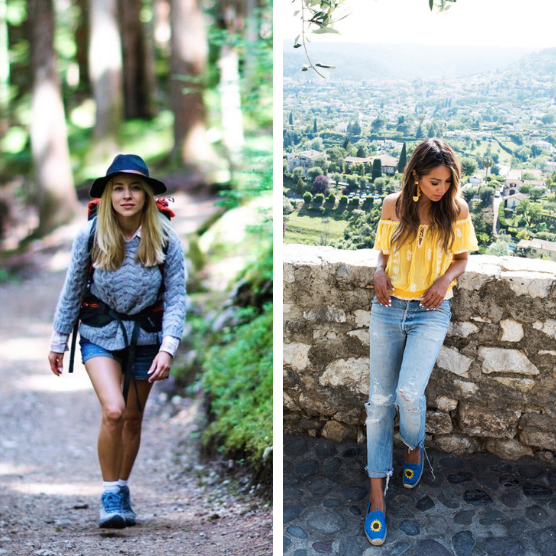 The Balearic Islands are a great opportunity to explore the rural tourism in these lands 
For a sun and beach destination
In summer, when you travel to a sunny destination, you can choose to dress more elegant or a little more hippie with the typical white Ibiza dresses and the bikini underneath. Let's look at Helena, from Brooklyn Blonde, wearing a black dress and sandals. It gives a very chic touch while still looking comfortable.
With a more casual style, we find Camila on the right. She wears a mini dress with print, hat, cross purse and nude espadrilles, which visually lengthen the legs and are very comfortable to walk around. The shoes seem the best option for a trip during the warm months, along with the sandals which are our favorite in the summer months.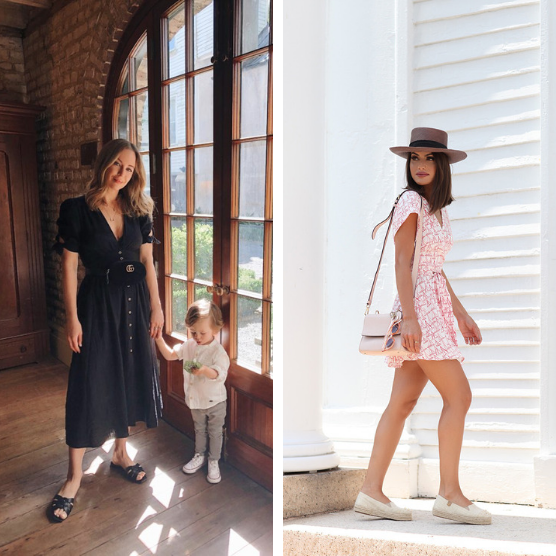 Sun and beach? Say no more! Which of the Canary Islands is for you? 
For a snowy trip
We love the travel looks in snow destinations! We believe that regardless of the weather, you can experiment a lot of different styles and still look good. Make sure you are always warm and with proper footwear.
Look at Blair, from ATLANTIC // PACIFIC (on the left). She wears a winter knit skirt, tight stockings, boots, socks, sweater, jacket, coat, scarf and hat. A prove that a lot of layers sometimes is not that bad. A cool suggestion for travel looks for a snowy trip is proposed by Alexandra, who opts for the palette of brown and white. We like how the white pants flow together with the snow. In addition, combining the coats and boots of the same color is always classic that will never fail.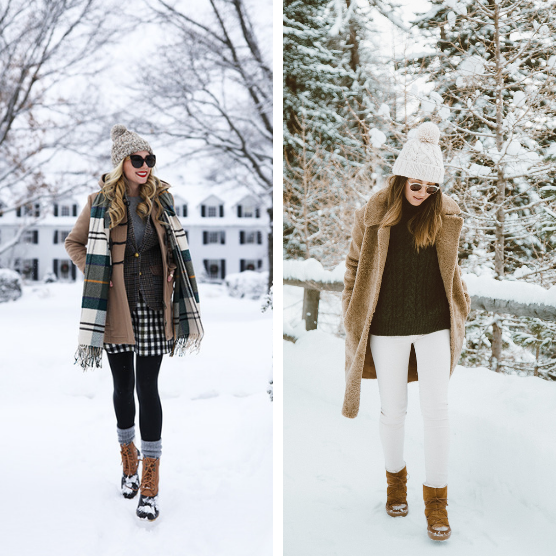 On a road trip
Think that you will be sitting for many hours in the car. A road trip is a very cool experience because you will pass by a lot of beautiful places that the roads hide.
Jacey, from the web Damsel in Dior, is in the photo on the left, during one of her stops in her last car trip. You can see how elegant she looks like in her simple black outfit consisting of a long-sleeved shirt, black pants, hat, sunglasses and black sandals. We guarantee is both very comfortable to drive and walk around.
On the other hand, in the photo on the right, you can see Christine in … pyjamas! Yes, pyjamas, why not? You will be inside your car and nobody will see you. In addition, you will be very comfortable (especially if it is a long journey). You can always put on shoes so that it doesn't seem that you just woke up. If you travel with children, we also believe that it is the best option as it's very important to be comfortable.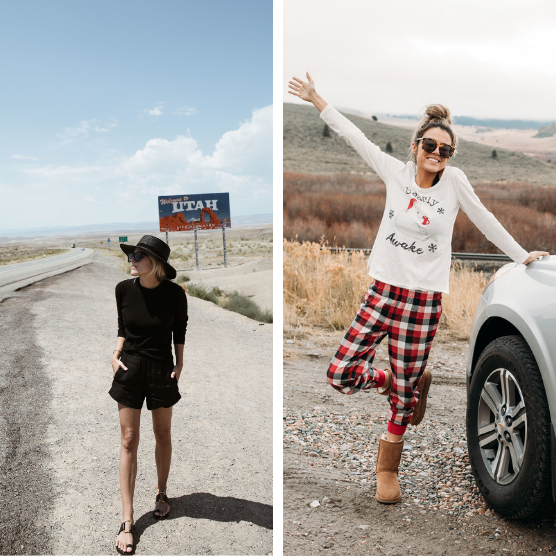 These are our proposals for travel looks! What do you think? We will love to see your traveling photos with the chic outfits you wear. Tag your images with the #MuchosolExperience in our social media channels so that we can see you.  If you liked this post, we are sure you will love to take a look at our list of Instagrammers traveling alone, a true inspiration!