Lisbon – a city with many different charming peculiarities. The capital of Portugal, at the mouth of the Tagus river. Lisbon enchants every visitor with an incomparable charm. There are nice and traditional cafés around every corner, lots of history and historical sites, get lost through the narrow streets of the metropolis and explore the city in its best. Not to mention, the Portuguese hospitality! It is high time to visit Lisbon with kids, as the city is perfect for families due to the number of activities that you can do with your little ones (or not that little?), in Lisbon you can also find our fantastic family accommodations .
Find Muchosol´s accommodations in Lisbon
We have selected here for you, our top 5 accommodations in Lisbon that will help you to make your trip with your loved ones even more special:
Keep reading and learn more about #MuchosolExperience in Lisbon.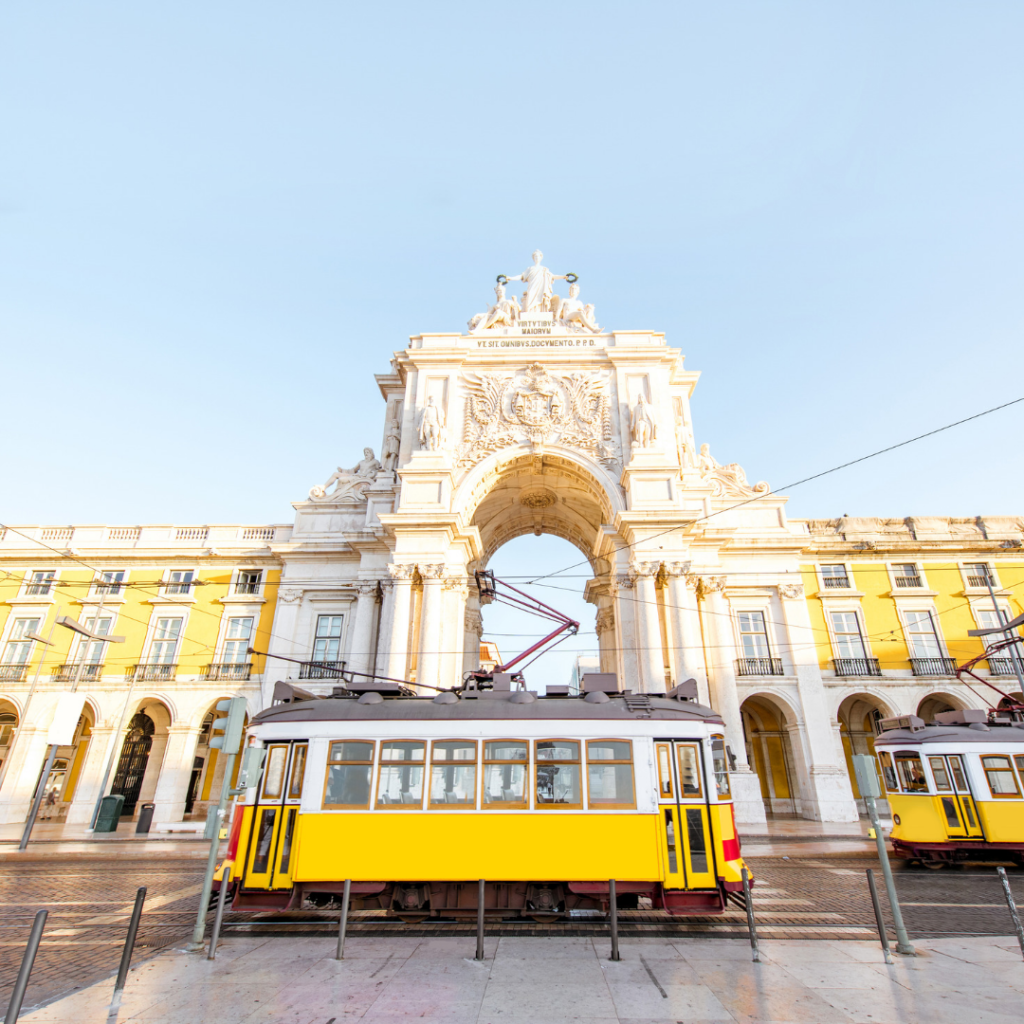 Holidays in Lisbon with Kids: You will love these 5 Muchosol´s accommodations
Large apartment overlooking the city
This colorful, 3-bedroom apartment can host up to 6 people, located in an exclusive neighborhood of Principe Real. But not only this, it has also a modern and cosy decor, and a stunning 180º view of the city of Lisbon and the Tagus River. From here you can admire its wonderful views at any time of the day and enjoy a family breakfast together on the balcony in the mornings. Furthermore, there are plenty of things to do around Principe Real district, great offer of restaurants and distinctive stores. The district is very well located and you can easily and quickly reach the different parts of the city by metro or tram. Right next door, you have the popular Barrio Alto, known for its 19th-century palaces.
One thing is clear: In this accommodation you can make the most of Lisbon in a short time?!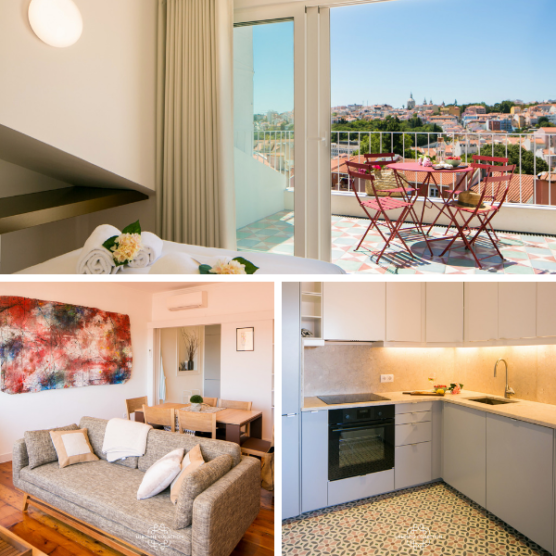 Deluxe apartment with terrace and barbecue
This apartment is perfect for a visit to Lisbon with kids. It is ideal for a family of four as it has two bedrooms. If required, a baby cot can be provided for babies and toddlers. The location of the apartment is also a plus: as it is Just 15 minutes away from Humberto Delgado airport, so makes much easier the arrival and departure when you travel with kids. The Oceanarium, one of the most popular activities for families with children, is just 3 km away. Here you can enjoy your holiday in peace, without having to worry about anything.
Another plus: the apartment has a terrace where your children can let off steam. There is a barbecue too, so you can have a wonderful evening organising with the whole family a barbecue. In love of this plan !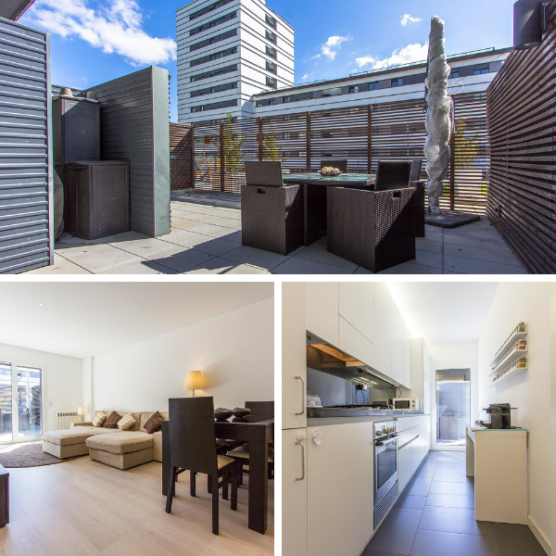 Stylish apartment with modern furnishings
We have fallen in love with this cute apartment! With its stylish interior, you and your children will feel like staying in a homely place away from your home. We particularly like the small details, such as the typical Portuguese tile patterns that are decorating part of the apartment. This 2-bedroom apartment can host up to 6 people and is located in a child-friendly environment. So, your children will feel so happy and you even more. There is also a supermarket nearby. A nice plan would be to use your quality time together for a cooking experience in the apartment, after getting some local food. You will see how the fully equipped kitchen and so end the evenings, will make you feel like going for this plan, the whole family will spend a great time!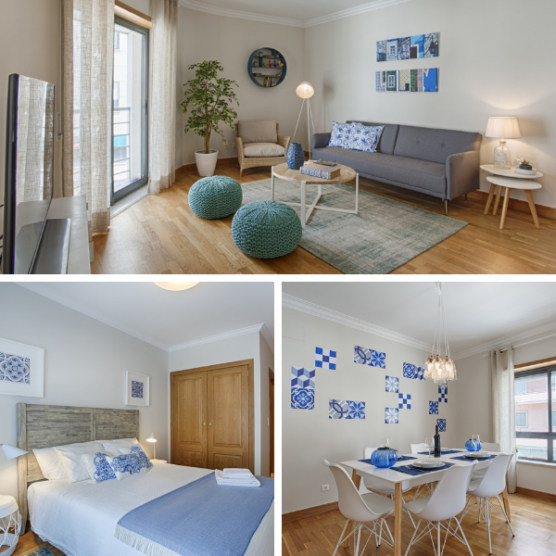 Apartment with a pool
This accommodation for 4 people is located in the oldest district of Lisbon, La Mouraria. If you arrive during summer time, this accommodation is a must for families. It has an infinity pool with a breathtaking views towards the historical São Jorge Castle. What could be better on a hot day than cooling off in this stylish pool? One thing is for sure – your kids will be so excited as soon as they see the pool!
At the same time, there is a large garden in which your children can let off steam. The apartment is very modern and equipped with all the necessary facilities. But if you do not feel like cooking, you can be delighted by the numerous restaurants and cafes in the area and taste the delicacies of Portugal.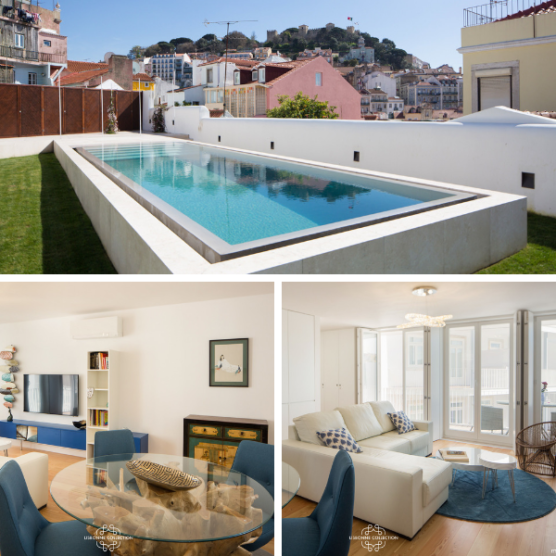 Spacious luxury apartment with fantastic rear terrace
This apartment has it all, because it can accommodate up to 10 people. Therefore, you can travel with a large family or take along another friendly family with you – so the holidays to Lisbon with kids can be even more fun for them ?! This luxury apartment, designed by a professional designer, is located in one of the most vibrant areas of Lisbon – Marquês de Pombal. Best of all, this apartment is only 15 minutes walking distance from the city center – so the location is just terrific for families and a perfect spot to get to know the capital of Portugal at its best. Another highlight is the huge terrace where your children can play and enjoy a nice evening.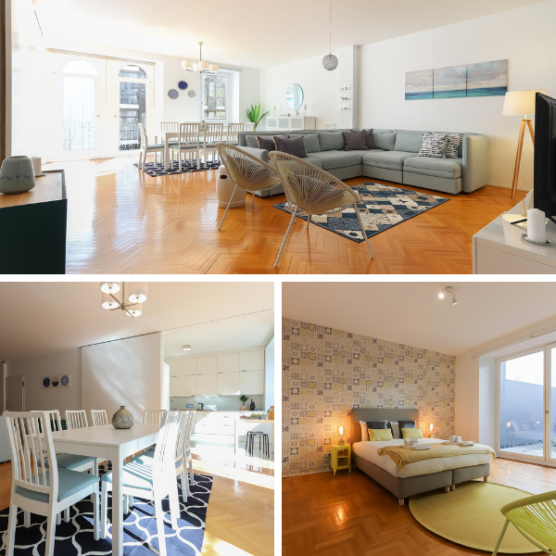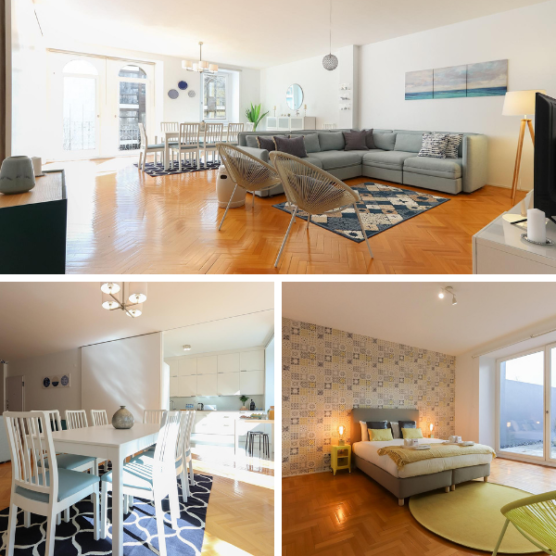 Find more accommodations throughout Portugal
Well, who is now in the mood for a family holiday in Lisbon with kids? Staying at these accommodations, you can rest assured that you will have a complete successful holiday in Lisbon with kids! If you also want to make a one-day tour to Porto, you can find here the top 10 free things to do in Oporto. Besides, we leave you here the best places and plans in Lisbon . Moreover, if you are in a holiday mood and you go on a cooking strike, here we suggest you 5 restaurants in Lisbon to eat incredibly well and cheap!
Now you are completely ready to have a holiday in Lisbon with kids. Let´s go to Lisbon❣️