Andorra is a microstate that lies between Spain and France. During winter, Andorra is a wonderful spot for practicing winter sports while in the summer is ideal for hiking and trekking. If you like to head on to Andorra with your toddlers, then keep reading because we reveal the best activities to do in Andorra with children.
What can you do in Andorra with children?
Mont Magic – a family park in Canillo
The Mont Magic Family Park is located in the Grandvalira ski resort and offers lots of activities suitable for the whole family. It is a theme park inspired by Andorran legends and folklore tales. You can do all sorts of sports activities and even a dinner thanks to its 100 hectares of land.  The fun is guaranteed! There is a program designed for all ages, so your holidays won't be boring in the extreme. For all kind of adventurers, there are available different attractions, such as a mini-golf course, canoes, karting, trampolines, archery and acrobats!
Fact: this park has the longest themed ski slope for children in southern Europe!
Did you know that we have beautiful accommodations in Andorra?
Goal track down
Did you know that Andorra has a zip line? Mont Magic's zip line has a length of 550 meters and 40 of height! This is really something for daredevils. The zip line is open all year round, so you can experience this adventure every season. The park Mont Magic is open from 11:30 am until 6:00 pm.
The price for this zip line is between € 15 and € 25.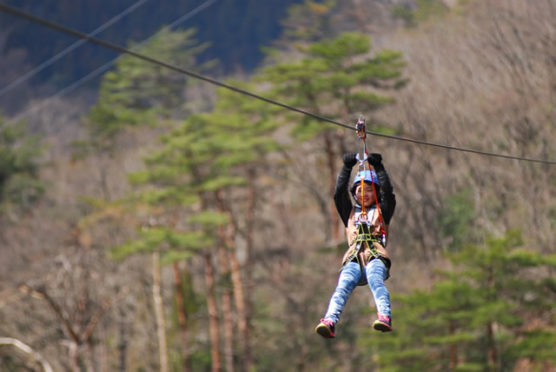 Naturlandia
It would be a total mistake if you miss this adventure lovers' paradise.  Naturlandia is an adventure park and the best time to go is in the SUMMER. It's located close to the village of Sant Julià de Lòria. What can you do in Naturlandia? Let us tell you how many things you can do in Naturlandia! 
The park offers all kinds of activities: nature and sports combined together which are suitable for the whole family! Naturlandia, however, is also appropriate to visit during winter time, there are some exciting activities involving snowmobiles and much more!
In the park, you can find the longest Alpine tobogganing track in the world named 'Tobotronc'. This is a toboggan run that you do with a sleigh over iron rails. These rails have the length of about 5.3 kilometers. In addition to all that, Naturlandia has an animal park located in 2000 meters above sea level.  Moreover, there are several family activities, such as archery, buggy riding, horse riding, hiking and there are also workshops for children.
There are different entrance fees:
– A general ticket: from € 30 (this gives you access to several activities, including the toboggan run and the animal park)
– A ticket for the toboggan run: from € 12
– A ticket for the animal park: from € 10
Experience this unique rollercoaster of emotions!
Who said having fun in the winter is impossible?
Andorra is a beautiful area all year round but there's something special about it during winter. Discover more with us and our tips for a ski holiday in Andorra!
Skiing in Andorra
You like sliding down the slopes without the masses of crowds, then Andorra is the best destination for you and your family this winter. The two most popular ski resorts in Andorra are Grandvalira and Vallnord. These areas aren't less attractive in comparison to the ski resorts in the Alps, therefore they're an excellent alternative! The Grandvalira ski resort has 193 kilometers of ski slopes and the Vallnord ski area has 92 kilometers of pistes. Both are excellent for a winter sports holiday to enjoy together with your family.
There are many ski schools in these areas for very affordable prices. Grandvalira has 99 kilometers of blue trails, 53 kilometers of red trails and 41 kilometers of black trails. The area has various lifts such as drag lifts, cable cars and gondolas. There are 5 ski villages around this area.
Vallnord is slightly smaller, it has 47 kilometers of blue runs, 35 kilometers of red and 10 kilometers of black runs. This area also has a considerable number of lifts and gondolas together with 3 ski villages neighbouring this area.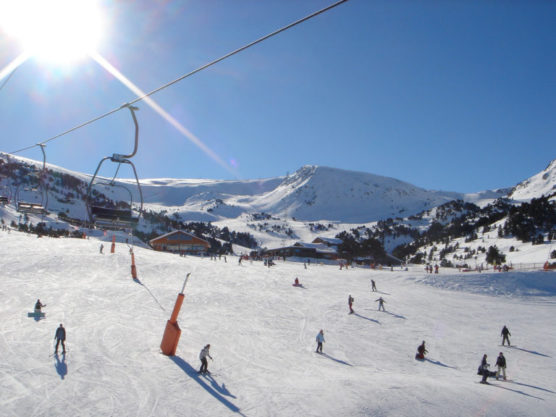 Sliding in a tubing
Have you ever heard of tube sliding? It's an English term for a sport that you usually practice on the water, with a stripe behind a boat or jet ski. But this winter you can experience this on a snow in Andorra! Vallnord has a track where you can whiz along at full speed, while the tube turns you in all directions going downhill. This activity is suitable for the whole family and you can do it in Vallnort-Ordino Arcalís. 
Are you brave enough to experience this snow experience in a gigantic, blow-up 'donut'? Find out more information on Visit Andorra's website.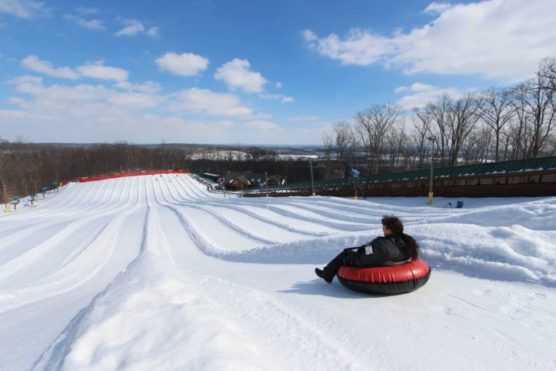 Husky sleigh ride
Snow shouldn't be associated only with skiing. How cool would be huskies pulling your sleigh? The animals are well-trained giving you the tranquility to fully enjoy the beautiful landscape around.
There are different tours on offer in the Grandvalira ski resort. You can go on excursions, but you can also sledding on your own. This snowy activity is suitable for couples, friends, but also for the whole family! Take a look at the Visit Andorra website site for more information to complete your plans as well as more information about what to do in Andorra with children.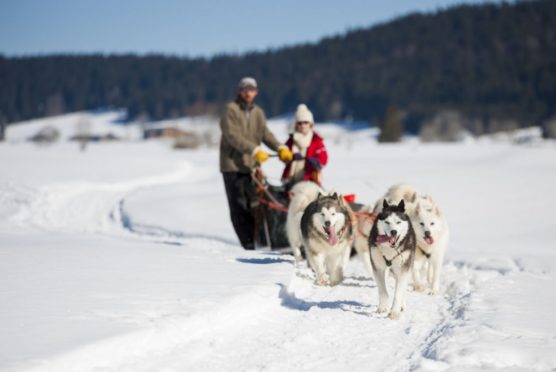 Did you find "In Andorra with children" interesting to read? Maybe you will also like what to do in Andorra in 3 days. Winter or summer, it doesn't matter because Andorra has it all! Book your next holiday to this underrated but amazing country to visit.