The beautiful island Menorca which is located in the Balearic archipelago surrounded by the Mediterranean Sea, is the perfect place for spending your holiday with your partner or your friends. Enjoying the wonderful climate and spectacular scenery has been made easier by the naturist beaches that can be found on this island.  Nudism is becoming a habit in Spain because the people love the spiritual connection that it gives us with the environment. Perfect to fully relax and enjoy the nature that surrounds you. Today you will discover the best naturist beaches in Menorca!
The most beautiful naturist beaches in Menorca
Cala Pilar
In the northeast of Menorca this beach is located, in the town Ciudadela. Though it is not recommended to visit this beach with children or elderly because of the inaccessibility for them. Cala Pilar is a small beach and perfect for naturists who want to escape from the crowd. However you have to keep in mind that this beach does not have any services. So do not forget to bring yourself water, food and perhaps a parasol. Nevertheless, this is the perfect place to enjoy the wonderful waters of Menorca: Cala Pilar is a protected area which makes it a wonderful place for snorkelling and diving.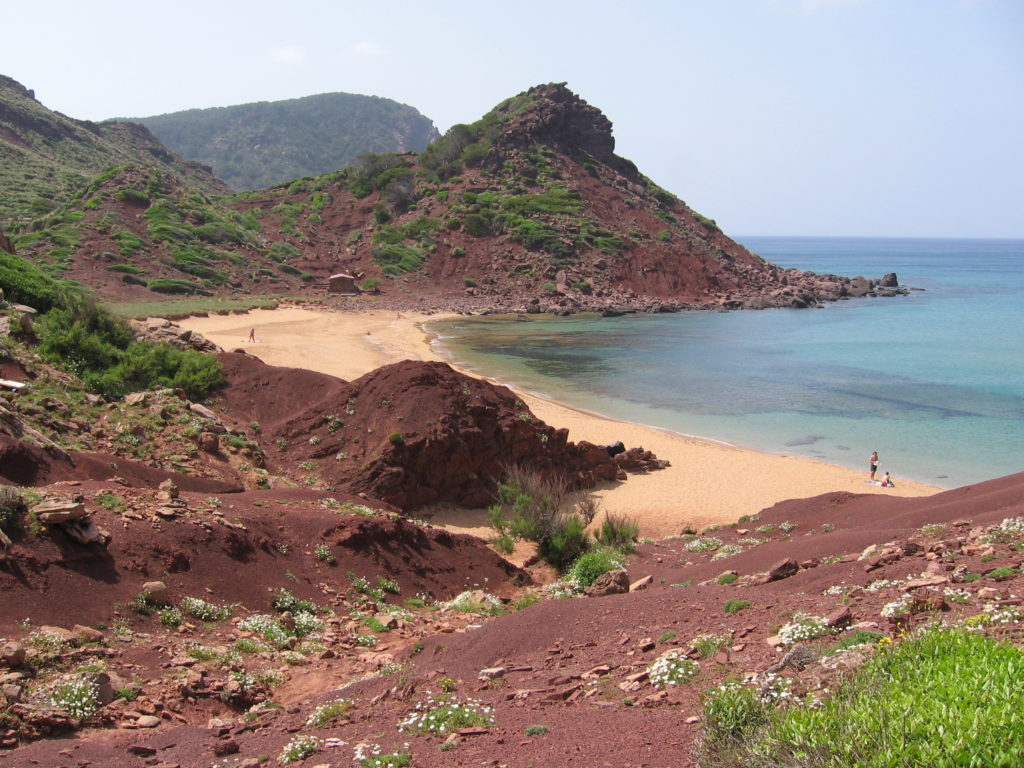 Cala Calderer
Just as Cala Pilar you will find few people here who will visit this bay which makes it a perfect place to relax. This is mainly due to the difficult access to this beach. You will find this beach in the area Es Mercal and is considered a quiet area due to the proximity of mountains and flora. The clear water and fine sand form a landscape that is absolutely worth a visit during your holidays in Menorca. On this beach you have the possibility to relax in the sun and forget everything around you.
Cala Mesquida
About approximately seven kilometres from Capdepera we will find Cala Mesquida, a wide sandy beach with a fine gravel rinsed clean by the waters of Menorca. This bay is easy accessible because of the good access road. This landscape is perfect to escape the daily routine because you will be dragged away in the peace of nature. On the beach you will find various facilities such as the rental of hammocks, parasols and first aid is provided. For these reasons, this beach is increasingly visited but it remains a wonderful place to enjoy the beautiful scenery.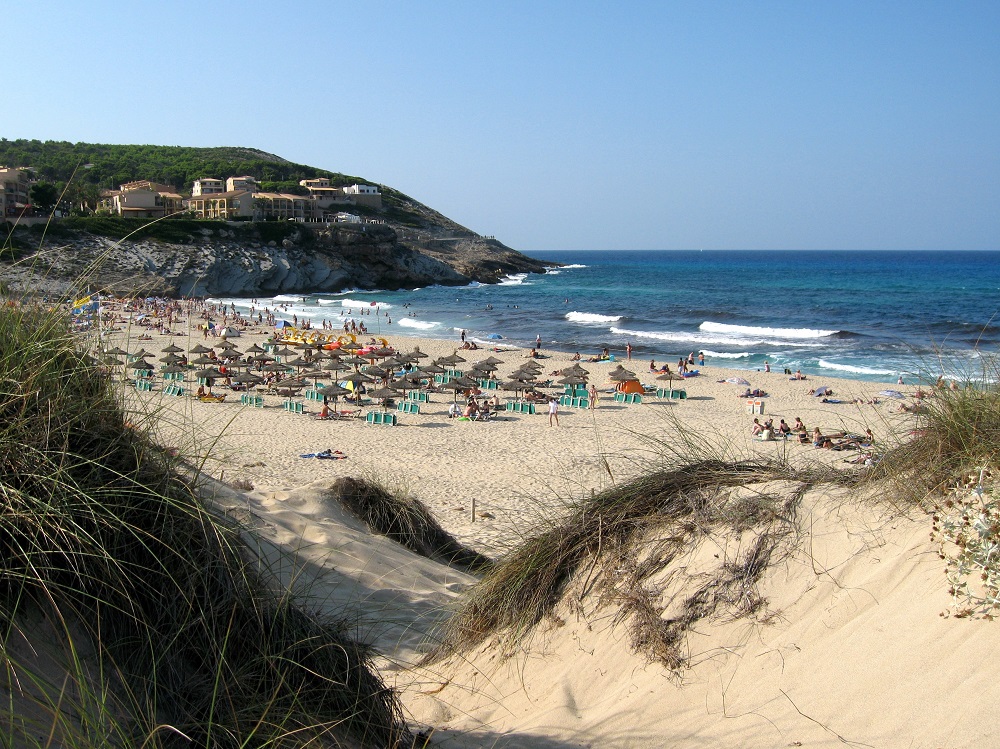 Cala Presili or Fort Capi
This beach does not look like most of the other naturist beaches in Menorca because this beach has white and fine sand while the beaches in the north part of the island contain more reddish tones. The area where this bay is located is a natural park wherefore the people who visit this place are very eco-friendly and have respect for this environment.
To arrive on this beach you should do the following: from Ciutadella to Maó you should follow the lighthouse Favàritx: once in Fort Capi you should know that this place does not have any facilities. Are you visiting this beach in summer, do not forget to bring water, food and perhaps a parasol. Nevertheless, this area is definitely worth visiting because this is a wonderful place to go snorkelling and you can relax in full peace under the sun.
Cala Rambles of Sa Torreta
This beach is located in Mahón, an area of great beauty. Cala Rambles is an unaffected and protected beach where you will find the peace you are looking for when you would like to enjoy a well deserved vacation. Because of the difficult accessibility not many people visit this beach, not even in August. When you would like to visit you do not have to worry about facing big crowds disturbing the peace.
This beach does not have any facilities: so do not forget to bring the stuff you need to enjoy a visit to this beach in the middle of the nature. You can enjoy both the surrounding mountains and the sea since this area is located in the natural park Albufera d'es Grau.
Es Grau
This bay is located next to a town with the same name, Es Grau. It is the largest nudist beach in Menorca; an area of 600 metres with many natural features which make this beach one of the most famous and most visited. You will find this beach also in the natural park Albufera d'es Grau, and although it is located close to the centre of the city Es Grau you can still enjoy the lovely see atmosphere. At this beach you will find a few restaurants and small shops where you can eat something. Besides, you are able to rent kayaks or participate in boat tours. Thanks to the ability to surf, the parking and other facilities which this beach offers, Es Grau is very popular among families and tourists. This does not mean that you cannot enjoy the most beautiful sunsets which Es Grau offers every night during summer.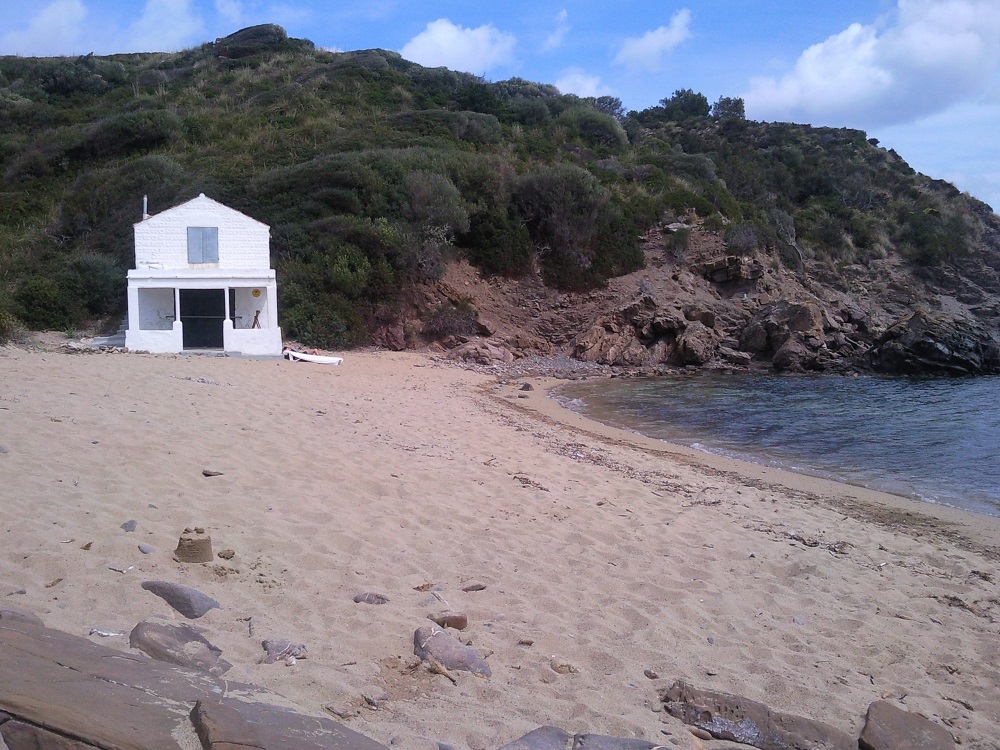 As you can see Menorca has a wide variety of naturist beaches where you can relax without any problems. Are you not going to Menorca this summer but you are travelling to another Spanish destination, then read here more about the best nudist beaches in Spain! During your holiday it is time to fully relax and leave all your worries at home, so the only question you may ask yourself during these days is: what beach do we visit today?

Use the code ESCAPES and receive 20€ discount on your next booking!