Eating habits and times
It is no secret that Spain is very different from the UK; the climate, the people, and of course the food. The Spanish not only have a different cuisine with their wonderful mediterranean diet, but they also have very distinctive eating habits and times to the Brits.
There is no doubt that the Spanish love their food, to the extent that they eat up to 5 times a day, whipping the British 3 times a day out of the ballpark! But food culture in Spain is about so much more than eating. No, it's about enjoying the company of your friends, good food, good wine or beer and most importantly good conversation: "sobremesa". The closest translation into English would be something along the lines of table-talk and in Spain it can last for hours after a meal.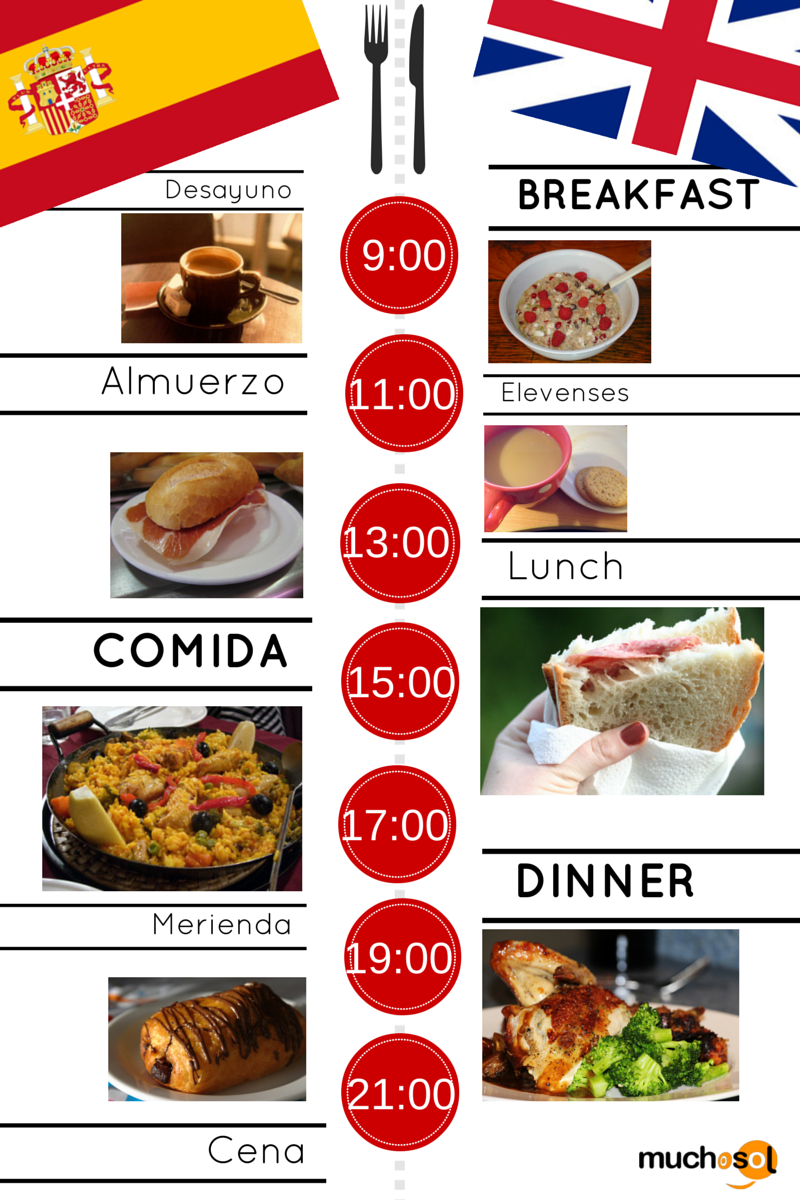 Breakfast / Desayuno (9am)
There is far less importance placed on breakfast in Spain. Whilst for most Brits breakfast is the most crucial meal of the day, for the Spanish it is quite the opposite. In fact many of them skip breakfast entirely and just grab a coffee before work. For the minority that do eat breakfast they usually opt for a small sweet snack such as toast with jam or a pastry.
The most famous choice of breakfast in Spain is their beloved churros with sugar or hot chocolate. However, the hot chocolate (chocolate caliente a la taza) is not like in the UK made from the powder packets added to hot water or hot milk if you're lucky. No, in Spain it is a thick, rich, devilishly good cup of heaven! However, it is important to note that the Spanish don't tuck into churros and hot chocolate every morning, just like the Brits, contrary to popular belief, don't generally devour a full english fry up on a daily basis!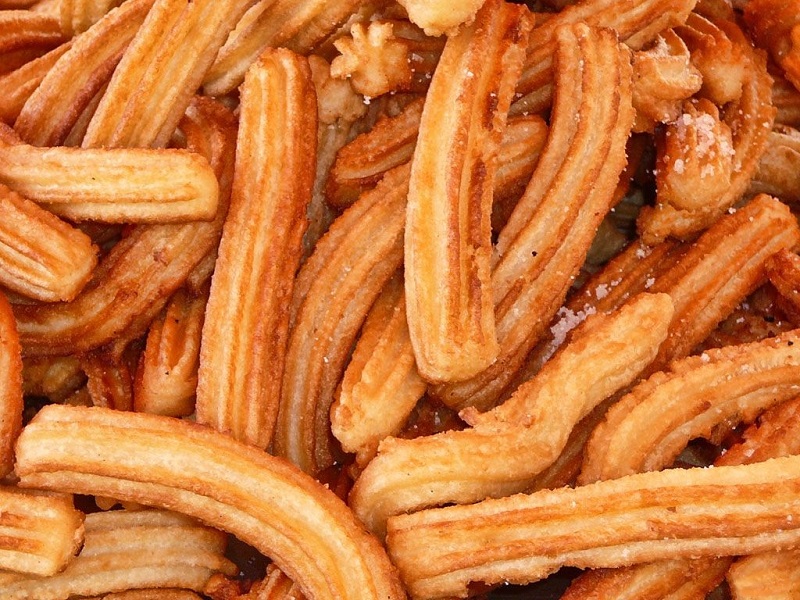 > Funfact: For the Spanish, churros is the choice of food to end a night of partying just like the Brits weakness for cheesy chips and a kebab.
Another typical but less well-known spanish breakfast or brunch is the delicious tostada con aceite y tomate which is fresh bread toasted and then topped with peeled and crushed tomatoes, olive oil and salt. Opt for this yummy dish if you are wanting to fit in with the locals!
Elevenses / Almuerzo (11am)
After such a minimal breakfast, if any, and a long wait until lunch, the Spanish tend to have a snack anytime between 10:30 and 12:00 to keep them going. It is similar to the British elevenses, however, it is much more common and most companies have an official break allocated for it. Also, whilst the Brits may enjoy a sweet snack such as biscuits dunked in their tea (black with milk and sugar of course, also known as a builders brew) or in their milky coffee, the Spanish tend to go for something savoury like a sandwich or an "empanada" (stuffed savoury pastry originally from Galicia) with their much stronger coffee.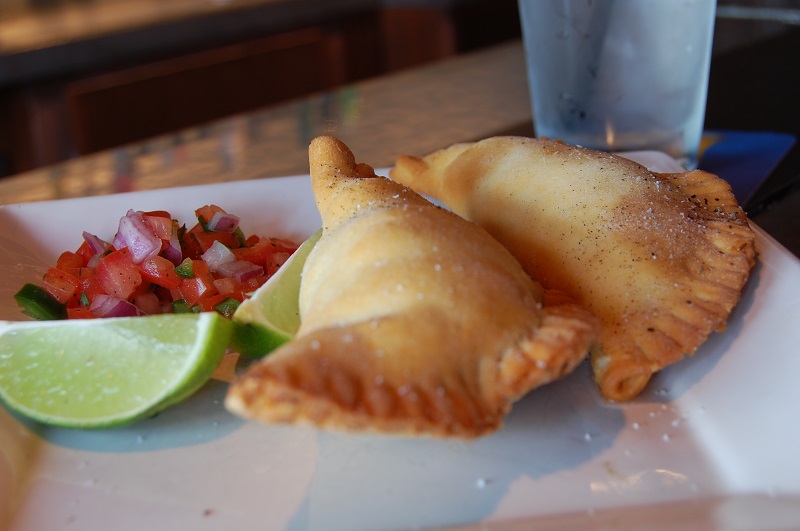 Lunch / Comida (2.30pm)
A huge contrast to the British tendency of a quick sandwich on the go or at your desk between 12pm and 1pm, is the Spanish "comida". Lunch is, without a doubt, the most important meal of the day in Spain and is enjoyed much later than in Britain, generally between 2pm and 4pm. It usually consists of a few courses: a salad or soup to start, followed by a main course and dessert too, if you fancy.
Using Valencia as an example, when someone orders paella in a restaurant in the evening it is obvious that they are a tourist, eating such a big meal for dinner. So if you are looking to eat like a local, enjoy this wonderfully delicious Valencian dish at lunchtime. This authentic dish originated in the South of Valencia province in a town called Albufera and a proper Paella Valenciana should include white rice, large white beans, flat green beans, tomato, meat (chicken and rabbit), salt, oil, water and seasoning such as saffron. Normally, the Spanish eat paella at the weekend with the family as it takes time to prepare and cook it, never in the evening.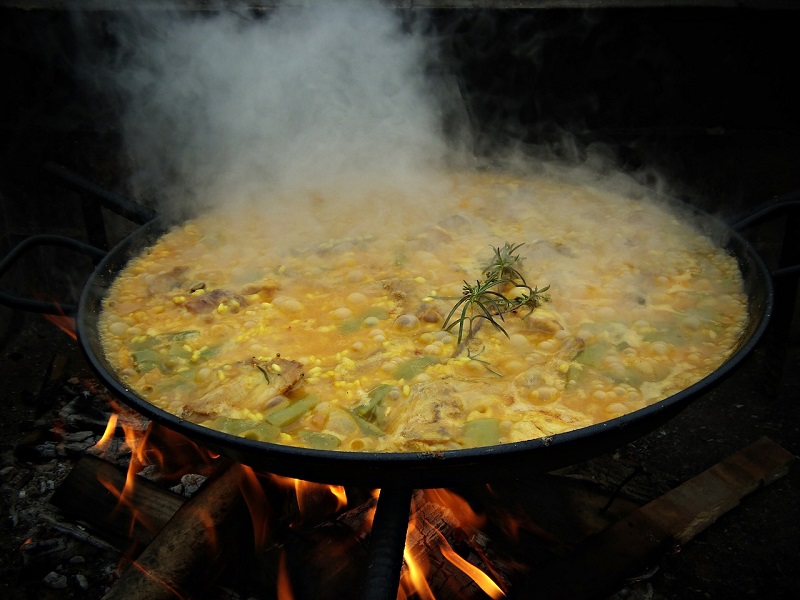 The Spanish are not to be rushed over their lunch and it is extended even further with the siesta. Do the Spanish really take a nap half way through the afternoon? Well, the answer is yes and no. It is common amongst people at the weekend and amongst children, but during the working week not so much. People tend to be working further away from where they live and so don't necessarily have time to go home for a siesta during their lunch break.
Afternoon Snack / Merienda (6pm)
Still a long way off dinner, it's time to snack again! Generally, most aspects of the spanish daily routine are later than in Britain. They work later, and so eat later and therefore tend to have a little snack after work to tide them over until dinner. The Spanish generally opt for a sweet snack at this time of day.
Dinner / Cena (10pm)
With lunch being such a grand affair in Spain, dinner is inevitably a smaller and lighter meal, unlike in Britain where dinner is more important than lunch. The Spanish tend to enjoy dinner anytime between 9.30 and 11pm and during summer you can even see some Spaniards sat in restaurants at midnight! Dinner in Spain can be a salad or sandwich or a few tapas; nothing too heavy.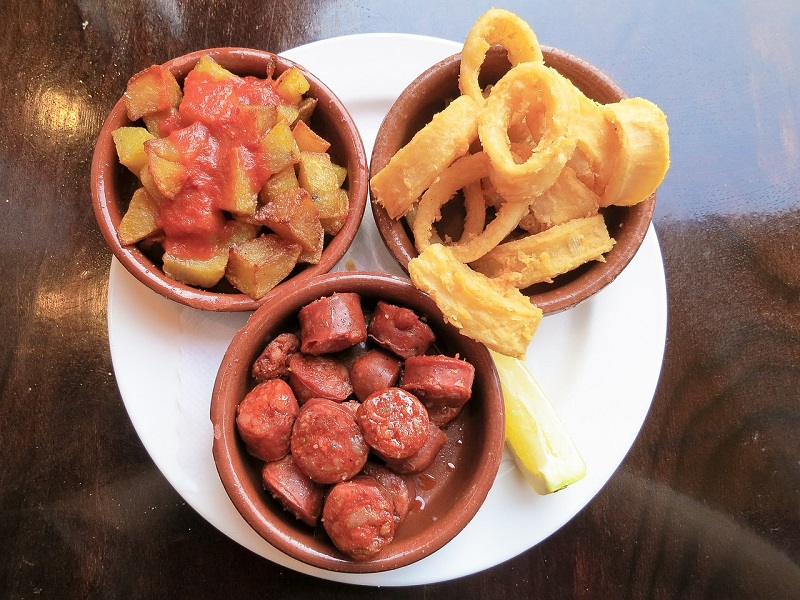 Tapas is rooted in Spanish culture, they even have a verb, tapear, which means to go for tapas. And what a lovely aspect of the culture it is! As I am sure you are already well aware, tapas are small snacks to share with friends over a drink or several tapas can substitute a meal. Tapas can be increased in size to be the equivalent of half a meal, "media racíon", or a full portion, "racíon". The idea of going for tapas (ir de tapas) is like the British pub crawl. So the idea is you don't tend to have more than 2 tapas in one place before moving onto the next to try their selection. The serving of tapas is designed to encourage conversation, because people are not so focused on eating an entire meal that is set before them. Thus, bars in Spain are more than just an establishment for drinking, but a meeting point for friends and a social hub for sharing food, drinking and enjoying one another's company. In some places you receive a free tapa with  your drink, particularly in cities such as Granada, but this is not everywhere.
> Funfact: Tapas originated in Seville as bartenders would serve a drink with a slice of meat over the top which acted as a lid (tapa) to prevent insects from falling into their drink. In addition, the salty meat would also make customers thirsty and therefore boost sales.
Here are some of the most common & classic tapas:
Aceitunas: olives (Warning: these are often filled with anchovies!)
Calamares: rings of battered squid
Croquetas: croquets usually filled with bechamel or potato with cod, ham or chicken
Gambas al ajilo: prawns cooked in olive oil with garlic and chilli
Patatas Bravas: bite-sized potato chunks with a spicy tomato sauce. In some places, particularly Valencia where it originated, bravas are served with aioli which is garlic and oil. (it's like a garlicky mayonnaise).
Tortilla española: a thick potato omelette.
Plato de jamón y queso: a plate of ham and cheese which varies from region to region within Spain.