Falling in love with Costa Blanca is easy so does finding disabled friendly holiday rentals with Muchosol! Costa Blanca is the ideal choice for people with disabilities. Take advantage of the prices, location and mostly the charm and coziness.
Muchosol offers completely legal accommodations for everyone who wants to spend unforgettable holidays and even much more than that! Don't limit yourself because everything is possible, if you want it hard. We know everyone deserves memorable holidays and experiences, therefore, read on to find out your perfect accommodation suited completely for your needs!
The top 6 disabled friendly holiday rentals in Costa Blanca
Holiday villa rental in Alicante 
Costa Blanca fulfills all your needs! The lovely villa that we suggest you to have a look at, offers beautiful views over the ocean and can accommodate up to 8 people. However, there are two floors which are completely separated that allows privacy.
The main floor which is at the same level as the swimming pool is spacious and wheelchair accessible. The villa offers all features for every need in order to turn your holiday into a memorable experience! In addition, this villa is nestled between the cities of Benissa and Calp giving you the opportunity to explore both towns. If you want a more relaxed holiday, you can chill in the villa's yard and afterward have a barbecue. What about a family dinner in this dining room with incredible views?
Holiday Apartment in Javea 
The apartment is completely new, situated just 10 min walk from the port of Javea with its beach and promenade offering a multiple choice of restaurants. The apartment is ideal for families with children or couples and it's fully accessible. It's all equipped including dishwasher, refrigerator, hob, oven, juicer, Nespresso machine, kettle, glasses, plates, microwave, washing, and dryer machines. In addition, you can enjoy this apartment in all seasons because it's planned so you don't get cold in the winter or too hot in the summer. The best part is yet to come! Despite the pool which is situated within just 20 meters from the apartment surrounded by palm trees and isolated from the noise, the building also features an indoor pool area and jacuzzi where you can enjoy cold days in peace! What do you think of this cosy, comfortable and disabled friendly apartment?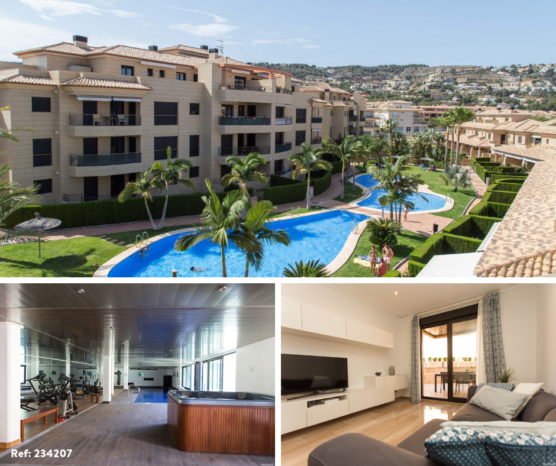 Pink and cute bungalow in Torrevieja 
The bungalow benefits from a garden and a communal swimming pool. It's situated 15 min walking distance from the beach and there are also many facilities located also within an accessible walking distance. It's fully equipped and modern bungalow consisting of a spacious hall, kitchen, two bedrooms, two bathrooms, and terrace. It also has air conditioning, bed linen and towels. There is a parking spot inside the complex where you can leave your car for free. The bungalow is perfectly designed for people with disabilities. How about spending a few days in this oasis together with your family or friends?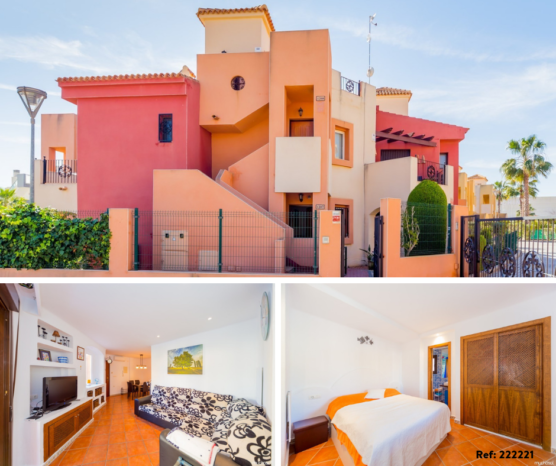 Accessible and modern chalet in Els Poblets with a central location 
The chalet is distributed in 4 modern bedrooms and has the capacity of 8 people. It has views over the garden, the swimming pool and it's very spacious. It's also located near shops, bars, restaurants. The whole house is air conditioned and it's fully equipped with all the amenities you need for your amazing experience! Relax in these comfortable sofas or have sweet dreams in those big bedrooms. We are sure this is all you need for relaxing vacations. If this one doesn't suit your taste, look at other accommodation options! ⬇ Simply click on the "Filters" and set your choice!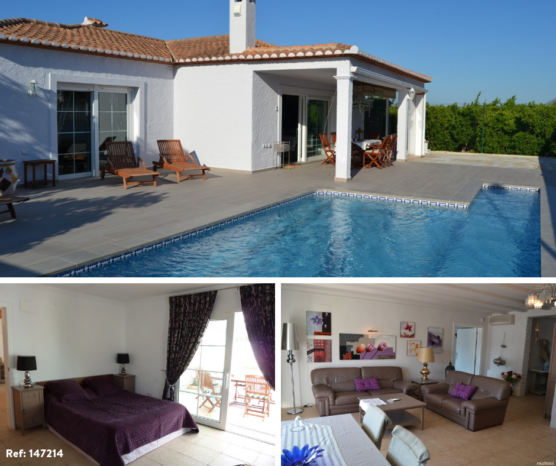 Cottage with mountain views in Banyeres de Mariola
Costa Blanca is known for its beaches but few of you know that you can have breathtaking mountain views in this area. This cottage brings the winter cosiness going along with a chimney. Imagine now drinking your hot cup of tea sitting in front of it with the fire crackling all night. This gorgeous cottage has a capacity of 10 people and has all the comforts you need during your holidays. If the weather allows you can also have a barbecue night in the beautiful garden. In addition, you have access to the bedrooms, bathrooms, kitchen, living room and patio.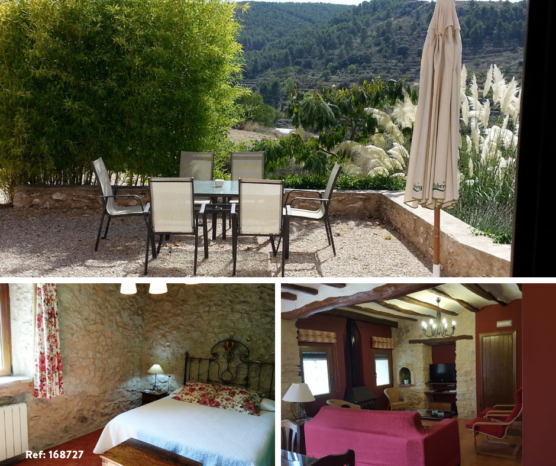 Bright and colorful bungalow in La Zenia 
The region of Costa Blanca is nice for tourism activities throughout the entire year. Its climate makes it a nice spot for visitors who want the combo of the 3S –  sea, sand, and sun. No matter the weather, the sea is beautiful in all seasons as well as this bright and colorful bungalow in La Zenia. It can accommodate up to 6 people and it's disabled friendly holiday home rental. It comes with a communal pool and a terrace where the light makes its own way to the living room. The colors are nicely matched to ensure a vibrant but calm and relaxing atmosphere for your vacations. The bungalow features all the necessary comforts and it has a private large courtyard and private garage parking space. Ready to go?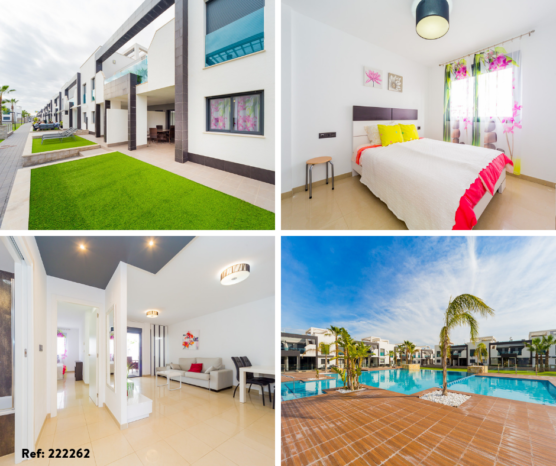 These were some of our suggestions for disabled friendly holiday rentals in Costa Blanca. You can find many more on our web page and we hope you choose Muchosol for your next holidays. We offer accommodations for every need! You don't know where to spend your next holidays yet, let us give you a clue -> two words-> start with Costa and ends in Blanca!
Now, to fully complete your trip, take a look at the gastronomical specialties of this region and click here if you are looking for the best pitures spots.