Denia attracts thousands of holidaymakers each year. Denia is one of the most famous destinations on Costa Blanca, not only for its beautiful beaches but also for the variety of activities that families can do. For example, you can easily combine a morning at the beach and explore the historical center later. If you are a nature lover, you are also welcome! Let's see what can you do during your holidays in Denia with kids.
Things to do in Denia with kids
Go & see the castle of Denia
The castle of Denia lies on top of a cliff overlooking the coast, discovering beautiful views over the historic town of Denia as well as of Montgó. Later on, we will tell you about Montgó but now let's focus on the castle of Denia which turned into a symbol of the city. It was built in the 11th century and it dates back to the Roman times. It's also declared a ''Monument of Cultural Interest'' by the Spanish Government which makes it a must-see during your holidays in Denia with kids. Inside the castle, there is the Archaeological Museum, as well as a bar where you can enjoy the views after the visit.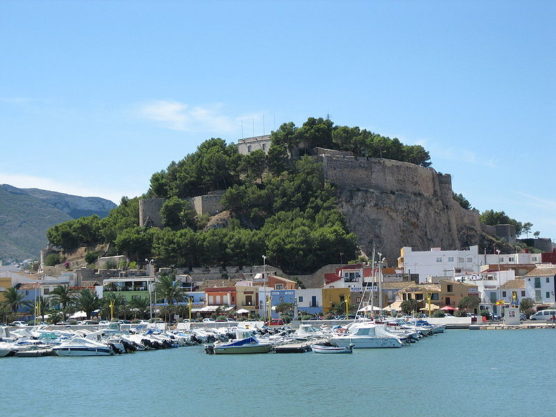 The Denia castle schedule:
November-March: 10:00-18:00
April-May: 10:00-19:00
June: 10:00- 20:30
from 1st of July to 15th of September: 10.00-20.30 (occasionally opened until 00:30)
16th to 30th of September: 10:00-20:00
October: 10:00-18:30
Prices:

Kids (0-8 years old) + citizens: free of charge
Adults: €3
Kids (8-16): €1
Retirees: €2
Students: €2
Groups (More than 10): €2 per person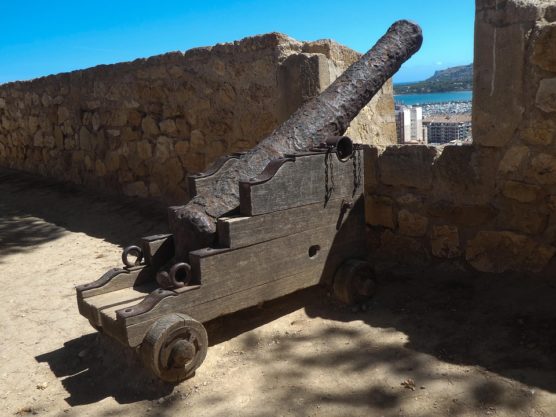 A stroll through the historical town of Denia
While here, don't miss the ''Les Roques'' – the historic district around the castle with its tiny pebbled pedestrian streets. In addition, visit the Loreto Street where you will find the convent of the Augustinians and the Plaza de la Constitution with the Church of the Assumption.
Moreover, pass through the Castillo tunnel located nearby the Plaza del Consell, which connects the two parts of the city.
When you walk towards the sea, walk along the Calle Marques de Campos, a vibrant street with many shops and bars with terraces where your family can relax after a busy day of sightseeing. If that's not enough for your holidays in Denia with kids, nearby, it's the Calle Calderon, where you will find the Toy Museum of Denia. Undoubtedly, this will be a nice activity for toddlers. If you wonder where to stay in Denia, check out this!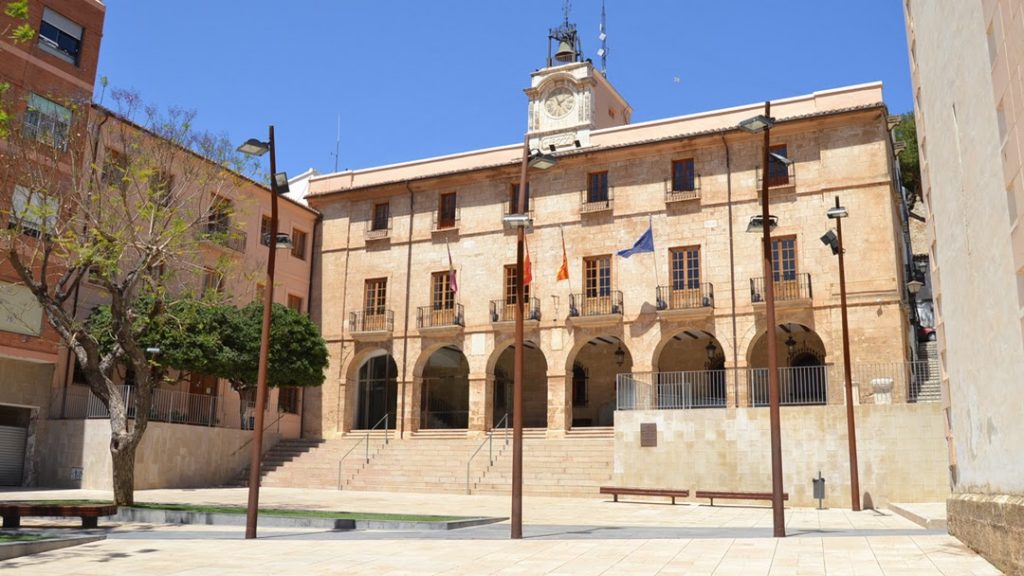 Enjoy Denia Beaches
The beaches of Denia are one of the main reasons tourists spend their summer there. Denia has nearly 15 km of coastline that divides into 2 main stretches: Las Rotas, which is characterized with rocky coves and Las Marinas, with its long sandy beaches.
Families will rather enjoy a day on the beach in Las Marinas zone, while divers and surfers would like exploring Las Rotas.
Denia has a beach for every taste. Whether you would like to paddle in calm waters, building sandcastles with your kids or spend a quiet day, look at some suggestions of the Blue Flag beaches in Denia.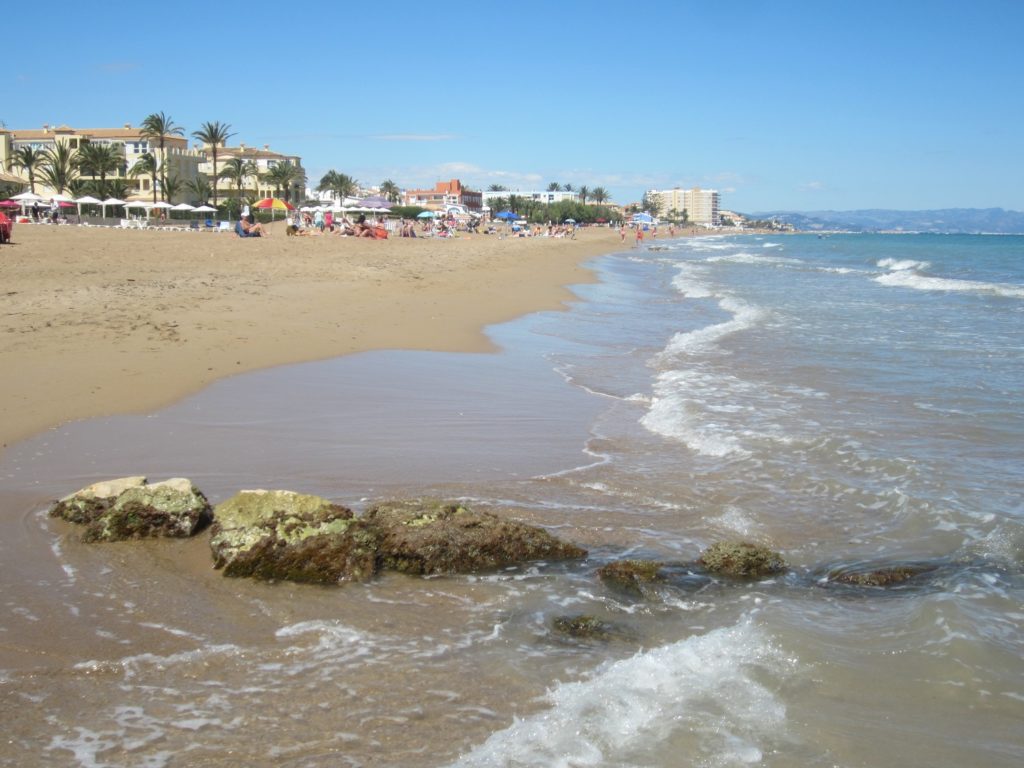 Another fun activity you can do, and that your little pirates will love (of course, if they don't feel seasick) is going on an excursion with a boat in the Mediterranean Sea. Choose your route here.
❧ Tip: Denia is also a great place to go dolphin and whale spotting which is an assurance of a fun thing to do with kids. The best corner to look out for those marine creatures is Cabo de San Antonio Marine Reserve.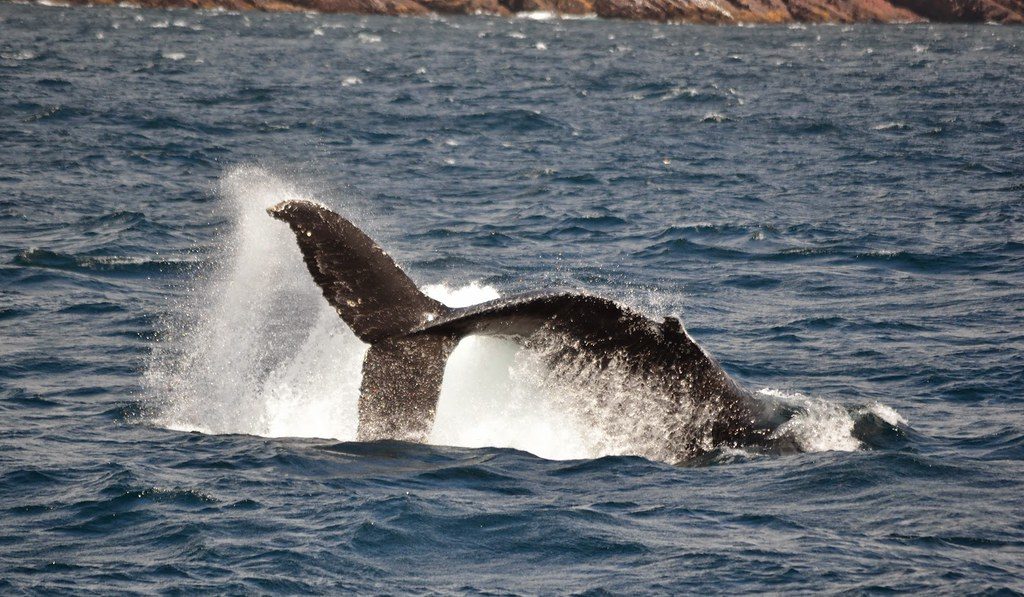 Treat yourself at the Local markets
After you've heard about the beaches and what to see in Denia with kids, it's time for a break. Do you feel hungry after the long walk, that's the section to read!
We suggest taking your family to the many markets Denia boasts with. That's also a great opportunity to try local food. The most famous markets are the Municipal, Fish and Open-Air Market.
❧ Tip: From Monday to Friday, at 5 pm you can attend a unique experience – the fish auctions, just a bit after the fishing boats moor in the port. It's an all year round event except the period of biological halt. For more information and what to try, read here.
In addition, if you want to enjoy a nice dinner out together with the whole family, here's a list of some nice restaurants in Denia.
Besides food, Denia is also a good destination for shopping lovers. In the area of Calle Marques de Campo and the neighborhood of Baix la Mar,  there are plenty of craft shops and boutiques to search for the perfect item.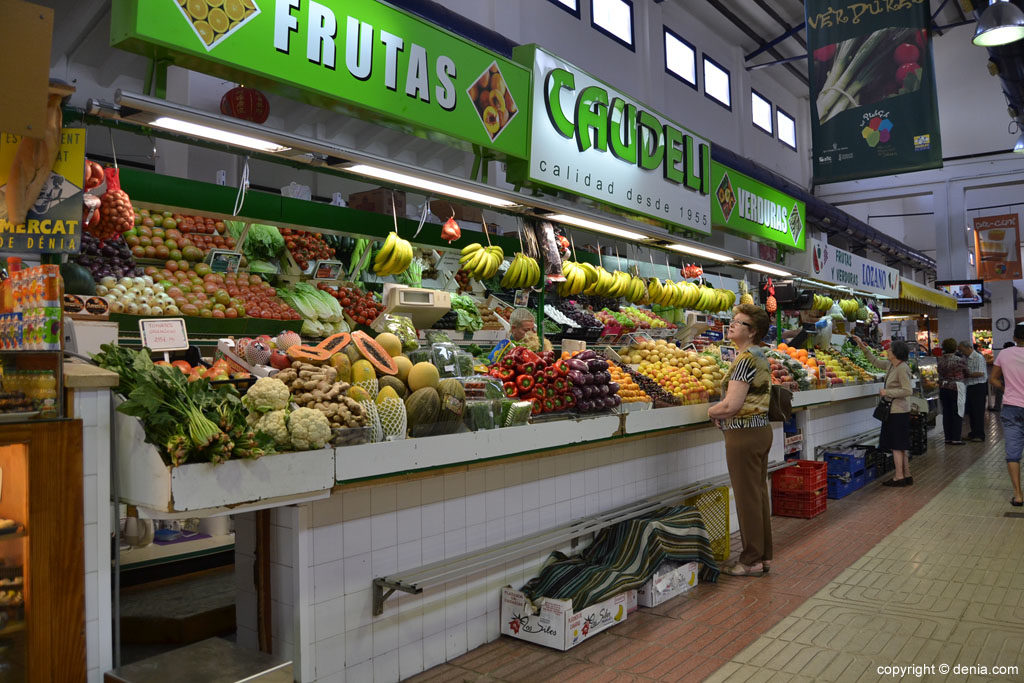 Discover the Montgó Natural Reserve
Located in a short distance from the coast, you can find the Montgó mountain. It has rich flora and fauna. You can spot eagles, owls, foxes, peregrine falcons among many others. The park is ideal if your family likes hiking and exploring the area on foot. So if that's the case, it should definitely go on your list for your holidays in Denia with kids. In addition, you can see the whole Denia and the coast from up there!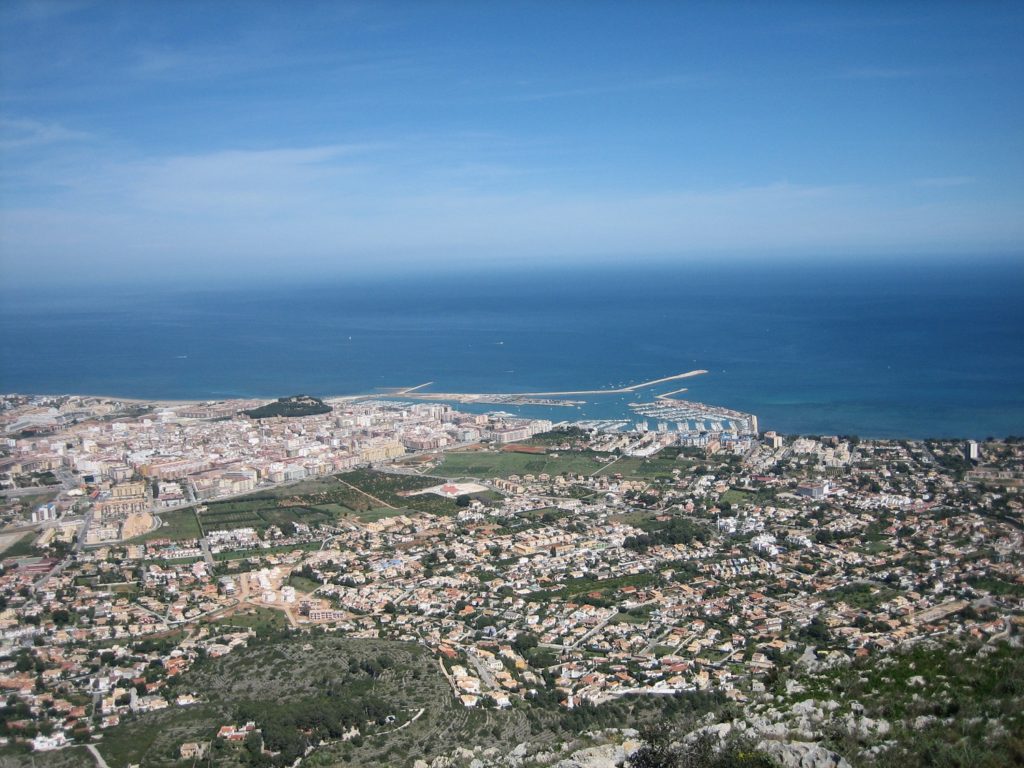 If that's not your cup of tea, you can also go biking. Besides the sea promenade in Denia, you can also bike through the spectacular Via Verde, that connects Denia to Gandia. 
If that doesn't satisfy your kids' spirit, then try out some of the adventurous activities such as canyoning, climbing and 4×4 excursions. A company like Tururac organize various activities for families throughout the year.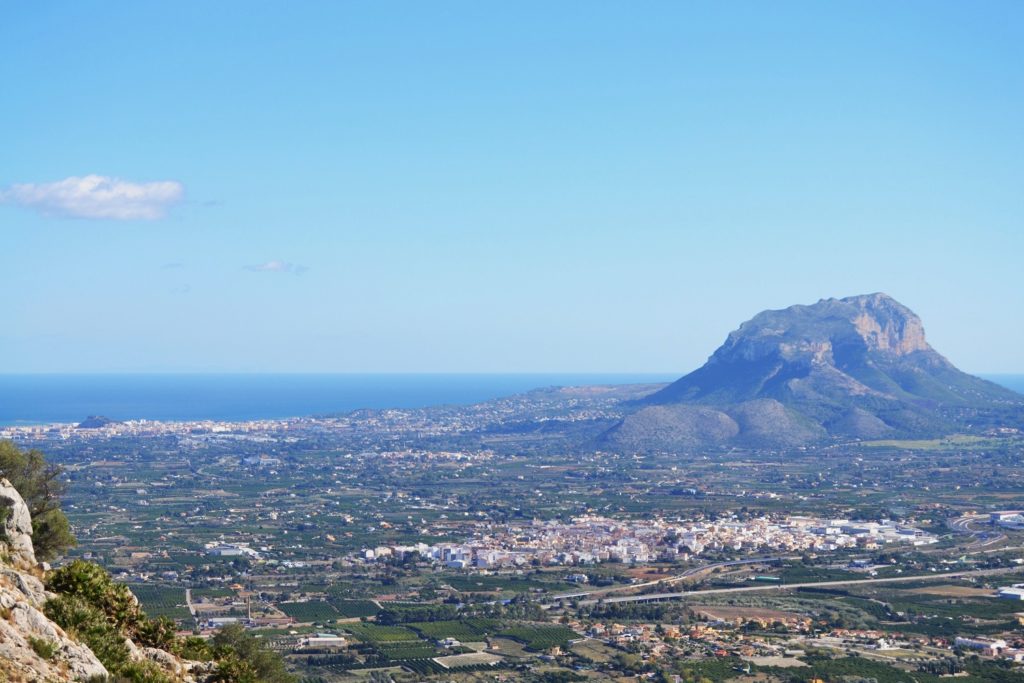 Make memories & Day Trips
If you've seen everything that Denia can offer, you can also head down to the Balearic Islands. Take the ferry and sail in the Mediterranean sea. Also, did you know that Denia is the closest Spanish town to the archipelago? See the Balearia Ferries official website for more information.
In addition, you can always go more to the south and spend time in Calp, Javea and/or Altea. If you decide to stay in one of these places ⬇
Are you looking for your holidays in Denia with kids? Denia is a family-friendly destination with a lot to offer. There's something to do for everyone! From shopping to a day in nature or at the beach, Denia won't disappoint you! Do you have any other tips, that perhaps we've missed highlighting?