Winter is coming and the ski holiday comes with it! Have you already thought about where your next ski trip is taking you? Is it going to be a quiet family holiday or intensive holiday with long slopes and après-ski? We have come up with a few tips of luxury accommodations for skiers to make your winter holiday a wonderful experience ❄.
Luxury accommodations for skiers
Chamonix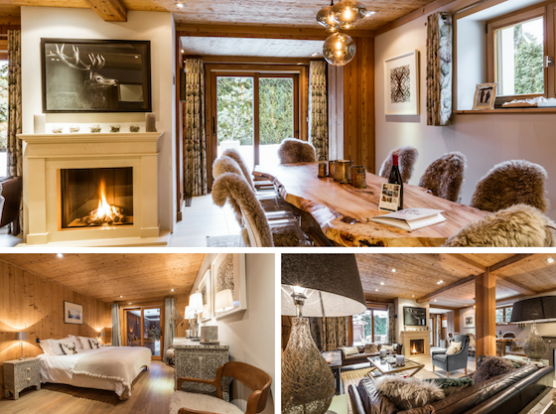 Chamonix is probably the most popular place in the French Alps and we are not surprised.  The city turns into a vibrant spot as soon as the first snow falls and gets the attention of many ski fans from all over the world who came to try the slopes. In order to fully enjoy your snowy holiday, accommodation in the center and near the ski slopes is an essential factor. This apartment is located in the heart of Chamonix, just a few minutes from the nearest gondola lift. It has 4 bedrooms, with a maximum capacity of  8 people and the interior will leave you speechless!
Les Gets, Haute-Savoie
Les Gets – a romantic village part of the Franco-Swiss ski resort of Portes du Soleil, dedicated entirely to soft tourism. Peace and relaxation here can be found not only in the streets of this picturesque village but also between the walls of our cozy chalet. It's located at the foot of the ski slope, it has 6 rooms spacious enough to accommodate 14 people, furthermore, this luxurious chalet is all you could wish for on a cold day. Wait until we reveal the highlight, the house comes with a private pool just for you! Discover more about the best ski resorts and places in the French Alps!
Verbier in Valais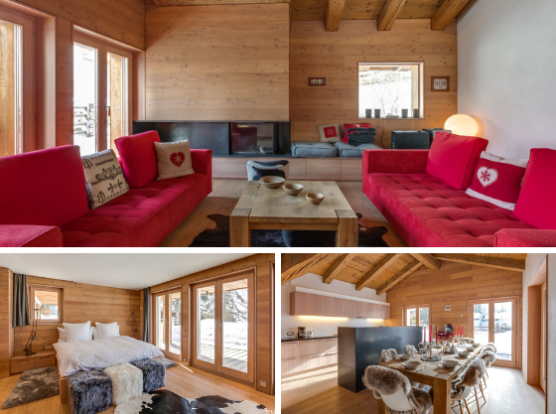 Verbier is part of the 4 Vallées winter sports area and therefore makes the perfect place for a few active skiing days surrounded by impressive nature.
Several times a year, important winter sports events take place here. Your holiday wouldn't be perfect without this chalet right in the middle of the ski resort. It has 5 bedrooms and can accommodate a total of 10 people and it has an impressive décor – a mixture of modern and traditional elements. Imagine yourself sitting there, having a chat over with your friends or family with a glass of red wine while the snow outside is quietly falling down, what a perfect winter! ??
Gstaad in the canton of Bern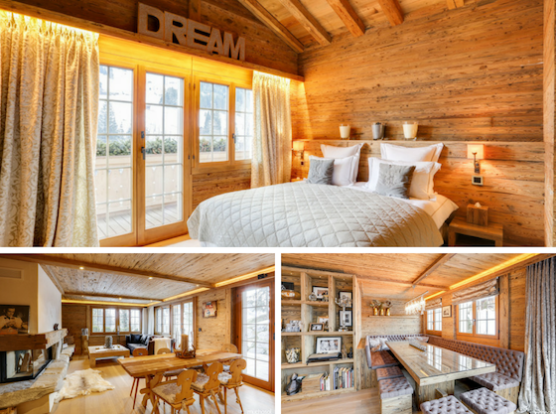 The car-free village is such an outstanding and charming corner of the world that has been visited by famous people such as Bernie Ecelstone, Elizabeth Taylor and Grace Kelly. Gstaad is part of three ski areas and there are many more to explore nearby. We recommend this chalet in the district of Moosfang with 6 bedrooms, with the capacity of up to 13 people. From the wonderful balcony, you can overlook the region and fill your eyes with beauty and the sauna will help you to warm up after an intensive day in the snow. 
Kaprun in Salzburg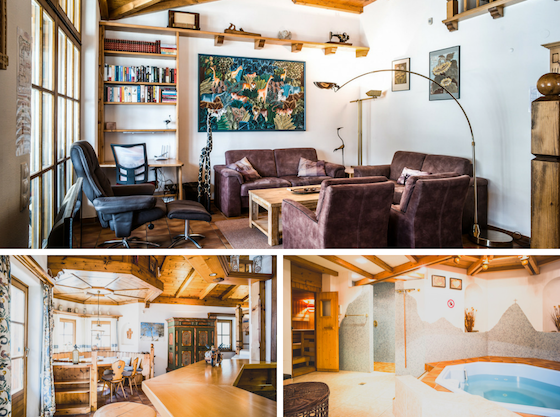 Traditional and rustic village with an authentic atmosphere where a memorable ski holiday is guaranteed!
This apartment in the middle of the beautiful and natural Pinzgau in Austria promises maximum homely relaxation with your loved ones. Apart from 4 bedrooms, there is a pool, a terrace, a balcony and an original tile stove to stop for a bite and a rest. The best thing about the apartment? It's located right on the ski slope! Take your skis and slide downhill. 
☃☃☃
We recommended our favorite luxury accommodations for skiers. Well, are you waiting for the first snowflakes? We are ready to wax our skis and get them out of the cellar! Our checklist for the winter holidays will help you to pack anything you need. In that sense, we say: ski well! ?