Are you looking for nudist beaches in Spain?
At Muchosol we have prepared this info-graphic with the best nudist beaches in Spain so that, whether it is because you want to try it for the first time or not, it will be easier to find the perfect beach for your holidays. This is a selection of our favourites, however, according to the Spanish Naturist Federation, there are over 400 naturist beaches in Spain. So, if you are looking for a nude beach holiday, use this selection of nudist beaches in Spain in order to enjoy your vacation at its fullest!

Insert this code to share the infographic on your website or blog

Nudist beaches in Spain: the Valencia region
The beach El Saler in Valencia, with white sand and calm waters, is surrounded by sand dunes and pine trees which makes it easy to access and is fully adapted for disabled people. Anyone wishing to practise nudism can do it here in full relaxation.
In Denia, Alicante, we can find La Cala, a virgin beach mostly with stones. The waters are calm and clear, so it is common to find people scuba diving. You will also find excellent views of the Montgo Natural Park. It is a discrete and uncrowded cove, aspects that create the ideal conditions to practice nudism. The walk is a bit difficult through a narrow trail, but it is definitely worth it.
Also in the area of Alicante, in the town of Altea, we can find La Solsida. A virgin beach with stones and pebbles ideal for relaxed bathing. Accessible by foot, however, it is not complicated because it has steps to get close to the shore.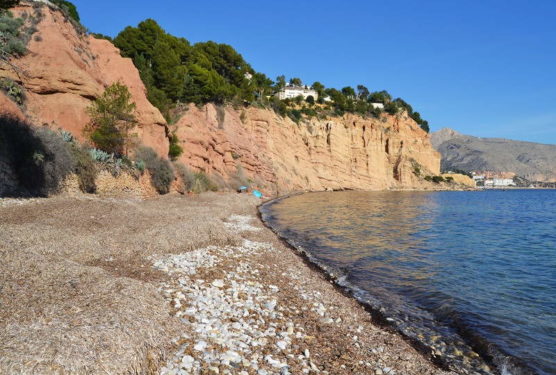 Nudist beaches in Murcia
The beach of El Portús, en Cartagena, is divided into two sections, eastern side nudist and western side non-nudist. This pebble beach has good accessibility because it is semi-urban.
Nudist beaches in Catalonia
La Mar Bella, beach in Barcelona, with fine golden sand, is one of the most famous nudist beaches in Spain and also of Barcelona, frequented mostly by young people. Access is very easy because it is semi-urban with a beach promenade and it is also wheelchair accessible.
And El Torn, in Hospitalet de l'infant, Tarragona. Fine sand beach with crystal clear waters, surrounded by dunes and vegetation. Access by foot is easy as there is a short trail that is marked.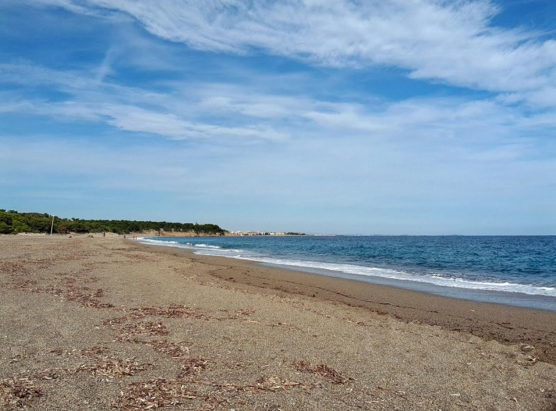 Nudist Beaches on the Balearic Islands
Cavallet beach in Ibiza, long and narrow strip of white sand that contrasts with the endless turquoise and crystal clear waters. Getting to this paradise is easy since you can access it by car or by bus. There is a well known gay area at the end of the beach.
Another paradise with a virgin white sandy beach is Ses Illetes To access it is very simple since it can be reached by car, but we recommend to take the trail by foot or bike to enjoy the surrounding landscape.
If you want to discover a beach with gold and reddish sand and just feet from a cliff, Cala del Pilar en Ciutadela de Menorca, is the best choice. You can only access this beach by a walking trail in the forest for 1,8 kilometres. The reward; a magnificent swim in its crystal clear waters.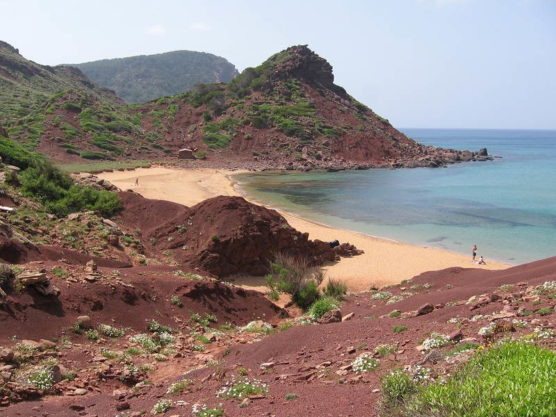 Our favourite nudist beaches in Andalusia
New Umbria beach in Lepe, Huelva. This almost virgin beach has fine white sand and is surrounded by dunes. Nudism is in the central section of the beach and you can access it by foot or by boat.
Vera beach in Almeria is hard sand and in some areas very compact and even hilly. It is internationally known for being the first naturist location in Europe. Bathers live in harmony with naturists as they are usually located in the northern part, in Playazo.
In Tarifa, we can find beach Bolonia, one of the few virgin beaches that remain in this area with golden sand and turquoise waters. In one area you'll find El Chorrito, where nudists enjoy the tranquillity and one of the reasons that makes Bolonia a special beach is that it is located near the Roman ruins of Baelo Claudia. El Ruso is a grayish sand beach with crystal clear waters in Granada. It is completely isolated, which makes it an ideal place for naturism. Access by foot is a little bit complicated but it is worth it to enjoy its beauty and peacefulness.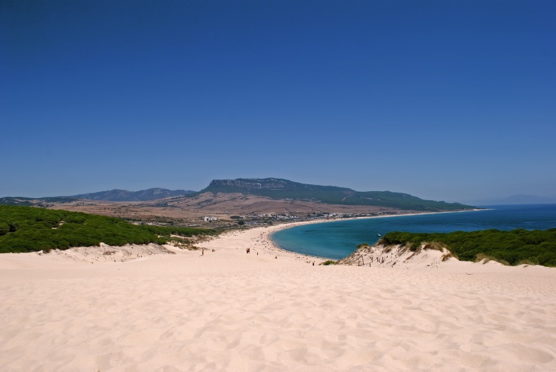 Naturist beaches in northern Spain
In Galicia. To practice naturism in Galicia we can discover Figueiras. beach. This white sand beach and crystal clear cold waters is situated in the natural setting of Cies Islands, Pontevedra. It is also popularly known as the beach of Los Alemanes. Access to this beach is by a well marked path where nudists and non-nudists coexist naturally.
The Basque Country. In the Basque Country in particular in Vizcaya, Beach Meñakoz with little sand and plenty of stones. It has an incredible landscape that is surrounded by green cliffs. Nudism is very common and respected and at this beach nudists and non-nudists coexist happily. Access by foot following a long trail.
Cantabria. In the north, the beach Covachos stands out by being a small beach with fine golden sand. It is peculiar for the presence of a small island which at low tide meets with the beach. Even though the beach access is easy by the stairs, entering the water is more complicated because it has a fairly steep slope, so be careful!
Asturias. If Asturias, the principality is your choice, it is known for its beautiful landscapes and amazing beaches along the coast. A good example of that is Torimbia, a naturist beach of fine white sand and crystal clear waters, of course, cold! You can only arrive by a trail, but don't worry, it is very easy. As it is one of the most beautiful beaches in Asturias it is also frequented by non-nudists.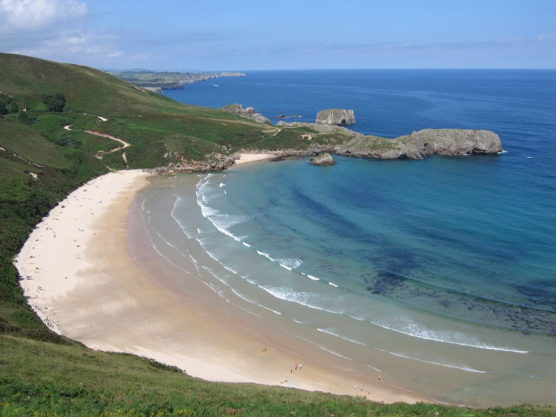 Nudist beaches in the Canary Islands
Maspalomas in Gran Canarias is known for its huge golden sand dunes and calm crystal clear waters. It is usually pretty crowded because it is a major tourist attraction, although the naturist part of the beach is less busy and is clearly signaled.
In Tenerife, Playa de Los Patos, is a wide beach with fine black sand and large volcanic rocks. Access to this beach is quite complicated because the trail is not signed and it is very steep. It is recommended to not stay very close to the cliffs because landslides may occur, it is also essential to take a towel because the black sand can get very hot.
Cofete beach in Fuerteventura has 12 kilometers of fine gold sand and the sea is very dangerous due to strong currents. The road access is quite complicated since it is very narrow, but farther up there is another access to the beach that is not as difficult.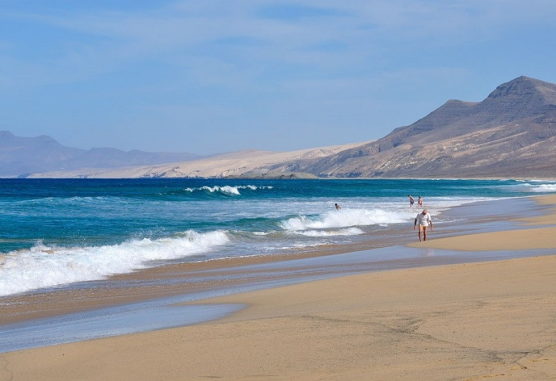 This is our selection of nudist beaches in Spain, so whether you are planning to visit a nude beach or you usually practice nudism we hope this helps you find the perfect beach for your holidays.
Now all you have left to do share this list of naturist beaches in Spain with your friends and get ready for your next trip! To make it easier we provide you a 20€ discount on your next booking with Muchosol. Just use the discount code: ESCAPES.