Traveling with our little ones cannot be underestimated. This indeed requires much more organization than during a solo trip or as a couple, especially when buying plane tickets and choosing the airline to fly with. In terms of prices and services dedicated to children, not all companies are created equally. That's why we have prepared a list of the best airlines to travel with a child. Read on and remain stress-free during the next preparation for your family trip.   
Let us customize your trip and offer you our wonderful accommodations throughout whole Europe
The best airlines to travel with a child:
Corsair
Corsair has several services for the young ones. Parents will be able to get a guide "How to travel well with children". This small booklet contains practical tips to make the journey of the little ones totally safe. The airline is also equipped with facilities that make it easier for babies to travel. You will find, for example, baby cots on board.
If you want to take a pushchair, bear in mind that Corsair doesn't charge for it if the child is under 2 years old. All you have to do is to report it at the check-in so that it can be tagged as a suitcase.  
In addition, special designed menus are available at the time of booking. There is priority food service during the flight. Moreover, the crew will heat up the bottles and meals you have brought for your baby, if needed. Also, Corsair offers a baby gift box as a present to travelers under 2 years old. This box contains, among others things, food and a bib.
So that, no one gets bored during the trip, the airline offers games adapted to children according to their age as well as cartoons and magazines.
If this is the first time your child flies with Corsair, you can ask the flight crew to get you the Corsair diploma, signed by the captain. What a better beginning to start your first trip?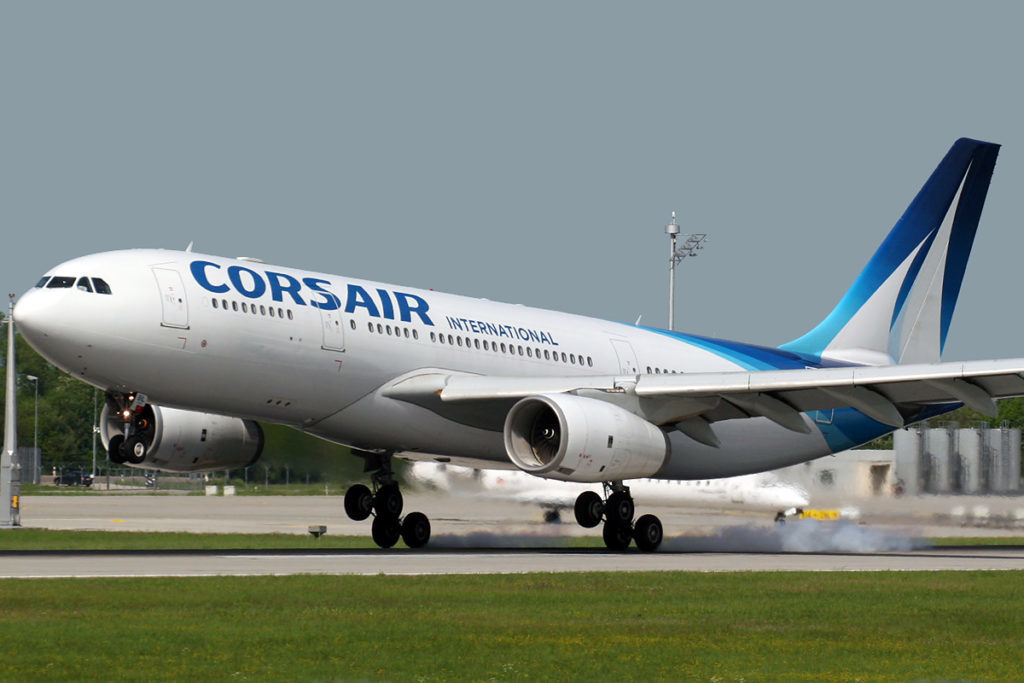 Etihad Airways
Flying with your baby isn't easy and you will for sure need the relief that your little angel and you will be comfortable during the flight. Fortunately, at Etihad, there are flying nannies that can help you at any time during the flight. These "flying nannies" are available on long-haul flights. They will entertain the children with lots of toys, magic tricks and even some workshops. How can they be bored under such circumstances? In addition, children over 3 years old get a box full of toys, books, and stickers. In order to make time goes faster, Etihad also offers a selection of movies, cartoons and games for the toddlers.
Baby meals should be required at the time of booking or at least 24 hours before the take-off. In addition, flight attendants will be able to warm up the baby bottles and baby food.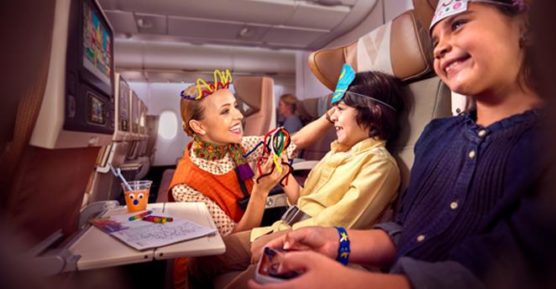 Emirates
Emirates offers special treatment for families. For instance, families with a baby have priority boarding at a special counter. No more long queues, your children and you as parents will travel in complete comfort and relaxation.
Menus are provided for children under 12 years old. For babies, you can bring baby bottles and small dishes, the cabin staff will take care of warming them up.
The company also offers an entertainment service called "Fly with Me Animals" consisting of several toy animals. Your toddlers will be entertained with stuffed animals, puzzles and all kinds of games. Children will also receive bags containing coloring books and a logbook. On their screens, kids will be able to watch a large number of Disney movies.
And finally, if you want to keep an unforgettable memory of your family trip, a photographer on board will capture your beautiful faces.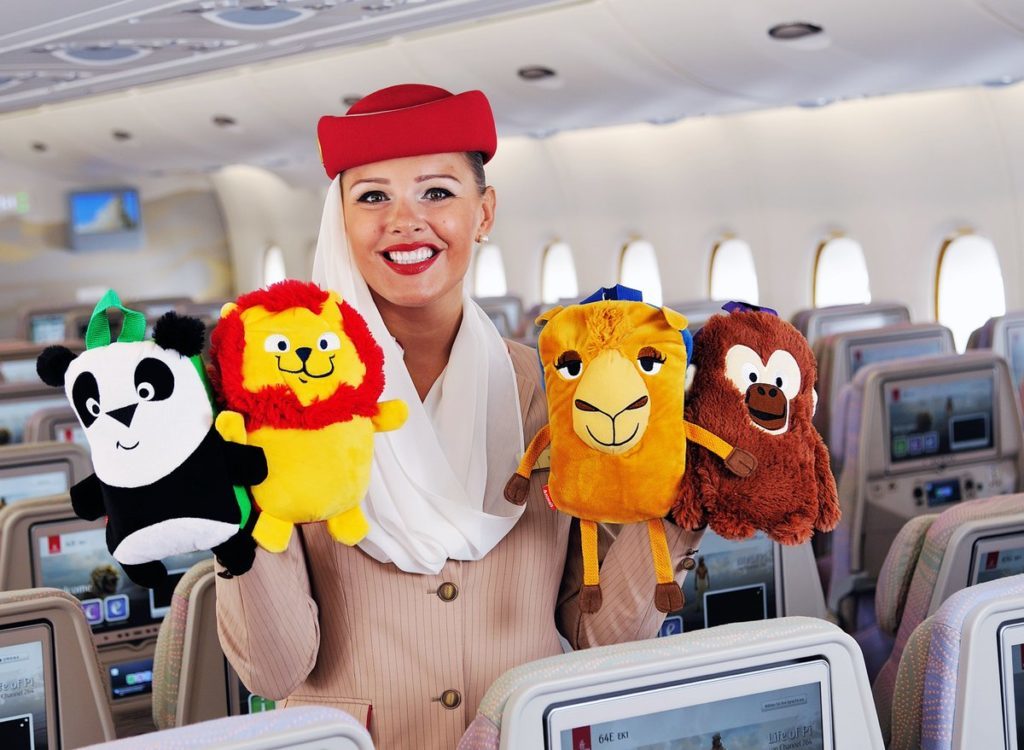 KLM
The KLM company has several services so that your trip goes as smoothly as possible. Thanks to the company's child-friendly regulations, you can, for example, carry a pushchair with you for free.
Children who are 2 years old or older can enjoy special children's menus without any additional cost, if they are ordered at least 24 hours before departure. The meal varies according to the flights, but Bluey, a small blue plane, KLM's toy will be added to every child's lunch box. The box also contains a game and a junior pilot's diploma. The babies will be given a bib with the image of Bluey.
Surprises don't stop here! Toddlers can also get Bluey game box, containing a memory game, pencils, a key ring, a card game, a Bluey eye mask, books and much more! In other words, KLM knows how to spoil the little ones. Furthermore, children can watch movies on their screen and there are so many activities that the time might not be enough to experience all of them!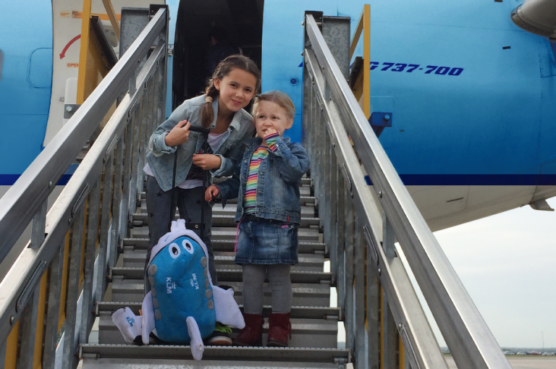 Air France
At Air France, a child under the age of two travels free of charge and infants generally benefit from discounts of up to 15% on short-haul flights and up to 33% on medium and long-haul flights. Air France also offers family discounts for families traveling in mainland France. Strollers are also free of charge, but if space is available, we advise you to check them in beforehand.
Once on board the aircraft, games, movies and cartoons are on offer. Children's menus are adapted according to their age. For children aged between 9 and 11, menus must be ordered no later than 24 hours before departure. For babies, it's also possible to request a meal before departure, consisting of puree.
Air France offers a service called "Kids' Solo" dedicated to children traveling alone. With Kids' Solo, Air France staff take care of the child from the beginning to the end of their journey. Under constant attention and care, your child can play in the game rooms of the airport. Once on board, children can have fun, watching several movies and cartoons. There is also an Air France mobile app which can track your child's journey. The person in charge of welcoming your child can even send a selfie to the company via the application. This is a very reassuring option if your child has to travel without you.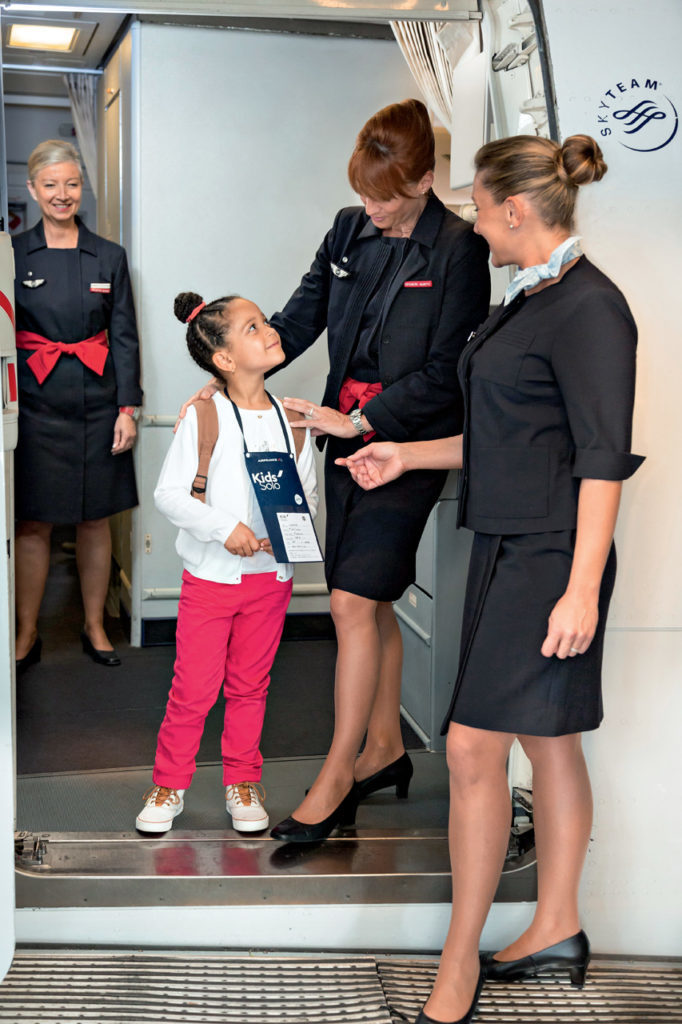 ?? Thus, our selection of airlines, where we guarantee the whole family comfort. We hope this information will give you a hand when planning your next family getaway. So that, your trip goes perfectly, have a look at these value comparing websites.