Do you like thrills, speed, and adrenaline? Roller coasters don't scare you? In this case, you are approved to become a regular visitor at amusement parks. Theme parks, rides, and loops of all kinds: every theme park's fan will have fun. Spain has spectacular amusement parks, which will delight both children and adults! Are you ready to tremble? Here are the best theme parks in Spain! ?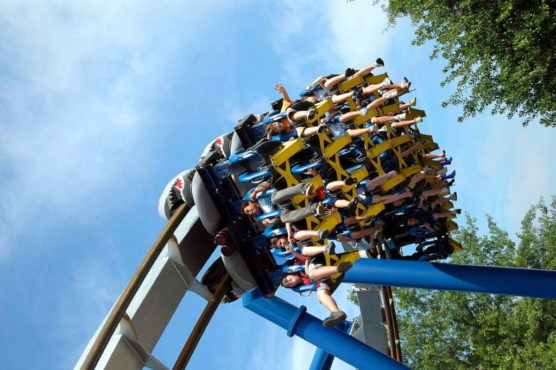 Find your way to the best theme parks in Spain
Port Aventura
This amusement park is located on the east coast of Spain and it's one of the most famous parks in Europe. In a distance of just a hundred kilometers south of Barcelona, Port Aventura is a park divided into several parts, which will make you travel around the world. It has no less than 43 attractions, from kids rides to Europe's scariest roller coasters! Everyone that likes adrenaline will like it. 
Go on an adventure on the Polynesian side with your children, discover the crazy attractions of China, Mexico, and the Mediterranean, immerse yourself in the world of the Far West and take your children to see the shows of Barrio Sesamo! It's a very family-friendly park, where the little ones will have fun as well as the adults. A mandatory stop for any amusement park lover.
◼️ Our favorite attraction: The Dragon Khan, a terrifying roller coaster with 8 loops and a speed of 110 km/h. Guaranteed fun!
◼️Tip: buy your tickets on the Internet, as they cost €2 cheaper ?.
Ferrari Land
Located right next to Port Aventura, the Ferrari Land is one of the scariest theme parks in Spain that will delight all lovers of Formula 1. It's a park entirely focused around the world of the car manufacturer. You will discover all the secrets of the Italian luxury car team and its creator, Enzo Ferrari. Expect high speed and sharp turns!
It's a unique theme park in Europe, only for the bravest audience. If you're roaming around the leisure parks in search of an attraction that will give you the most adrenaline, then the Ferrari Land is a must-see place to add to your list.
◼️ Our favorite attraction: The Red Force will give you unforgettable chills. It's simply the highest and fastest attraction in Europe: 112 meters high, with a peak speed of 180 km/h in less than 5 seconds!
◼️ Tip: there are handsets to discover both PortAventura and Ferrari Land ?.
Warner Park
Find all the Warner Bros universe in this theme park of Madrid, one of the most famous in Spain. Warner Park is a more family-friendly park than the previous one, and it's also divided into several sections: bring your childhood memories in the cartoon world, conquer the West in the Wild West era, rediscover the famous Hollywood Boulevard, get lost in the streets of Movie World Studios and enter the mythical cities of Gotham City and Metropolis in the Super Heroes World.
Kids will especially love the world of Looney Tunes, where they will meet their favorite characters: Tom and Jerry, Bugs Bunny, Daffy Duck, Bib-Bip and Vil Coyote, Titi and Big Twist, etc. This is an ideal park to have a good time with your family.
Thrill-seekers will get their dose of adrenaline. Go to the Super Heroes World: the attractions around the world of Batman and Superman will make you tremble of fear!
◼️ Our favorite attraction: SUPERMAN, Atracción de Acero. 55 meters of free fall, 7 loops, almost 100 km/h of top speed: you will fly like Superman.
◼️Tip: Buy the tickets online as they cost €30 on the internet and €40,90 on site ?.
Are you going to Madrid? We have listed for you the apartments for every type of family.
Terra Mítica
Located in the province of Alicante, in Benidorm, the Terra Mítica Park is one of the most interesting theme parks in Spain that will take you back in time to rediscover the Mediterranean civilizations. It's a theme park that focuses on Greek, Roman and Egyptian civilizations, which stands out for its many shows. Between musicals, dance shows and acrobatics, you will go back in time to spend a day in the era of Antiquity.
The scenery of the park will allow you, for example, to walk in the port of Alexandria during the time of Cleopatra, to attend the Olympic Games during ancient Greece times or to go to the circus to see gladiator fights.
Thrill-seekers, you will have to visit the Greek and Roman world: here you will find the most sensational attractions in the park. Among them: the Tritón Furia, the Vuelo del Fénix, the Inferno or the Titanide.
◼️ Our favorite attraction: the Synkope, with a turning at 90 km/h and 35 meters high that form a 120º angle with the ground. Vertiginous ?.
El Parque de atracciones of Madrid
Madrid's Parque de atracciones is the first amusement park built in Madrid, inaugurated in 1969. It's one of the parks that attract the most visitors each year (1.2 million visitors in 2015).
The park is famous for its dizzying roller coasters, which seem to defy the laws of gravity. Freefall, loops, speed, adrenaline, and thrills are awaiting you!
That said, the Parque de atracciones de Madrid is also a family park, which is perfect for children. For example, you can try the 4D cinema, go on boat trips and discover small rides. Plus, your kids will love to wander and play in Nickelodeon land: they'll get to know in life the world of Dora the Explorer, Jimmy Neutron and SpongeBob.
◼️ Our favorite attraction: the Russian Abismo mountain, which will give you real sweats at 100km/h and almost 50 meters altitude!
Bonus: Port Aventura Caribe Aquatic Park
What's better than a water park to end our selection of theme parks in Spain? The most spectacular of them is Port Aventura Caribe Aquatic Park which is attached to the Port Aventura theme park.
Giant wave pool, 1.5 km long river with buoys, dozens of water slides, pool and indoor games for kids. PortAventura Caribe Aquatic Park is a huge playground for your kids. The most courageous can try the park's flagship attraction: King Khajuna, a vertiginous toboggan which is 31 meters high inclined to 55 degrees! You will reach the alluring speed of 6m/s… Guaranteed sensations!
That is our selection of the best theme parks in Spain. If you are looking for other activities to keep your teens occupied, we have listed some activities to have the greatest family vacation. if you want more adrenaline, then visit the water parks near Calp. Have fun during your vacation!