Beach holiday checklist
The heat has finally arrived and it is time to get ready for the summer! Vacation, family, friends, the beach, a new place to explore and of course the dreaded task of getting ready for your journey. Let's prepare ourselves for the perfect beach holiday!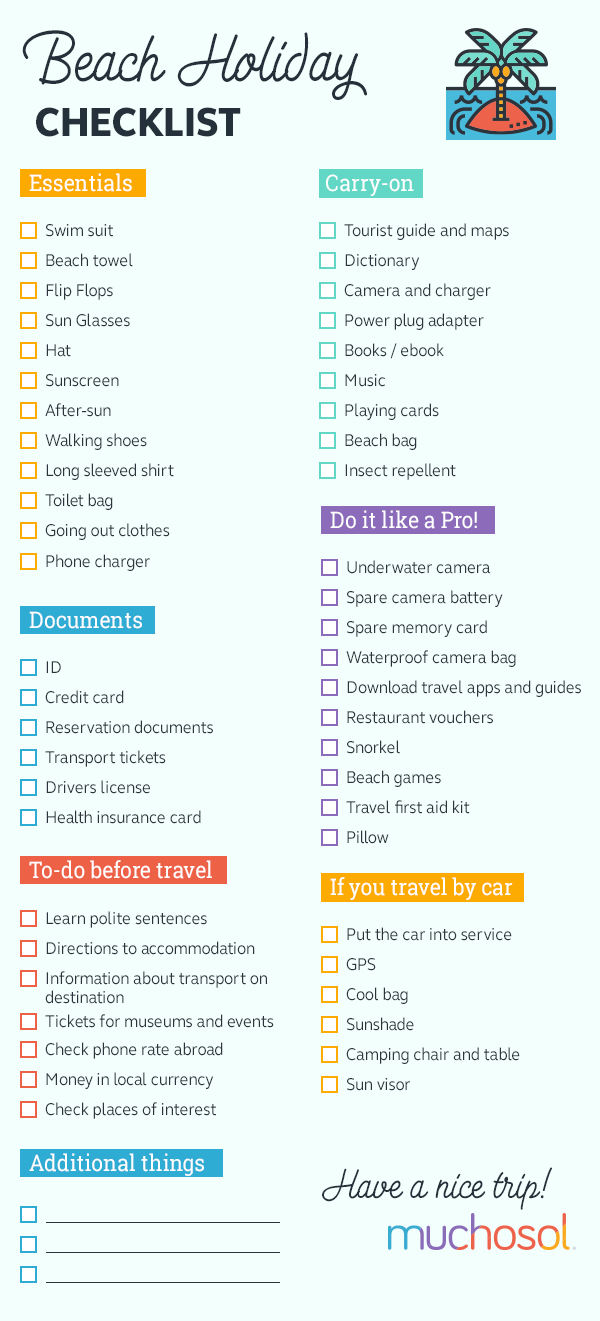 Looking for a holiday near the beach? Take a look at our apartments in Spain
When it comes to packing your bags and you are left with the grand question, what to take with you, this task can become awfully frustrating. Not to worry though, Muchosol is there to help you and make you preparation a whole lot easier. We have prepared a checklist for your convenience, to assure that you forget anything.
Clothes, accessories and travel documents are all included. How many times has one been on the way to the airport, in a rush as it is, realising that their passport is still at home? Or having arrived, getting ready to take pictures and realising that one has forgotten their camera? Or wanting to play something at the beach and realising that the toys bought during the last holiday are still in a cupboard back home.
We have divided the checklist into several categories, including everything that should not be forgotten when travelling abroad.
The essentials: Forgetting these will lead to a catastrophe
Travel documents, also very important and worth separating from your main luggage
Then there are your IPods, adaptors and travel guides, which are not necessarily important for survival but will make your journey a lot more enjoyable and easy
The "do it like a Pro" category will assure that you get the maximum out of your vacation
Of course there are things to take care of before your vacation, which are included in this category
For your convenience it is possible to print the checklist. This way you can simply tick off what you have already packed and see what is still missing in your luggage. There is even a space where you can include notes on anything that might be important to you personally and which cannot be missing on your trip.
Be nice and share this checklist with your friends, so that they too do not have to go through the terrible experience of having forgotten something.
The only thing that is still open now is which destination you choose to go to and then you are all set for your next vacation!