In Spain you can find a wide and varied selection of destinations with something for everybody from cities with a beautiful cultural scene to rural destinations with their unique charm. When you are looking for a destination for your holiday everybody knows that the island Ibiza is a perfect destination. What is the reason that Spaniards and many foreigners are visiting this island year after year? The young travelers choose Ibiza as a holiday destination because of the night life, while families and couples visit Ibiza for its beautiful scenery, such as the beach, bays and hills. That is why we want to show you our top 10 beaches of Ibiza so you have the possibility to fully enjoy your stay on this island.
The best beaches of Ibiza
As you probably already know San Antonio is one of the most popular spots in Ibiza with the most amount of beaches and bays. One of this beautiful beaches is Cala Gració. This beach has the perfect U shape and when you dive into the calm clear water it feels like you are swimming in a natural swimming pool. Due to this the coast line is short, approximately 50 metres, though the beach is very long so you have a lot of space to relax in the summer.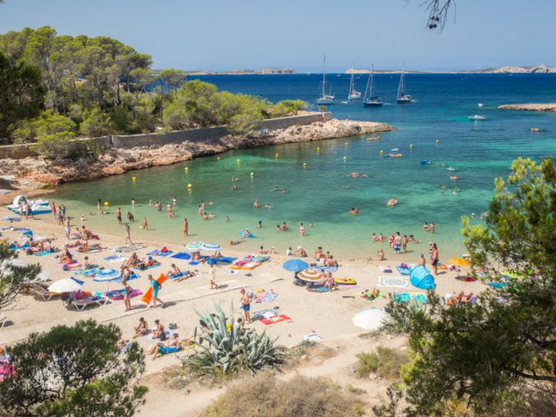 Do you know someone who does not love turquoise waters? No, right? Cala Salada is one of the beaches where many people go to flee the city life which makes this beach one of the most crowded beaches of Ibiza. The beach is small, not more than 100 meters, and you can find this place halfway between San Antonio and Santa Agnes.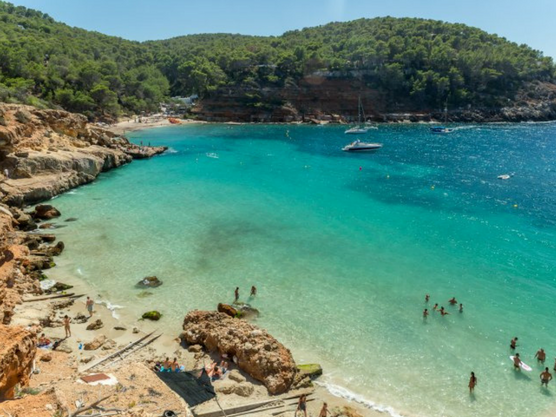 When you are staying in San Antonio you definitely should visit one of our favorite beaches: La conta, also known as Comte. What do you think is most important about a beach? The natural environment: green, trees, calmness, clear water, golden sand… This beach is half a kilometer long but very crowded in the summer because this is one of the most visited beaches of Ibiza.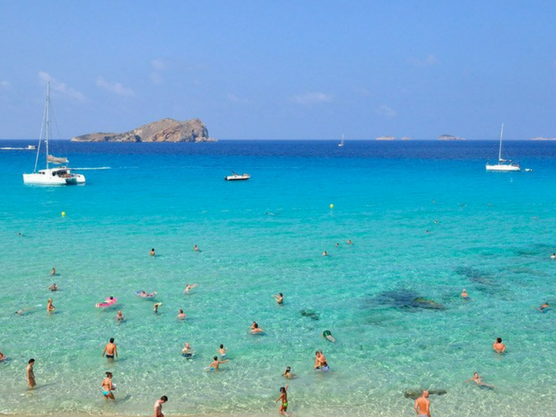 We stay close to San Antonio to get to know another beach on the island of Ibiza. At cala Gracioneta you can enjoy the turquoise Mediterranean, white sand, and a beautiful surrounded nature. Besides that, this beach is the preference of many tourists to swim in calm waters. The shape of the bay is very narrow, but on the other hand it is quite long; about 30 meters.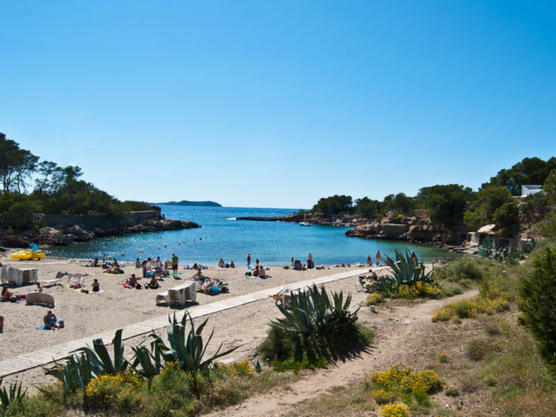 If you stay around the village of San José or you plan to visit this village during your holidays in Ibiza you should enjoy a day at Cala Vadella. It is not only a good place to relax but also to surf during windy days since the area is protected through high cliffs. However, it is usually very crowded in the summer so you have to be there early when visiting this beach.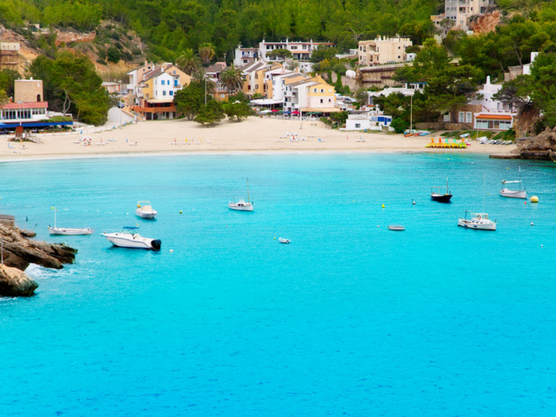 Are you travelling with children and you are searching for a less crowded beach? Or are you visiting Ibiza with your partner and you would like to relax on a calm beach to enjoy the Mediterranean? Cala Llonga would be perfect for the ones who are looking for a quiet environment with a natural environment and a place to enjoy the calm blue waters. This beach is quite large and also has the possibility for water sports.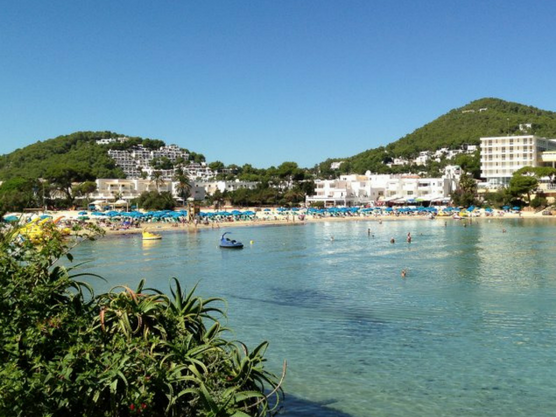 Another favorite beach which is located close to the villages San Juan and Santa Eulalia is Cala San Vicente which has everything to enjoy a day full of sun. Furthermore, you can enjoy the nature, dive in the crystal clear water and have dinner close to the water in one of the restaurants. It is the perfect beach to visit with children since there are windscreens and the water is very calm.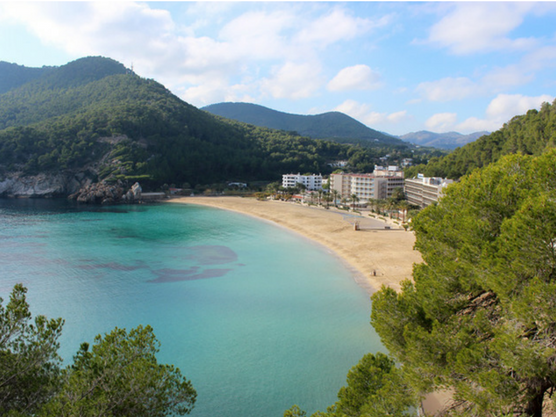 Without having to wander far we find Cala Portinatx where tourism made a big rise while the beach preserved its natural charm. It is the ideal place for the ones who would like to swim in a turquoise sea and sunbathing in golden sand. You'll even find some shaded areas for those who like to be in the shadow enjoying the environment.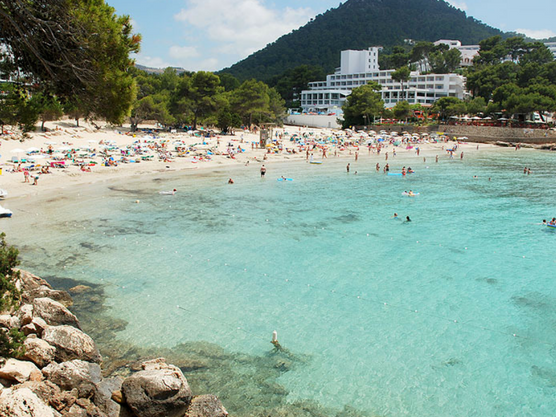 This beach is one of our favorites because it is different than most of the other beaches. It is more quiet, less crowded and it has a beautiful natural setting.
Furthermore, this beach also has small gravel what not everyone likes about this beach. If you are looking for a quiet place and would like to swim in a beautiful turquoise sea, than this beach would be perfect for your holiday.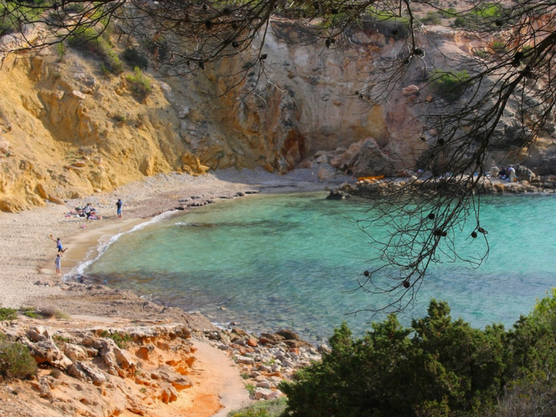 We are ending this tour of most beautiful beaches of Ibiza with another sort of beach. The waves of Cala Llenya are much stronger than the waves of the other beaches and also has more shaded areas because of pine forests which surround the bay. The beach is quite long and contains various facilities such as showers and a restaurant on the beach to enjoy the gastronomy of this island without losing your towel out of sight. It is perfect for all types of travellers.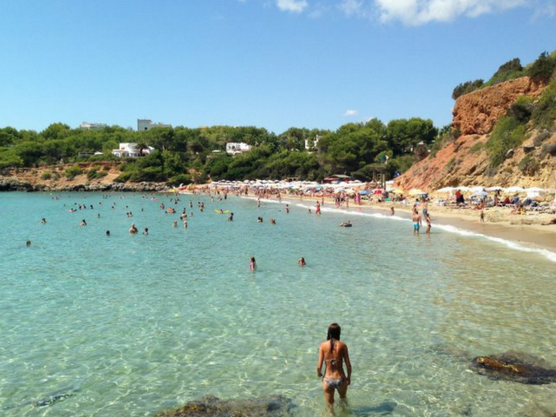 Now it is time to explore these beaches yourself. Remember, next to bringing your swimsuit, sunscreen and a towel also bring your snorkels to discover the nature underwater as well!