Located west of Morocco´s coast in the Atlantic Ocean, lies the island of Tenerife, which is also called "the island of eternal spring". And with good reason: because its beautiful and mild temperature throughout the year. So, it is therefore an ideal holiday destination to head to whenever you feel like, as the good weather is always guaranteed! Indeed, thanks to its privileged climate and its preserved natural environment, the island of Tenerife is full of food specialties that will make your mouth-watering . Here you have  the best restaurants in Tenerife where you should pop in. Enjoy the tastes of Tenerife ! ?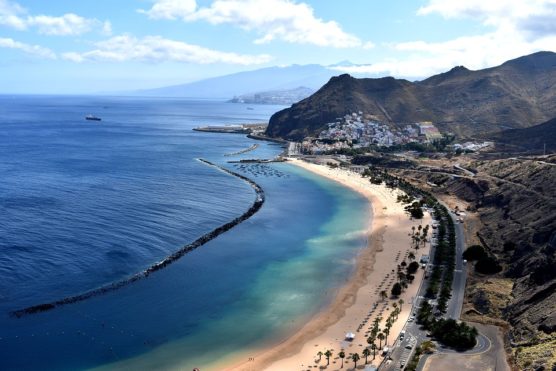 Find your perfect holiday rental in Tenerife
The best restaurants in Tenerife:
Bocaditos & Mar – Costa Adeje
The Bocaditos & Mar, is slightly hidden next to the Playa del Bobo, and offers you a splendid view to enjoy a good meal while admiring the sunset. This is also what makes its charm: it is not a fancy restaurant, just a small private corner where to eat excellent tapas.
On the menu you will find all kinds of tapas, slice cooked cold meats, shrimp skewers, pasta with seafood … It's a simple and quality cuisine. The service is particularly warm and attentive, either in Spanish, English or French. It's a real delight to come and eat at Bocaditos & Mar.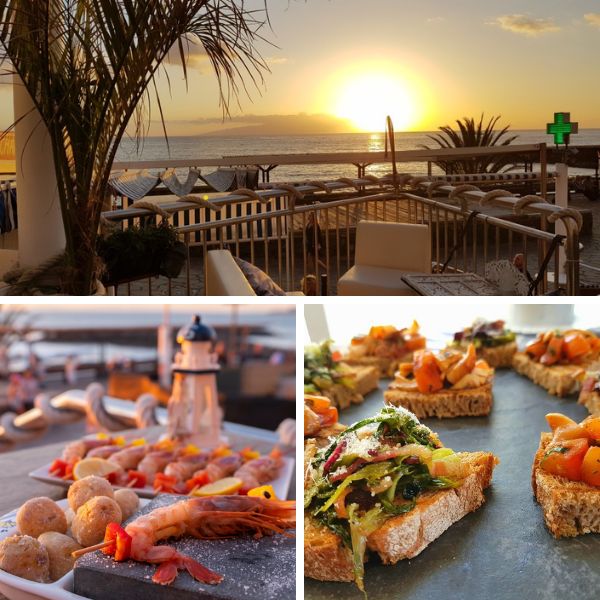 ? Avenida Rafael Puig Lluvina 11/12, Adèje
☎ +34 667 29 42 38
? From Tuesday to Sunday , from 12:00pm to 12:00am
Casa Gusto – Playa San Juan
Run by a French-Spanish couple (Pascal and Marina), Casa Gusto offers tasty Mediterranean cuisine that combines the best of French gastronomy with the best of Spanish gastronomy. Result: carefully presented dishes, hearty meals and perfectly prepared.
By the sea, you can enjoy-among others- a tuna tartare, farm chicken stuffed with mushrooms, pork knuckle, seafood … The home made desserts on the menu are just as generous as the main dishes. And the opinions are unanimous: the jolly good mood of Pascal and Marina along with their excellent service will make your meal even more pleasant . You will definitely give us good feedback!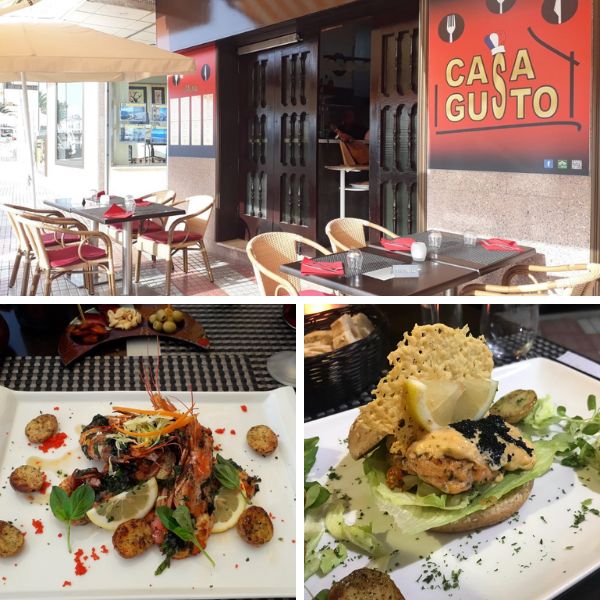 ? Avenida del Emigrante 28, Playa San Juan
☎ +34 642 00 27 90
? From Tuesday to Sunday, from 12:00pm -22:00h
Dabeke – La Orotava
Among our list of the best restaurants in Tenerife, we should include the Dabeke, in northern Tenerife and not far from Puerto de la Cruz, offers a chic and refined cuisine. It would appeal to the so-called foodies as they will have nothing to complain about: The quality of the food is excellent, as it is very carefully and respectfully manipulated. If the restaurant is ranked Nº1 out of the 126 restaurants listed in La Orotava by TripAdvisor, it is not a coincidence. The quality / price wise of this restaurant is simply unbeatable. The cost per person is around 30-40 €, excellent value for money for a high class cuisine. However, in other restaurants of equivalent quality would be twice that price.
On the menu, you can find: different meats, seafood, rice, vegetarian and gluten-free dishes … there is something for everyone's taste. And the icing on the cake, is that you can rest assured that from the starters to desserts, everything is homemade. Yum!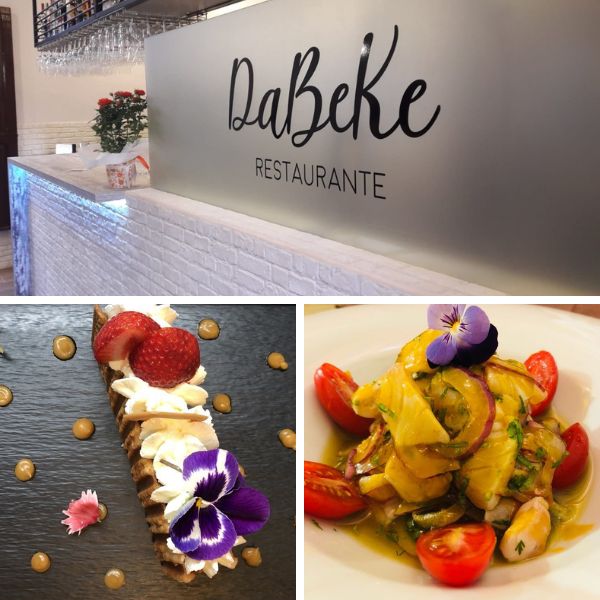 ? Calle Candelaria 9, La Orotava
☎ +34 922 33 27 26
? From Tuesday to Thursdays, 19:30-22:30 (23:00h on Fridays/ Saturdays) and Sundays from 13: 00-16:00h
Find your accommodation in the iconic city of Los Cristianos
Garden of the Abuela – Playa de las Américas
Jardín de la abuela (grandmother´s garden) is a small restaurant, it looks a bit plain and bohemian at first impression, but don't judge the book by its cover. Because once inside, you will be delighted by taste of their food .On the menu, you will find a list of outstanding classic Spanish dishes and tapas. Anything you choose will be absolutely delicious, some of their most popular dishes are: croquetas of boletus or Iberian ham (small bites with mushrooms or ham), shrimps with garlic, octopus (as good as in Galicia!), fried fish, tomato mussels, squid, platter of Iberian ham, tortilla… Not to mention their succulent papas arrugadas (Canarian fried potatoes) , served with their unconditional mojos (the typical sauces of the Canary Islands).
The service is super friendly, the dishes are generous and at a very affordable price: a restaurant to go if you visit the southwest coast of the island.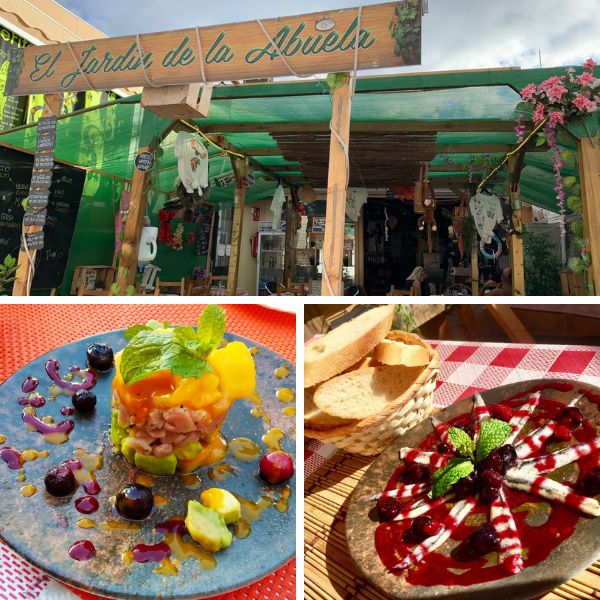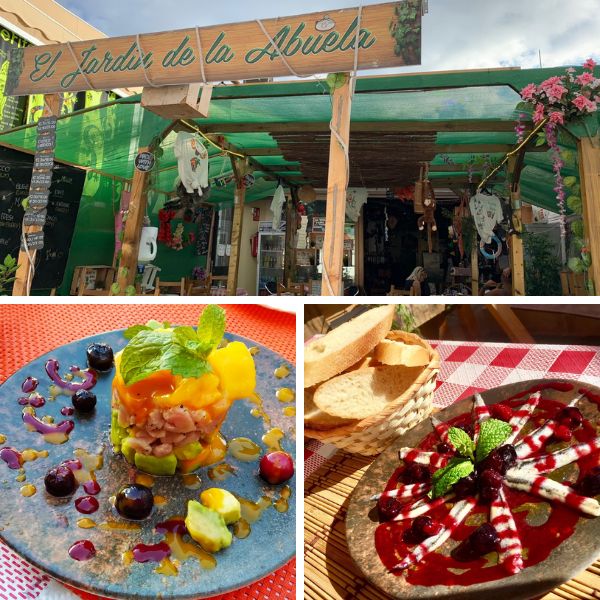 ? Avenida Rafael Puing Lluvina 43, Playa de las Américas
☎ +34 676 44 90 41
? Tous les jours sauf le mardi, de 12h30 à 16h30, puis de 18h30 à 23h30
Stay in the incredible Costa Adeje in Santa Cruz
El Refugio – Vilaflor
We finish off our selection of the best restaurant in Tenerife with an unusual restaurant, the Refugio de Vilaflor , which will delight the food lovers . Refugio de Vilafor serves hearty meals that are usually reserved for family meals. This warmly family atmosphere is also reflected in the decoration of the restaurant and its seating area with sofas. There is even a safe area with games for children. In short, it makes you feels like home!
The restaurant is known for its meat dishes, including Argentine grills. These are large platters with an assortment of meats: sausages, merguez, grilled meat, loin, chicken ... all served with Canarian potatoes, tomatoes, onions and peppers. The owner and chef of the restaurant is indeed from Argentina, country in which the meats are top quality. If you are a meat lover, now you know where to go. ?
? Don´t fell out of your chair, when you hear the price, its way cheaper than you expect!
? Carretera C 821 41, Vilaflor
☎ +34 674 83 76 48
? From Tuesday to Thursday,10:00-19:00h (20:00h Fridays and Saturdays)
I want to see all accommodations in Icod de Los Vinos ?
And up to here our selection of the best restaurants in Tenerife. Now all you have to do is to choose your favourite one, difficult, isn't it?? And feel free to share your feedback with us. We will read them all with pleasure! Are you heading out to Tenerife soon? If so, discover here the 5 best beaches in Tenerife and the best villas with swimming pool in Tenerife