We would like to start by saying that Benidorm is much more than beaches, sun and skyscrapers. It is a vibrant city with a distinctive Mediterranean attribute, that makes it worth exploring any time of the year thanks to its guaranteed sunshine. Definitely, in Benidorm you can have the best experience in Costa Blanca . It is an ideal destination for families, couples, singles and seniors. If you are planning a visit to Benidorm shortly, and you don't have a clue of how to start planning your itinerary? Then,  have a look at our suggestions of things to do in Benidorm to make the most of your stay. 
Find the best holiday rental with Muchosol 
List of best things to do in Benidorm
Enjoy the best view of Benidorm from the " The balcony of the Mediterranean"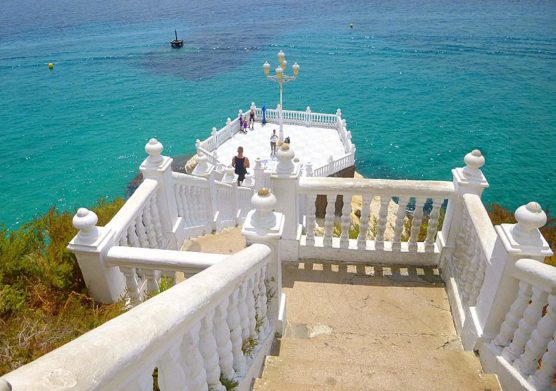 This site is a symbol of Benidorm from which to contemplate the beautiful bay. A viewpoint to enjoy spectacular sunrises and sunsets. You can find it in the old town, and divides the two main beaches of Poniente and Levante. Additionally, around here there is a wide gastronomic offer. We recommend you to visit "Los Vascos" area, where you will be able to taste tapas, pintxos and wines in the purest northern Spain style in numerous taverns and bars, at a very economical price. 
Have an adrenaline rush in Terra Mítica. 
Among the list of things to do in Benidorm, we recommend you, the most famous theme park along the Valencian community. 
Its theme is about the ancient Mediterranean civilizations.  Represented in five thematic areas that will transport you directly to Egypt, Greece, Rome, The Islands and Iberia. Are you an adrenaline lover? Then, you have to take a ride in the following attractions: 
The flight of Fénix (Rome).  Just for people with courage, experience a free fall from 54 meters high. 
Tornado ( Rome). These chairs anchored to a turnable 80 meters high will test your vertigo resistance. 
Nilo Falls ( Egipt). Find the fastest falls in these region of Egypt.
Inferno (Rome). The last attraction that will make you lose the notion of space, spinning on yourself in these seats not made for cowards.
Titanide (Greece). Best attraction of the park with loopings, corkscrews and speed. 
Synkope (Greece). Finally, we find the hanging disk that rotates on itself at a height of 35 m.  

What more can an adrenaline lover wish ??
Find here information about: timetables, rates and attractions.
Go down the slides of Aqualandia ?
If Terra Mítica is not enough adrenaline for your body, then complement it with Aqualandia park. It is a perfect plan for a hot summer day in a beautiful natural setting. Super fun water rides for children and adults alike are waiting for you. As well as green spaces and a wide range of facilities and services.  You will spend a super fun-filled day out and a unforgettable experience.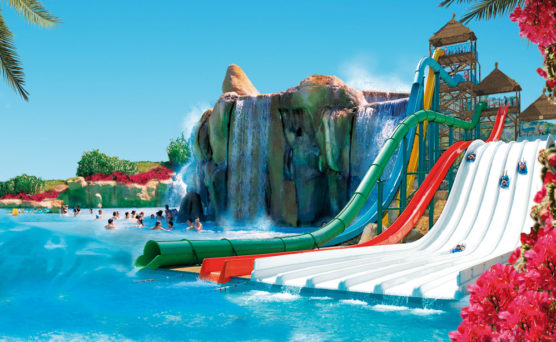 Get the combo day ticket at Terra Natura and Aqua Natura 
Rather than booking them separately, the best option is  to book the combined tickets of Terra Natura animal park and the Aqua Natura water park. The whole family can enjoy one or two days full of emotions, both in land and in the water.
Terra Natura is a new generation zoo, where you will feel as there are no barriers between you and the animals. You can see more than 1,500 animals of 200 different species, 50 of which are in serious danger of extinction. You  will also have different educational proposals and outdoor activities designed for the whole family.  Everyone will enjoy nature and the little ones will learn while they have lots of fun. Be alert! as any creature may surprise you on your visit!
Find here more information about Terra Natura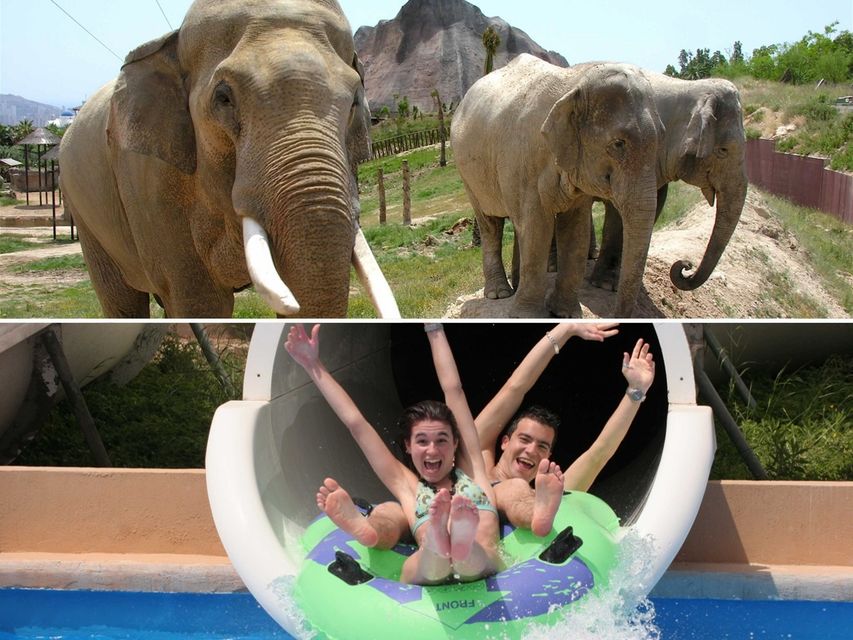 Next to Terra Natura, you can find Aqua Natura water park. Here you can have fun in the more than 40,000 square meters. The park is composed by five major sections: wave pool, slides, paddling pool  and exclusive areas for children. All in all, will make a day full of fun and excitement?!  
Among the best slides are: la Cresta attraction, the aqua snake slide with zigzag shape and the open and curved mini-toboggan known as hydroturbo, among others. The adrenaline is also guaranteed here. 
Furthermore, the park also includes open green areas for picnics. Parents can relax in a jacuzzi and the spa while their children have fun in the water. Sun loungers are also available, perfect to take a rest between splash and splash?. 
Find here more information about Aqua Natura 
Don't do anything…just relax in one of the 5 Benidorm's beaches.
Lie down on your towel or hammock and enjoy the sunshine, the sea breeze,  the clear waters and the good facilities and ambience in any of these beaches of Benidorm:  
It is the largest beach in Benidorm, with 4 Km in length and 100 meters in width. It begins at the edge of Old Town, where Park Elche starts near the harbor.The facilities and good conditions match pretty much the Levante Beach.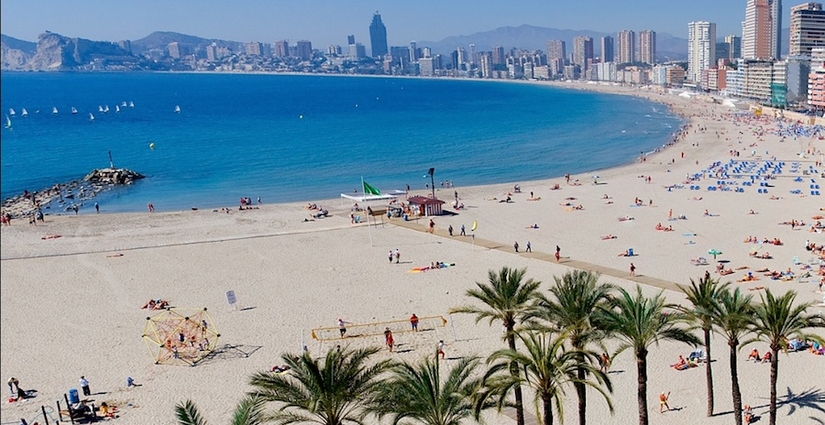 Also known as the sunrise beach.  It is the most famous Blue Flag beach, with 3 km in length and is the most cosmopolitan of beaches. There's a great choice of  international restaurants, bars and cafes with terraces. In the summer months, Levante Beach offers visitors every type of water sports.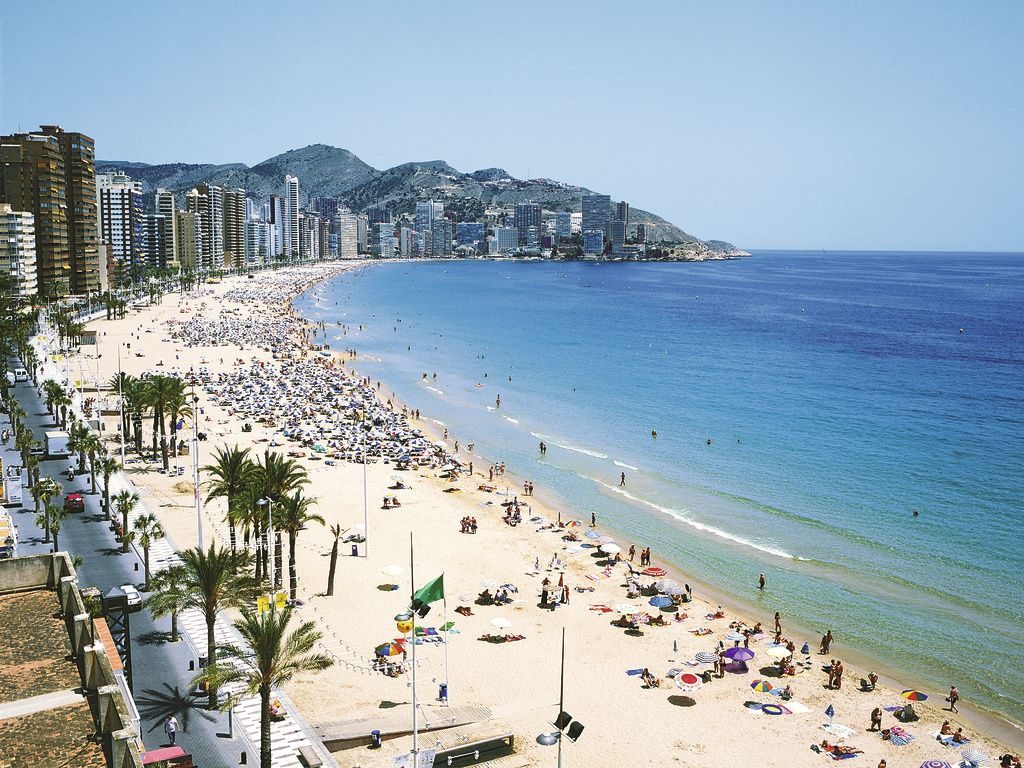 At the far end of Poniente Playa sits the small Finestrat cove, which limits the municipalities of Benidorm and Villajoyosa. It is mostly  frequented by local residents and is ideal for swimming as well as you can find a selection of restaurants nearby.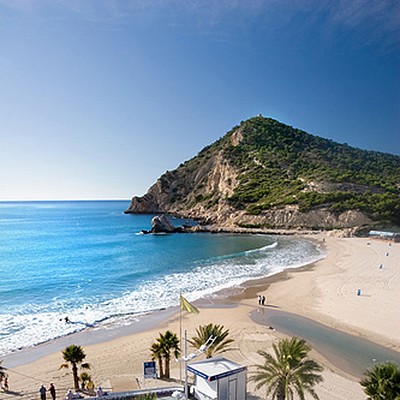 Source: jacksonlive.es
Between Levante and Poniente, you can find Mal Pas cove, located at the feet of the Benidorm Old town. Forming a small charming and pleasant cove, which can easily be reached. Besides in winter when other beached are cold for sunbathing, this one is sheltered from the fresh sea breeze.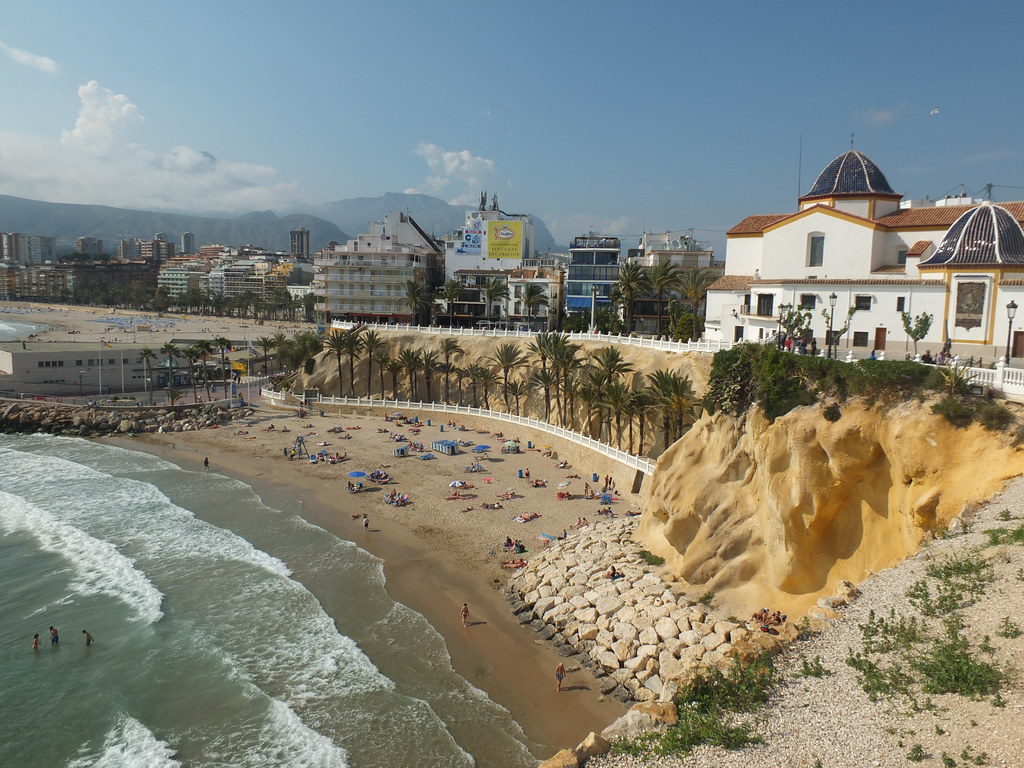 Located at the far end of Levante, you can enjoy this scluded cove, settled between the mountains and crystal clear waters beach. Just bring your own drinks and food, if you are planning to spend the day.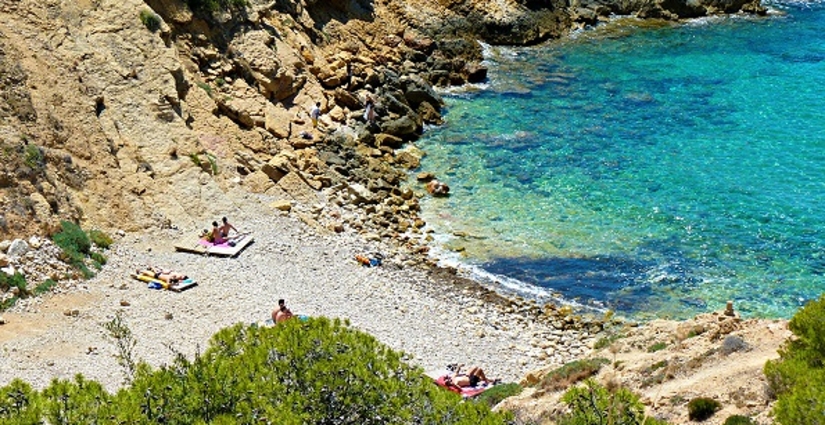 Yes, Benidorm has an old town
We should not missed between the things to do in Benidorm, a walk through the beautiful maze of narrow, steep cobbled streets, through its whitewashed houses. Walk along the Paseo de la Alameda and calle Gambo and Calle Mayor, all lined with shops,  terraces and restaurants with many gastronomical options to eat and drink. 
Just wander around and discover all the beautiful places and building, such as the emblematic San Jaime church from the 18th century.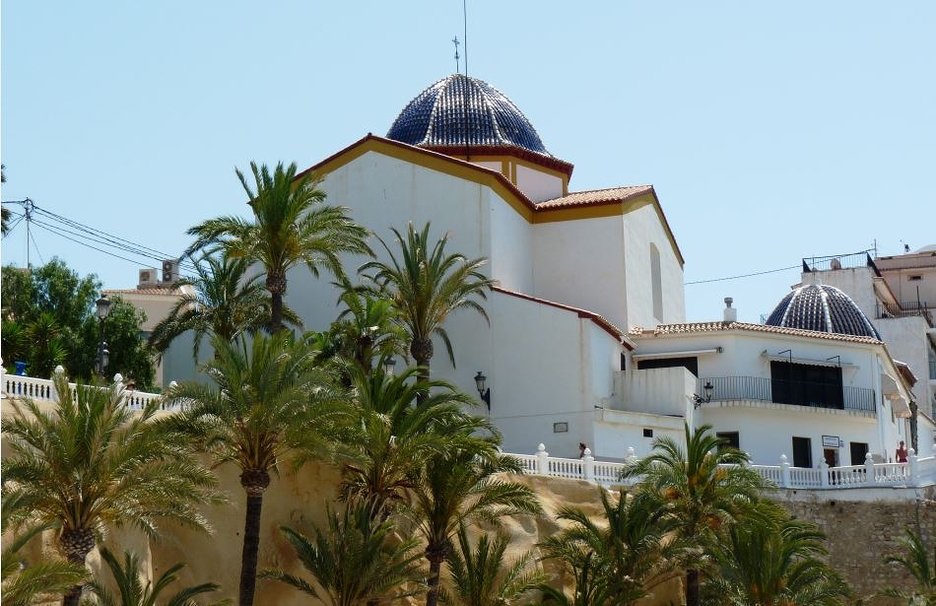 Visit three beautiful spots worth visiting near Benidorm:  
Visit Guadalest:  you can reach this town with an easy drive from Benidorm.  It is a very pretty and historic small town,  sitting on top of a mountain, which makes it look absolutely amazing. You can enjoy the views of a green valley, in addition to the charming streets.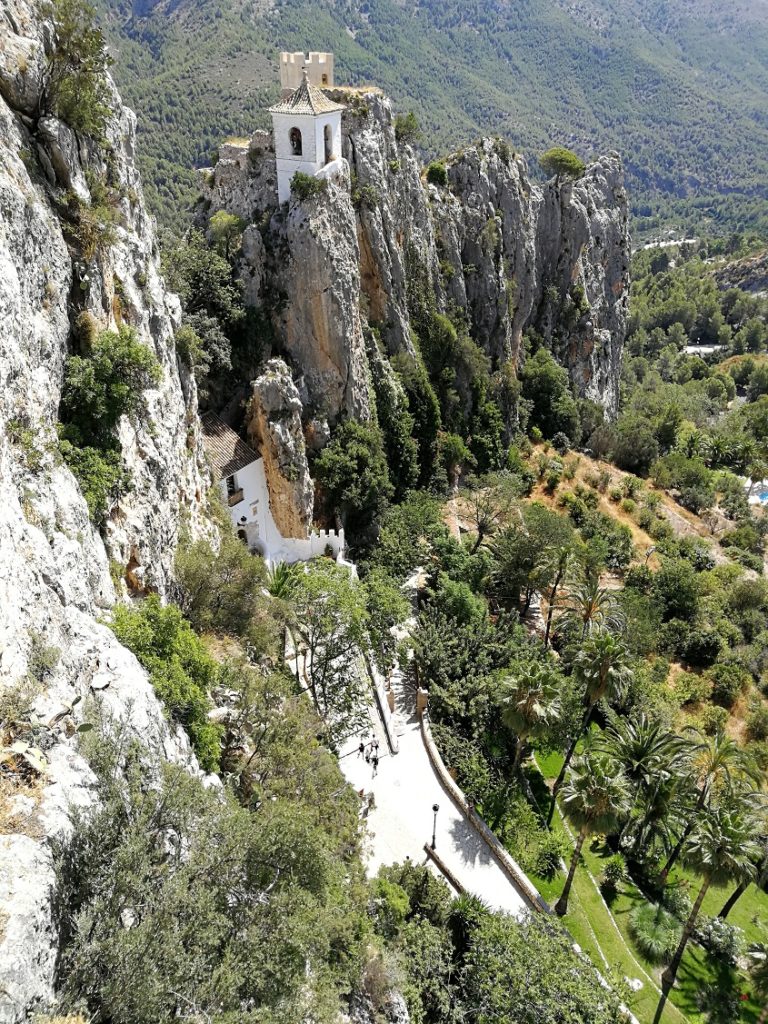 Algar waterfalls: belong to Callosa d´en Sarrià town and its within just 15 Km away from Benidorm. You can find this beautiful natural site, made of small water channels forming small rivers and natural pools, where you can get into. Without a doubt, it is an excursion that can't be missed whitin the things to do in Benidorm. 
Get attracted by Altea´s charm: 

Altea´s old town is just 10 km from Benidorm and the icon in

 

Costa Blanca, due to its  blue and white dome that peeks out among its glistening white houses and narrow cobbled streets that lead to a beautiful central square. Once at the top, you can enjoy magnificent  sea and mountain views. This town will leave you with such a good feeling, that you will listed as one of those places to visit again.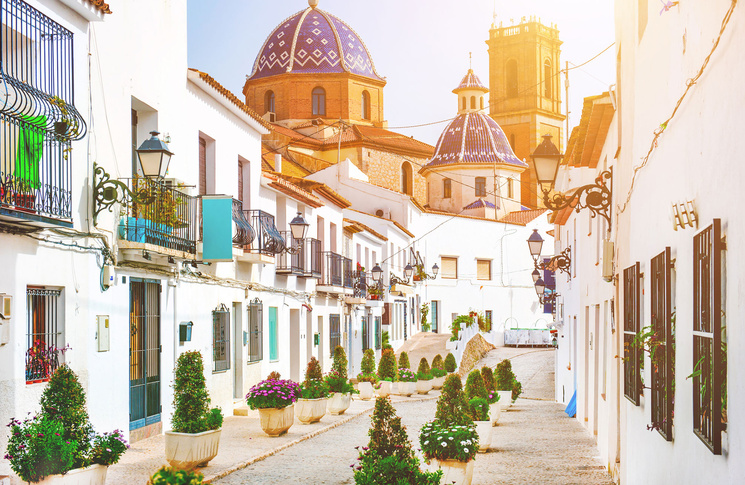 Find your accommodation in the bautiful town of Altea
Dive into the amazing Benidorm waters. 
If you are keen on snorkel,this is one of the things you should do in Benidorm too. We recommend you Tio Ximo cove. A less touristy and a very pleasant area to practise this aquatic sport.  Although to reach the cove you need to get down on foot, it is well worth it for the underwater richness and tranquility of the area.
Night out in Benidorm 
Benidorm is not just known for its skyscrapers and beaches. A night out has to be among the things to do in Benidorm,  especially during the summer months, you can find great party atmosphere any day and time of the week.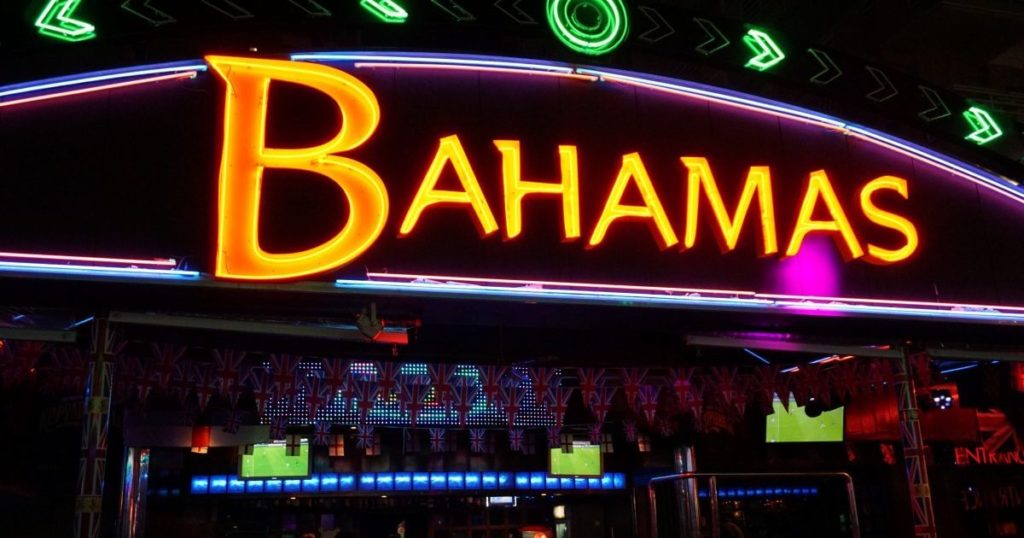 If you want to experience a night out
Bear in mind these main areas and start a good pub/ club crawling:
Zone 9 of Benidorm. The best starting point for a great night, head to Esperanto and Gerona streets, where there are numerous bars and restaurants with different gastronomical options to have your dinner and first drink

.

English Square. It's an area behind Levante beach. Bar and pubs are purely British, but the difference here is that the closing time is around 7-8am. The popular spots are:  Morgan's Tavern and Rockefellers whereas youngsters tend to head to Red Dog, Hipodromo, Bahamas and Beachcomber.
Cat´s Alley. 

A area in the old town of Benidorm, a steep and narrow cobbled street. Here you can find many small pubs with attractive offers for drinks, the average drink price is 4-5€ and closing time is around 4am 

Levante´s  seafront. Here you can find many clubs with free entry and drinks around 7€. We recommend you:  The Ku Lounge, Moon beach, Richard New Look, KM,Penélope and Heartbreak Rock.  If you have ever passed during daylight, you will have seen that the terraces are ideal for a drink overlooking the sea. But at night the atmosphere turns into party.
Top road discos. At the " Comunidad Valenciana" avenue, you can find the largest nightclubs and afterhours, such as: Penelope, KU and KM. These are oriented to those that want carry on dancing once the beach ones close.
Have you seen all our apartments in Costa Blanca
We hope you find handy our list of things to do in Benidorm, however  if you are a regular visitor to Benidorm. We would love to hear all your favourite plans and places. In addition,  If you are landing at Alicante, here you have our tips of how to travel from Alicante airport to Benidorm. And if our list of things to do in Benidorm wasn´t enough, here you have our favourite 10 most charming town in Costa Blanca worth visiting. Enjoy your Benidorm getaway??!