Choosing a destination for your vacation is already hard but it's even harder when you have kids going through the teenage period. It's not only about the destination but the activity as well. Therefore, we made a list of destinations and the best things to do there, so that you can have fabulous family holidays with teenagers. 
Family holidays with teenagers: the best destinations & activities
Our city-break destination is:
Barcelona
We know many people choose to have a break from the city during the summer, but we can't just break up with Barcelona. It has so much art, history and it's a perfect combination between city and beach. Although the beach in Barcelona can get pretty crowded during the high season, its wide stretch of soft and fine sand and its spectacular scenery will enchant any visitor any time.
So why Barcelona is the perfect city destination for family holidays with teenagers?
Park Güell
First of all, the amazing architecture treasure left by the genius Gaudi. We recommend at least a day to hunt down all the spots, he had left a trace at.
We recommend wandering around or rent a bike and explore the Park Güell.
❧ Tip: go early in the morning to avoid the heat. Most of the park is free of charge but for the main center, you will need tickets. Therefore, buy tickets in advance as the park limits access.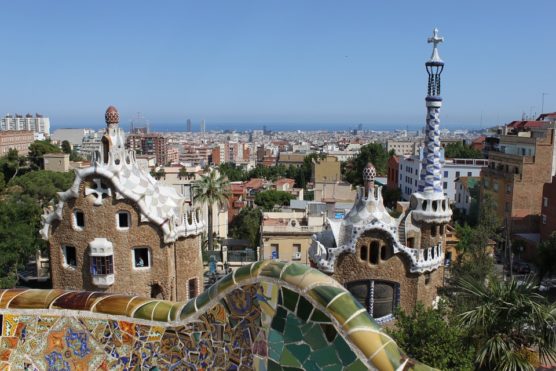 Sagrada Familia
Of course, we can't skip one of the main sightseeing spots in Barcelona – la Sagrada Familia. Now, we know it's a cathedral and that's not really something that you will normally consider to do with teenagers. However, Sagrada Familia is just unmissable stop during your family holidays with teenagers. It's often called ''Gaudi´s masterwork''.
❧ We advise buying the tickets online to avoid the queues and its inside that will leave everyone speechless.
If your teens or you don't suffer from vertigo or acrophobia (fear of heights). You can also include a trip to the tower, to see the amazing views from the top.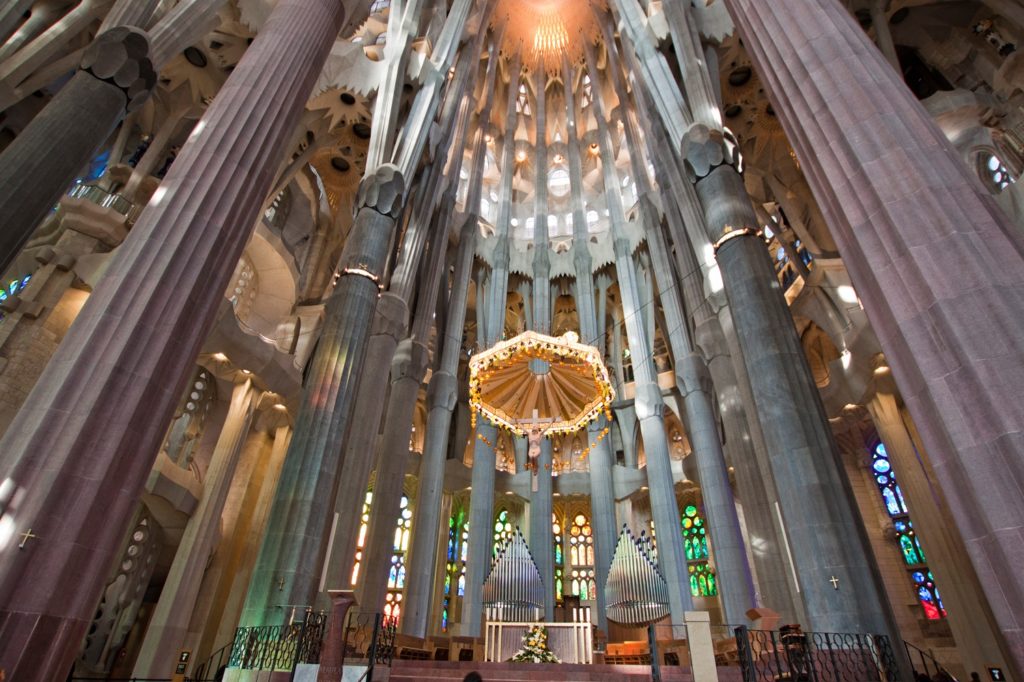 Museums in Barcelona for teens
Chocolate Museum
We know we won't impress your grown-ups with a historic museum but check out these ones.
What about a museum of the chocolate? Well, to be honest chocolate is for everybody, so that's a great plan for the whole family. This museum is a special one. It's less about the history of the production of the chocolate. Instead, you will find, chocolate statues of Messi and Yoda among many others.
❧ Tip: The museum offers some very interesting workshops and classes worth to look at. Although, they must be booked in advance.
Nou Camp
That's something that everyone will be amazed with. In Barcelona, you will find the world-famous Football club which has a spectacular sports area and an interesting museum. Who doesn't want to visit the field where famous matches had been played? Buy your tickets ahead of time to avoid lines on your arrival.
❧ Tip: check out the time schedule of Barcelona, because they often tend to change times or if there's a match that day, it doesn't open at all.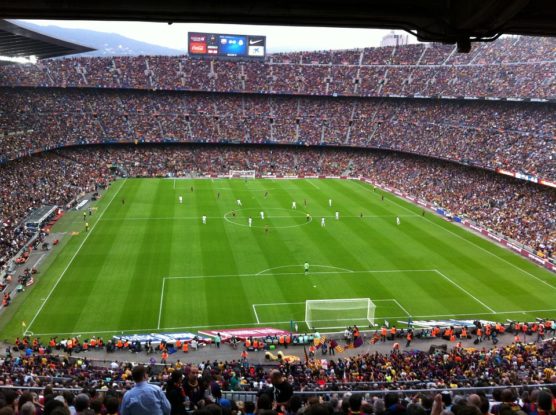 Aquarium
If you are in Barcelona, a plan everybody will love to discover is the underwater world. The aquarium is split into a few different sections to help explore as many species as possible. One of the main features that it offers is penguins (everybody goes crazy about those mini creatures) and for the bravest ones swimming with sharks. Yes, you can dive with the sharks like a real diver. But don't worry, for your security & safety, you will be locked in a metal cage.
Here is where you can buy tickets and find more info!
Of course, while in Barcelona you should explore the Ramblas, the Gothic Quarter – the hippie part of the city and the beaches as already mentioned are a no-brainer!
Hereby, we attach more information on what to do in Barcelona.
Our theme park destinations are:
Paris
To be honest, Paris can perfectly go into the city-break section as well, but our main topic will be…DISNEYLAND! Yes, who doesn't love it? Little ones, 15 years old, 20 years old, 35+ years old…hands down the majority of people have it on their to-do list! It's the ideal plan for your family holidays with teenagers.
Disneyland
❧ Tip: Spend at least 3 days in Disneyland so that you have enough time and you don't rush it through. That will give you a chance to explore all (or nearly all) the attractions and rollercoasters. Also, you should know that even though there's somebody among your family who isn't a fan of the rollercoasters, Disneyland is much more than that. The whole park is a fairytale where you will pass by fairies, pirates and get inspired by the Disney princesses. There are also many restaurants and eating venues that are out from a tale.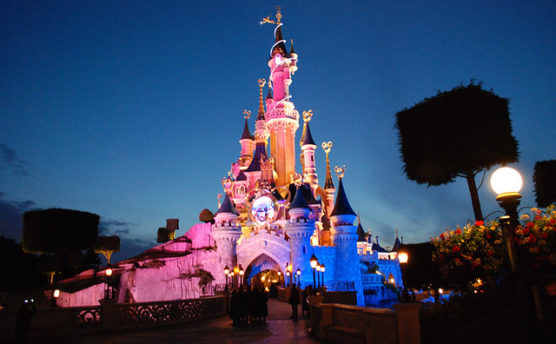 While you are exploring all the different sections, we advise you to leave Fantasyland for the evening. Your teenagers will feel like a prince or princess in this one. When the sun goes down, the entire castle and the rides within Fantasyland get lit and turn into a magical place. Also, the good part is that families with small children have already gone, and the queues are significantly shorter. In that way, you will have time for all the carousels, teacups and the Dumbo ride!
Disneyland is Disneyland, but also let's not forget that it's located in one of the most beautiful cities in the world.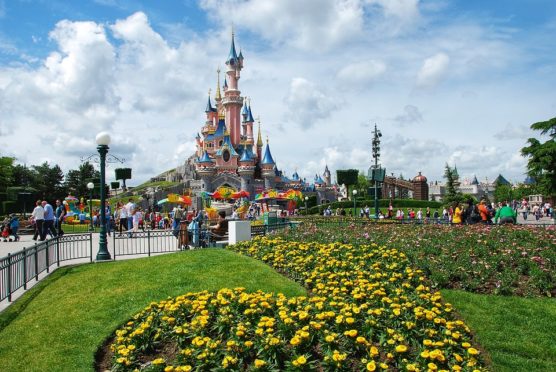 Even the stroppy teenagers won't be bored in a city like Paris, because Paris has it all.
From a river cruise on Seine river to the world famous landmark of Paris – the Eiffel Tower and the Louvre Museum, there's something for everybody. If you have more time in Paris, check out the ultimate travel guide.
Tenerife (Canary Islands)
Another one of our theme park destinations is Tenerife. Your teenagers will be proud to say that they've been in Europe's Nº1 water park – Siam Park which is voted the best park in the world for a fifth year in a row. The park offers everything from relaxing to adrenaline and time with the family.
❧ Tip: more adventurous can ride the water slide that goes through a shark tank. On the contrary, you can relax by the wave pool.
There are also eateries inside the park where you can enjoy a meal after you've wasted all your energy on the attractions.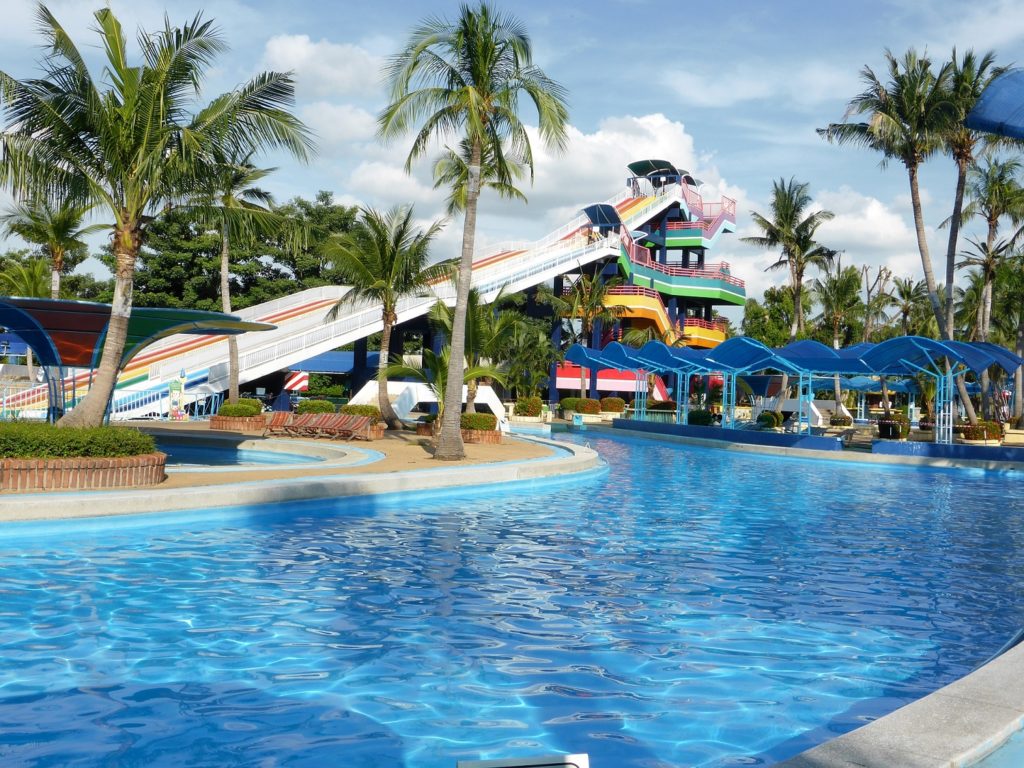 Moreover, there's plenty to do in Tenerife. We already know that the safe bet when going on holidays with teenagers is choosing a beach destination. Tenerife offers world-class beaches where you can relax, sunbathe, go diving or practice a water sport. For some of them, the sand has been imported from the Sahara desert.
Nonetheless, we always think that things should be balanced. Therefore, a hike to the Teide volcano in the National park of the same name is essential. Also, after that, you will be able to say that you've climbed the highest mountain in Spain.
If your teenagers are all about the Social Media and like ''Instagrammable'' places, have a tour around the most breathtaking spots in Tenerife.
Also, if you want to know more about what to do in Tenerife, click here.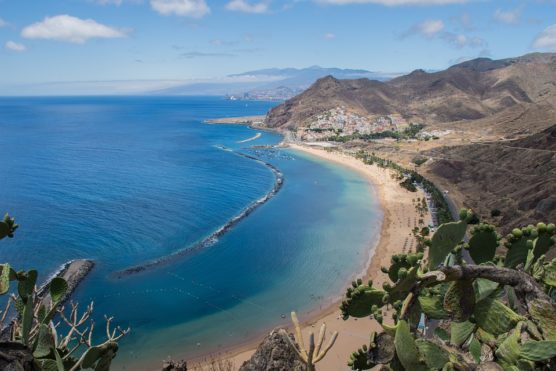 Our island destination for family holidays with teenagers is:
Mallorca
Mallorca has been known as one of the best family destinations with teenagers for years. The beaches of Mallorca are just a small reason to visit the island.
The biggest of the Balearic islands is a combination of pristine nature, great local food, a variety of sports activity and of course, beautiful coastline with amazing beaches. If you want to go to an island with a tropical feeling but can't afford to travel to the Bahamas, Mallorca is close to home and in any case, isn't less beautiful.
In fact, many people from all over the world, are flying over miles to visit this Spanish gem.
Make sure you spend enough time on the island so that you have time for all the activities on your agenda. On the other hand, we will make sure that you are staying comfortably because we have over 1900 family-friendly houses, villas and apartment for rent to choose from, located all over the island.
Palma de Mallorca
Teenagers would like to start by exploring the vibrant capital of the island – Palma de Mallorca. Palma de Mallorca has many shopping venues, sightseeing spots, bars and restaurants, and preserves a lot of history and culture. It's a boredom killer and it's an easy way to let your teenagers fall in love with the island and make them want to explore more of it.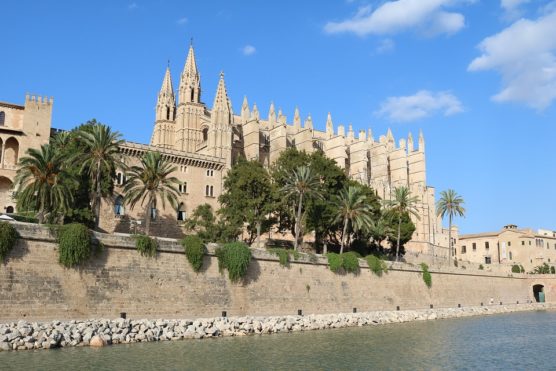 Paddleboarding
When approaching the coastline you can choose from thousands of sports opportunities such as snorkeling, scuba diving, surfing.  
❧ Tip: Our favorite is paddleboarding in the Bay of Alcudia. It's an easy sport that can be mastered from everyone for a short period of time and it's a good way to stay on the turquoise waters of Mallorca. The Bay of Alcudia is the most appropriate place because the sea is usually calm there, almost all the time. You can book lessons in the Port of Alcudia.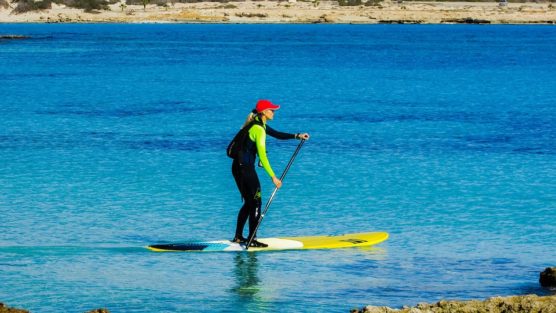 Cycling in the Sóller Valley
If you want to explore the inner part of the island during your family holidays with teenagers, did you know that Mallorca has excellent cycling routes?
Cycling can be a lot of fun and it's a faster way to get around. On top of that,  there is a big variety of cycling routes so that you can choose the best one for your level of fitness and ability.
You will be riding through olive and almond groves in the countryside but you will also get a feeling of the Tramuntana mountain and the coastline. That's why we love this activity and we think it's great for your holidays with teenagers.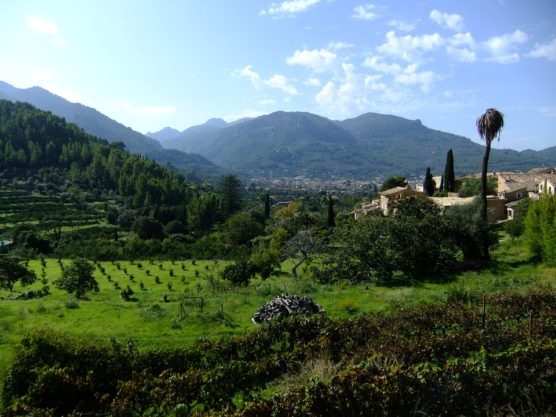 In addition, Mallorca is known for its Mediterranean cuisine. You can try a large number of seafood and local dish specialties that will enchant everyone. If your teenagers don't like it, then they can always opt for restaurants with more international food offering. Hereby, we leave you a list with the most Instagrammable cafés in Mallorca – a plan your teenagers will love!
Also, check out the 3-day itinerary of Mallorca, so you are up to date with everything going on the island.
Our nature theme destination for your family holidays with teenagers is:
Hiking in Sicily
There are many destinations with beautiful nature but we've picked this one because it has great trekking trails but also a beautiful coastline where you can rest up afterward. It's also very easy to get around as it has a very good transportation system. In addition, not many countries offer such a wide gastronomic offer and we know teenagers love pizzas, different kinds of pasta, gelato and many more food treats.
❧ Foodies, check out the best places to try traditional Sicilian cuisine.
Many relate to Sicily as a beach destination but you are quite wrong with this one! Sicily has well-signed hiking routes and the Etna volcano make it a special and unique place to hike. Thus, even though teenagers aren't the biggest fans of trekking, tell them that you are going on top of a volcano and see how their eyes will start sparkling. In that age, such an adventurous activity will make them think they look so cool for going on top of an active volcano. We definitely recommend checking it out during your family holidays with teenagers.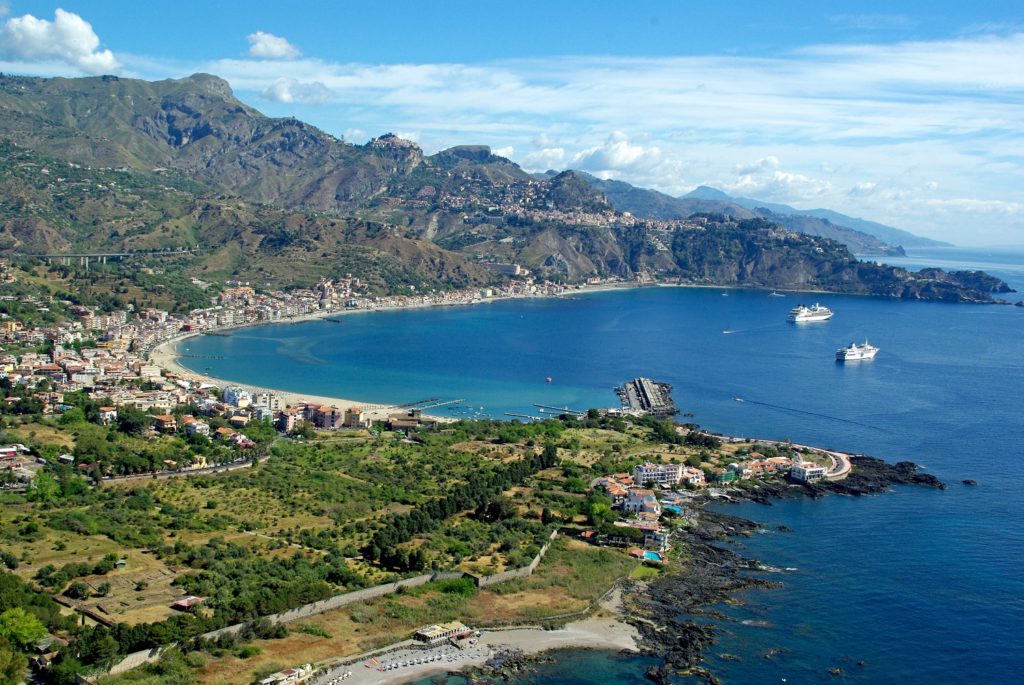 Our favourite hike:
Mount Etna rises to almost 11.000 feet into the sky. It's also one of the first things you will perhaps notice when arriving on the island. It's an active volcano but it erupts sporadically. There are almost 20 trails leading to the top of the volcano with different difficulty. For inexperienced ones, the easiest way is from Sartorius Mounts.
❧ We also recommend the entire Move Valley trail. On the other hand, you can hire a guide and go by bus or a cable car.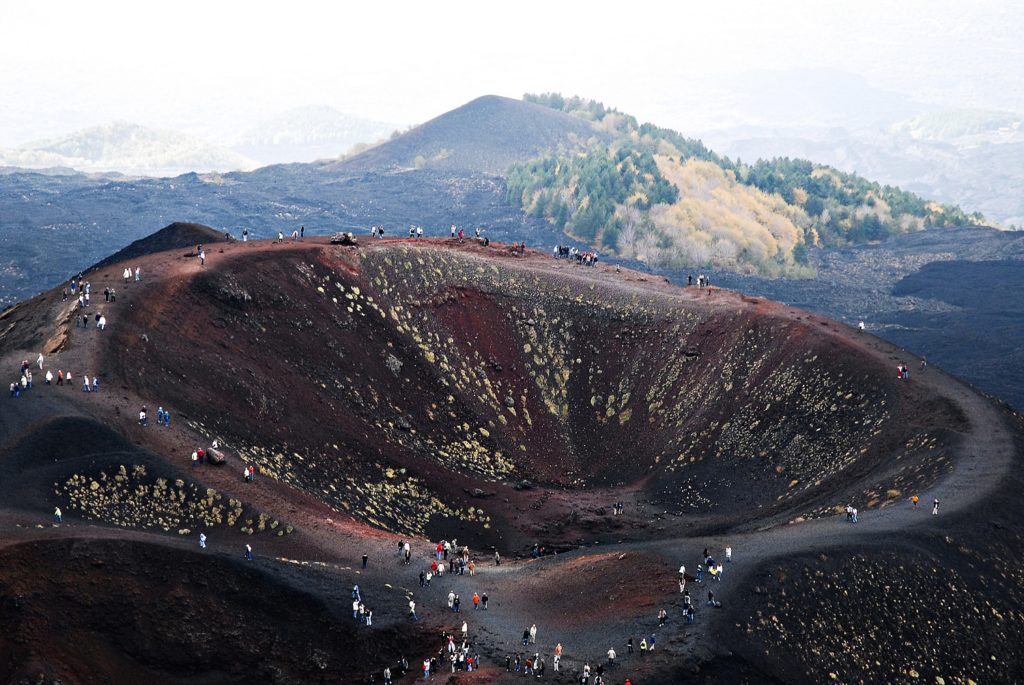 Besides hiking, there are many other things that can be explored and done in Sicily, for example, have a look at things to do in Sicily in 5 days or the best beaches where to relax after a strong hike.
These were our top destinations & activities that you should do on your family holidays with teenagers. We hope that we've been helpful with our tips and that you will be able to fully enjoy your vacation even with the most reluctant teenagers. Remember! This is just a period of time that everybody went through, so keep calm and Book a holiday, to keep your worries away!