When it comes to traveling, everyone wants something different; a family holiday in a cozy and luxury holiday rental on the Costa del Sol or a romantic holiday with the loved one, a city trip with friends. Everyone has dream trips. Deep inside, everyone wants to enjoy life without worrying once in his life. What are the most luxurious destinations? Read below because we have the top 7 luxury house rentals for you.
Forget about your daily activities for now, and dream away at these beautiful luxury holiday rentals.
Our top 7 most luxury house rentals
Villa in Santa Eulalia des Riu, Ibiza
If you think of the combination of luxury and joy, Ibiza is something that immediately comes to your mind. This Spanish island has the most luxurious parties and beach clubs. In other words, it's the place where everyone wants to be! But it has so much more to offer: enjoy high-class wines and Spanish tapas while contemplating the beautiful sunsets over the horizon.
Stay on this beautiful island at Villa Santa Eulalia des Riu. The villa is located in a quiet area so you can fully relax and recover during your vacation. This villa has more than enough space for 10 people to enjoy just pure luxury. Dream away over the edge of the infinity pool while watching the sunset. As soon as the temperature slightly cools down, you open the bottle of expensive champagne and move to the jacuzzi, so that you can chill out for the day. Then the day can be finished on the way to your queen-size bed!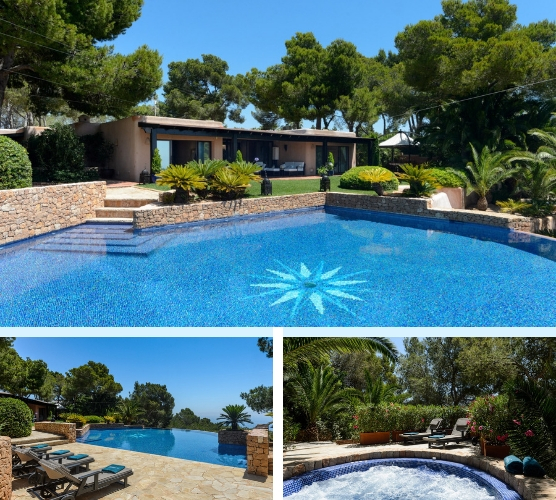 Luxury Villa in Paderne, Algarve
If you are seeking sun and you like soft sandy beaches, tasty seafood, spectacular landscapes of cliffs and bays, then it's no wonder why you want to spend your holidays in the beautiful region of Algarve.
If you thought it can't get any better, then you probably haven't seen our villa in Paderne. It's interior is fresh and modern, furthermore, it has the capacity of 12 people distributed in 6 bedrooms. You can enjoy a glass of wine under the shadow of the veranda and when it cools down, you can move to the pool area. If you get bored (which we doubt) you can play table tennis or foosball with your friends. So, who else are you taking to paradise with you?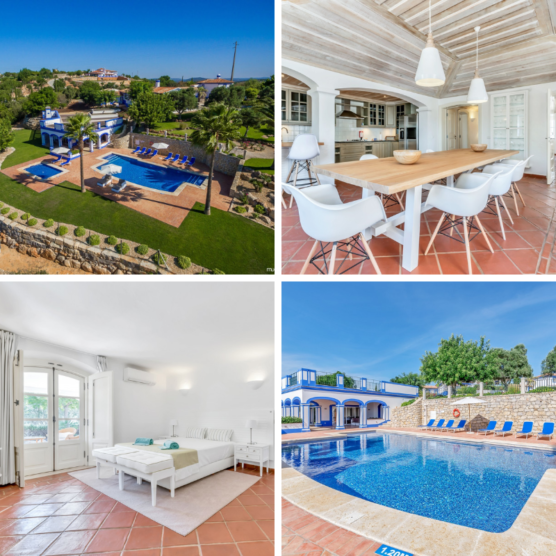 Villa in Positano, Italy
Positano, located on the Amalfi coast is a great combo of Italian food, mountains, and a clear blue sea. Every celebrity has spent a vacation here: writers, actors, Beyoncé, George Clooney, and of course you can also fit in this list.
We know, therefore, Positano is screaming out of luxury, especially when we mention accommodation facilities. We offer a range of luxury house rentals at Muchosol! One of the nicest accommodations is a villa, situated in less than a kilometer away from the beach. Fully equipped and you definitely get value for the amount of money, you pay!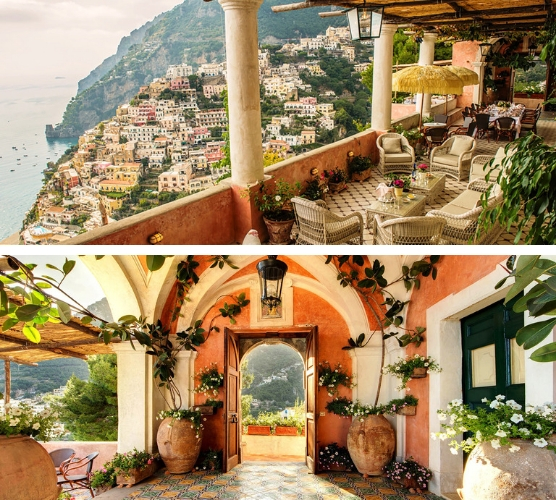 If this isn't your dream villa,  see what else we offer in the region.
Villa in Portiragnes, France
In the south of France in the French Riviera, near the city of Montpellier, it's located the small village of Portiragnes. This area of France has everything: it lies at the foot of the Pyrenees and the Mediterranean, thus has plenty of opportunities for fun activities.
Luxury houses are houses where you can go at any time of the year. The nice thing about this house is that because of its location, you can really enjoy all the seasons. Just imagine: in the summer, you have a baguette with brie and a glass of white wine and in the winter, you warm up with a glass of red wine and a cheese platter. Because let's be honest, if you want to eat well, you go to France. In the end, don't forget the beautiful surroundings that France can offer!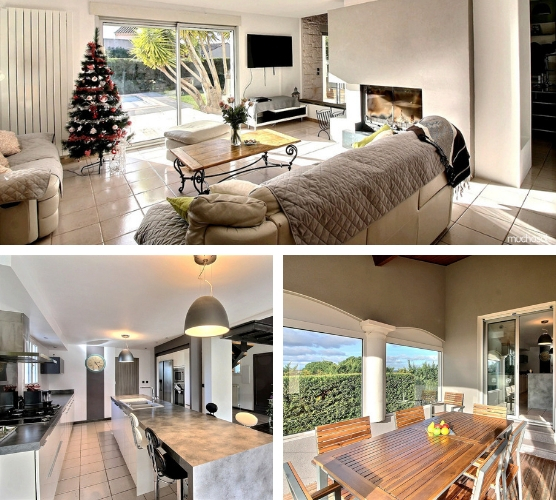 Villa in Marrakesh, Morocco
Morocco is a country, that unfortunately is still underestimated. It's a very beautiful and safe country, situated in North Africa. An emerging tourist destination in Morocco is the blue city of Marrakesh. The many colorful palaces and gardens full of flowers are great to visit. Drink herb tea and try out the tasty and special Moroccan cuisine.
In Marrakesh, among the many luxury house rentals, you can find a real palace, which you can rent with Muchosol! A beautiful villa, that can suit up to 22 people. If you stay here, you will certainly feel like a ROYAL! Just don't get confused which room belongs to who!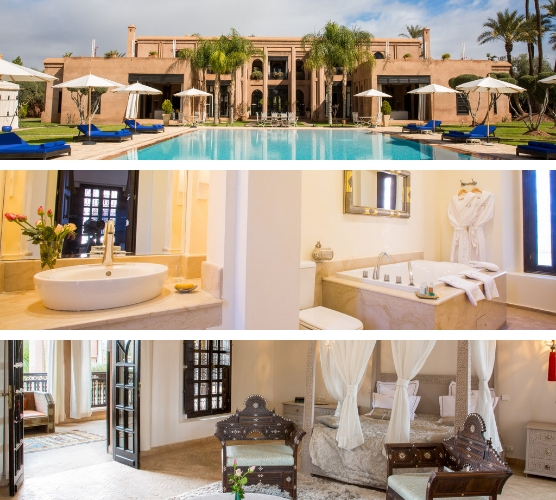 Villa in Marbella, Spain
In the south of Spain, in the Andalusia region lies the touristic town of Marbella. Marbella has been known for years as one of the most famous holiday destinations in Spain. Wander through white streets, full of flowers while trying to get tanned. Take photos to share them on Instagram and have fun! The villa for you, you will find in Elviria. Enjoy a dip in the pool or work out that body in the gym. Then, you need to relax in the spa and get ready for the next day of sightseeing!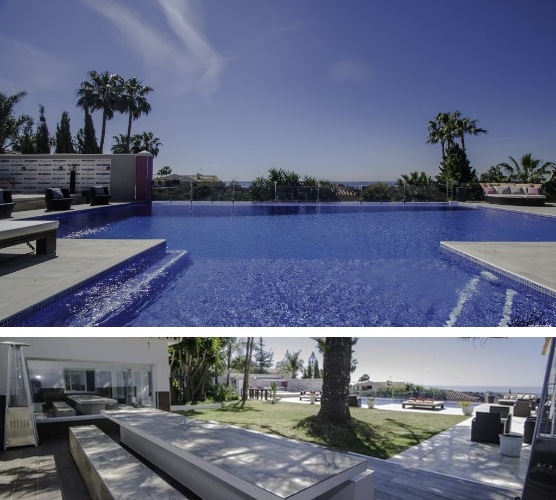 Villa in San Bartolome de Tirajana, Gran Canaria
Would you like to go even further away, and you secretly love the Spanish culture? Then Gran Canaria is the destination for this summer with a lot of luxury house rentals disposed on your needs. Unfortunately, we had to pick just 1 and the choice was very difficult. 
You will find this beautiful villa In the capital of Maspalomas. It comes with a private tennis court, for the luxury lovers among us. The villa has a beautiful indoor and outdoor kitchen where you can prepare nice meals for the family dinner. However, it would be a shame not to discover all the nice restaurants. Have a look in our travel guide, the best restaurants in Gran Canaria.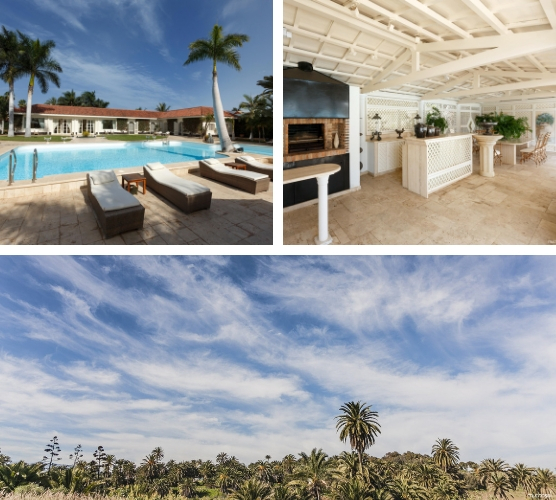 Do you want to go on holiday? You can never start dreaming too soon.
Are you ready to enjoy a wonderful holiday? Give yourself a little luxury escape in one of those luxury house rentals!  In case, your dream luxury holiday rental wasn't on the list, search in our web for more options. If you ever find it difficult to choose what you want to take with you, then read our checklist for a short city break. Traveling alone can be hard the first times but read our travel guide with tips for when you are traveling alone so that you can overcome your fears. Lastly, we wish you nice trips!