Have you ever wondered what's to live back in those days, how people dressed, what they ate, what's their lifestyle? Travel back in time is now possible! We will go through a couple of medieval festivals where you will be able to get a sense of the Middle Age. Sounds fascinating? Don't miss to join us on this adventure!
Medieval Festivals: Mystery in the Middle Ages
First of all, what are the medieval festivals and why did they appear?
The medieval festivals emerged in the Middle Age. They were the place where people from all walks of life gathered in order to exchange products and goods. Their main purpose was trade and they existed since the commerce started as an activity between people.
In those times, the difficulty, the lifestyle and the undeveloped infrastructure made the medieval fairs pretty much the only place where people could buy things from first need. Back then, everyone was very excited when there was an upcoming medieval market. Sometimes, a medieval festival could last for more than a month.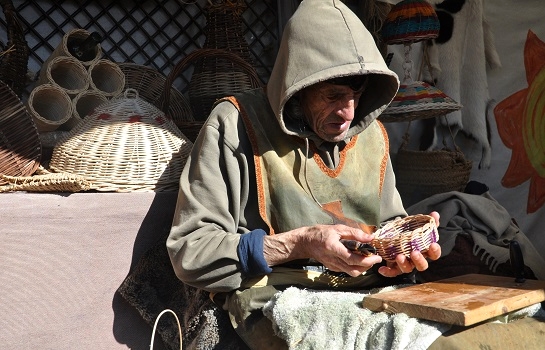 Medieval Market in Córdoba
Every year at the end of January for about 3 days, Cordoba turns into a Middle Age field where the history is recreated once again. The place of the medieval market in Cordoba usually is different each year. In 2019, the medieval fair was held in the area around Calahorra Tower, right next to the Roman bridge and the Guadalquivir River.
By joining the festival next year, you will experience how people lived back centuries ago. There will be trade people wearing traditional customs selling handcrafted goods. Besides the opportunity to buy a product, you will be also able to contemplate the whole process of how those products are made from scratch. On the other hand, there is going to be food vendors where locals have prepared dishes from authentic recipes lasted centuries back. The choice is abundant – from sweets and homemade honey to sausages, cheeses and drinks, you will be able to truly indulge in the Middle Age atmosphere.
▶ Nonetheless, you can enjoy different spectacles, raptors exhibition, juggling, magicians, music and dances.
▶ Do you want to know more about the market?
Well, it's celebrated since 2001 and the market became one of the most important cultural activity in the Cordoba's calendar. In 2014, a Roman market had been recreated so that people can experience another era. However, the focus on this year's market was again the Middle Age.
Are you coming next year? Don't forget to check out frequently this website for the dates in 2020.
El Alamo Medieval fair (Community of Madrid)
Each year, around the end of April and the beginning of May (dates change every year) for 5 days, the streets of Alamo celebrate the only medieval festival of a Regional Tourist Interest.
The medieval market has begun in 1996 which attracted visitors from the Community of Madrid. It started with just 25 artisan stalls but due to its success, the municipality has decided to expand it. Now, the market is nearly 2 km long with 200 artisan stalls and activities and it counts with more than 60.000 visitors each year from all over Spain.
Besides trying samples of food, typical from those times such as honey, bread, cheeses, the market offers much more. There are more than 100 artists that entertain the audience with street theatre, circus, music and authentic workshops. This is a medieval market where dragons, goblins, fairies, nymphs, witches, monks and jesters gather to afford an unforgettable experience to both visitors and locals.
Moreover, this market organizes workshops for children with a puppet theatre and storytellers. In addition, we recommend visiting the Celtic labyrinth with your toddlers that they will absolutely adore.
▶An experience not to be missed out
Probably one of the most unique events during the market is the ''Torneo de Justas'' (a Fair Tournament) where specialists recreate a show of equestrian and pyrotechnics show. It was inspired by the forbidden fairs from the Catholic church in the XV century.
The most grandiose part is the duels on horseback with a long spear of wood and shield. Also, if you are visiting the area, Madrid should be on your list! Check out these free activities that you can do while staying in the capital of Spain.
The Ribeauvillé medieval market (Alsace region)
It's never too early for Christmas. Now, all the Christmas lovers, you will adore that! Ribeauvillé Christmas market in France isn't like any other market around Xmas time. Besides food and drinks, this market also has a medieval aspect. First of all, Ribeauvillé with its tower, ramparts and three castles has their origin from the Middle Ages. The advantage of going there during Christmas is that everything is decorated with lights that also adds a fairytale aspect to the town. Moreover, you can witness fire jugglers or animations of rogues, yokels, dancers, strolling players. While enjoying the spectacles, of course, don't forget to indulge in the French artisan gastronomy consisting of salt and sweet delicacies, boar on the skewer accompanied by a beer or mulled wine. To gain a further idea of what to try while in Alsace, read this guide.
This Christmas market is a real medieval show for both young and old.
Chesterfield Medieval Market
Step back to the Middle Ages with the Chesterfield Medieval Day. This market will be held just for a day on the 30th of July, 2019 from 10 am to 4 pm.
It will take place in the Market Place where various stalls will sell goods and delicacies. There is also something for the little ones. In the Market Square, there will be a Funfair with a range of rides, sideshows, and games for the toddlers.
Don't miss out the event where Britons recreate battles between knights in the Medieval encampment in front of the Crooked Spire Church.
▶Tip: Climb up to the top of the tower where you can contemplate the knights battle from above + you will enjoy some fascinating views of Chesterfield.
Entrance fee: Adults: £4; Children £2.
Also, during that day, children will love to meet with the medieval hero, Robin Hood in the Chesterfield Museum. 
Monteriggioni di Torri si Corona Medieval Fair
Monteriggioni di Torri si Corona (in English, "Monteriggioni Crowned by Towers" ) is a medieval fair (in Monteriggioni) that takes place in July for two long weekends in a row or that makes a total of 6 days. During the years, it turned out to be one of the most popular events in Tuscany and the location is just idyllic. The region is worth exploring at any time of the year but visiting it during the medieval festival is even better.
Furthermore, it is among the oldest medieval festivals in Italy that brings many people and media all together.
Streets get filled with craftsmen, people wearing traditional medieval costumes, knights, dancers and musicians.
▶The best part?
Visitors can exchange Euros into the local currency from the Middle Ages called ''Grosso''. In that way, people will be able to buy food and goods from the medieval shop, located inside the castle.
For more info, click here.
Explore one of Italy's oldest festival by staying in Tuscany
The Middle Age attracts more and more people nowadays. It is fascinating to see how people lived centuries ago, to be precise between the centuries V and XV. One of the most popular forms of memorizing that epoch is the medieval markets. These were our suggestions of medieval festivals in Europe. Have you ever visited one? We will be excited if you share your experience with us!