The gastronomy of Mallorca is very diverse and follows the Mediterranean diet. There are numerous options, so you have a choice: on the coast, you will find delicious fish and seafood. In the interior of the island, you can try the typical stews and sausages. With traditional dishes and typical products from the island, you can be assured of an authentic experience. We are going to look at the place where everything comes together –  Pollensa! Let's take a look at the Mallorcan cuisine with its specialties and our selection of the best restaurants in Pollensa. Let's not even talk about the desserts… ?
Restaurants in Pollensa that will make your taste buds go wild
La Placeta
This traditional Mediterranean restaurant is exceptional, both in service and in food. On this terrace, you will be served with a smile and any doubt of yours will be kindly explained. In addition to dishes and specialties is abundant at La Placeta!
It's located on a somewhat secluded square so you can enjoy some quality time with the family. The menu consists of dishes from local Mallorcan cuisine; such as paellas, risottos, fish and meat. There is also a menu for the little ones and there are a dozen of delicious desserts.
? Try the coca mallorquina, or the coca de trempó, typical of the Balearic Islands. This is a thin dough, richly covered with vegetables such as tomato, pepper and onion. It's baked in the oven and seasoned with olive oil, vinegar and salt.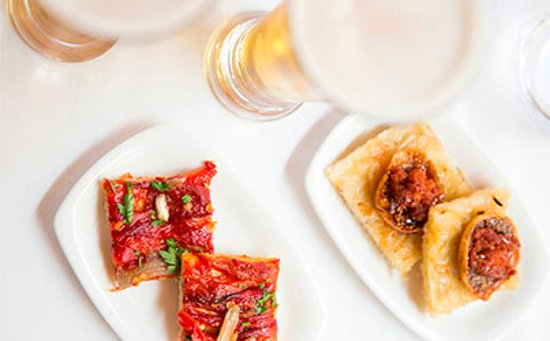 ? Plaça Sant Jordi 29, 07460 Pollença
⌚ Tue-Sun from 12:30 – 23:00.
? + 34 680 19 85 64
Celler el Moli
Good quality for cheap prices in one of the best restaurants in Pollensa. At Celler el Moli, you can enjoy a delicious menu for about 15 euros per person including a drink! The menu consists of local dishes with tapas, paella and meat. The atmosphere is wonderful and the service is friendly. This is a favorite place of the locals, that says enough right?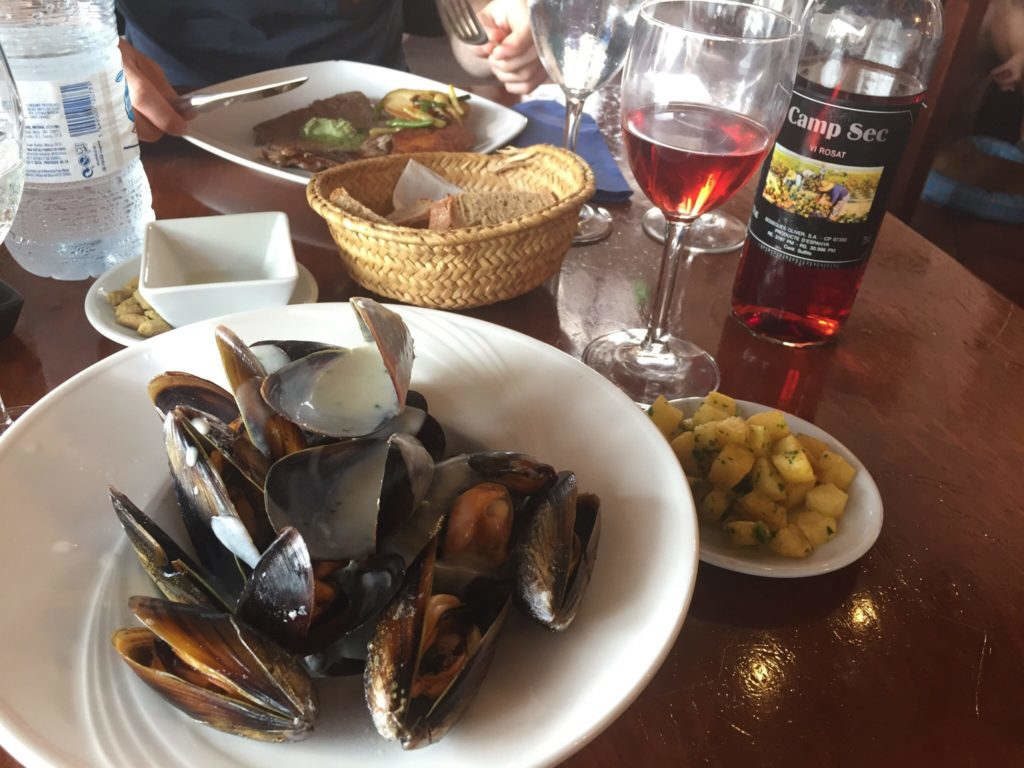 We recommend making a reservation in advance because it's always fully booked; both by tourists and locals. Without a reservation, you have to be lucky then in a place like this. But it's definitely worth taking a look!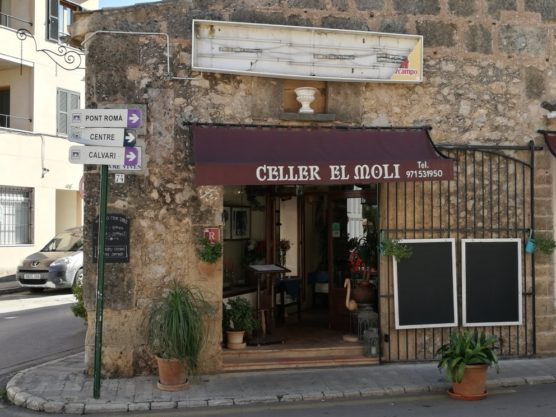 ? Carrer del Pare Vives 72, 07460 Pollença
⌚ Mon-Sat from 12:30 – 15:30, 18:30 – 22:00 and from 12:30 – 15:30.
+ 34 971 53 19 50
Q11
Q11 Restaurant is one of the greatest restaurants in Pollensa located on the main square of Pollensa, slightly more expensive but of good quality! During a delicious lunch on the terrace, you can enjoy the many options of tapas, but there are also delicious salad options. All in combination with a refreshing sangria!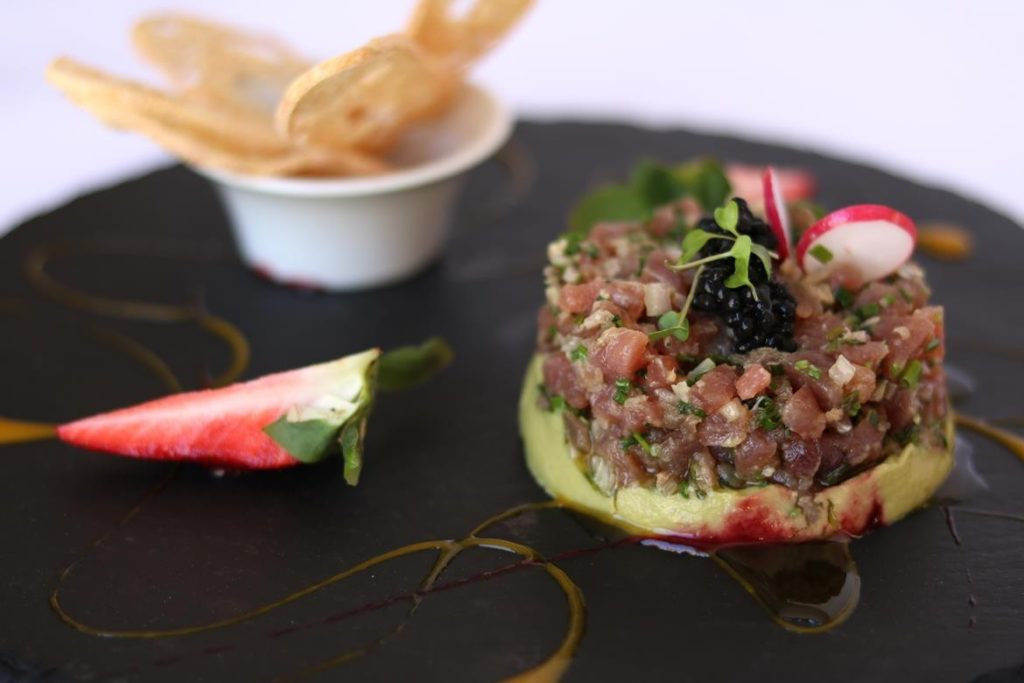 Q11 stands for a unique culinary experience of high quality, with its own products from the land or from the sea. Q11 is a fusion of different international cuisines that made it an appropriate place for everyone.
In addition, there is a wide selection of wines for wine lovers. Majorcan, Spanish, Italian, French … you can also attend a wine tasting or simply enjoy a delicious glass during your lunch or dinner.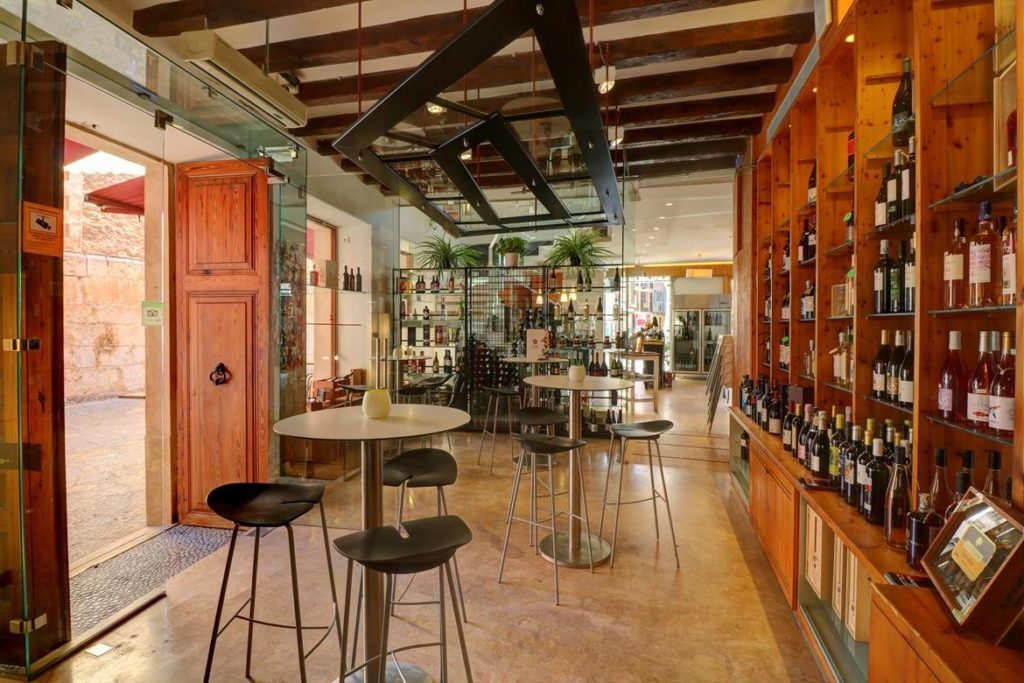 ? Calle d'Antoni Maura 11, 07460 Pollença
⌚ Sun – Thu from 10:00 – 22:30 and Fri – Sat from 10:00 – 23:00.
+ 34 971 53 02 39
Our choice of the best restaurants in Pollensa continues…
Ca'n Moixet
Breakfast, lunch or dinner, Ca'n Moixet is the right choice for any time of the day. You have sandwiches, burgers, salads and a wide selection of tapas. The service is fast and friendly. This is again one of the locals' favorites. Inside, it's a cozy place with a fireplace burning in the mild winter months. But, on the spacious terrace which is in front of the church on the main square of Pollensa, you can enjoy the sun in the summer months. ?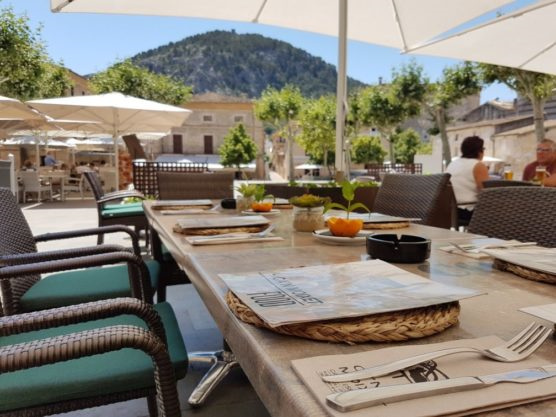 ? Try the Pa amb Oli here, another typical dish of the Balearic Islands. At Ca'n Moixet, you can try different variations of it. The bread is toasted and covered with the typical Majorcan tomato, it' slightly smaller, salty and bitter tomato than the regular tomato. Flavored with salt and olive oil.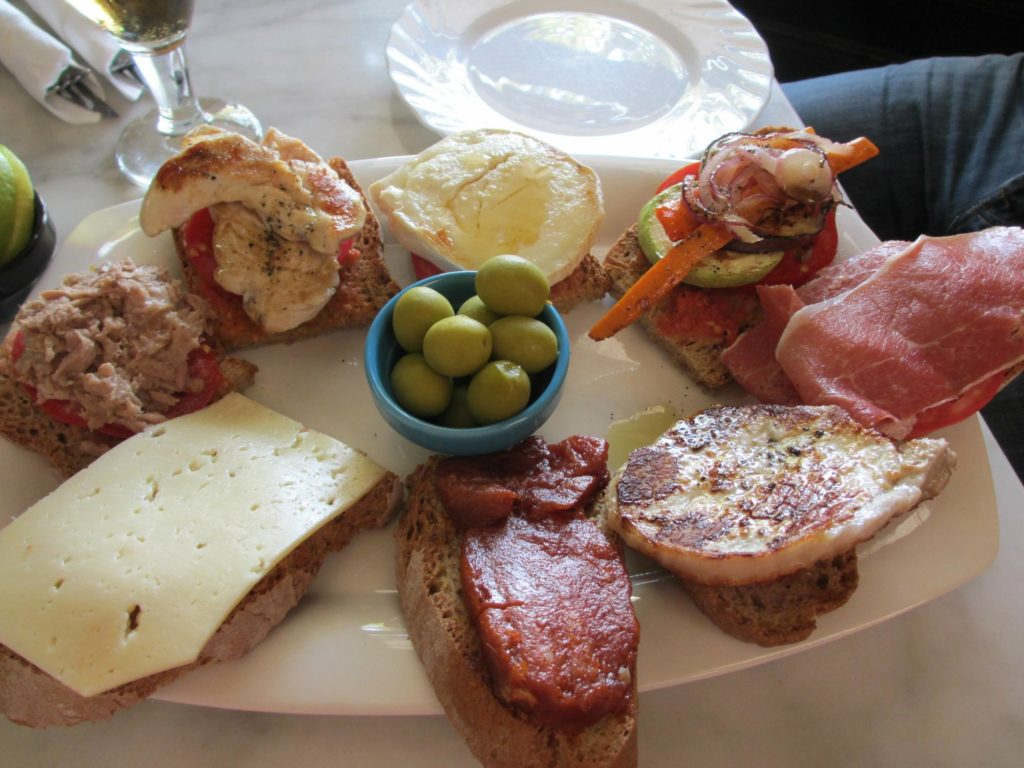 ? Plaza Major 2, 07460 Pollença
⌚ Mon-Sun from 7:00 AM – 1:00 AM.
? + 34 971 53 42 14
U Plaça
You can go here at any time of the day as well. U Plaça has a large menu with delicious dishes full of fresh and seasonal products from Mallorcan soil. Making a choice can be very difficult because you can enjoy a full breakfast from typical Mallorcan dishes, Basque pintxos, fish from the Bay of Pollença, and delicious desserts!
? We suggest fresh pancakes with fruit.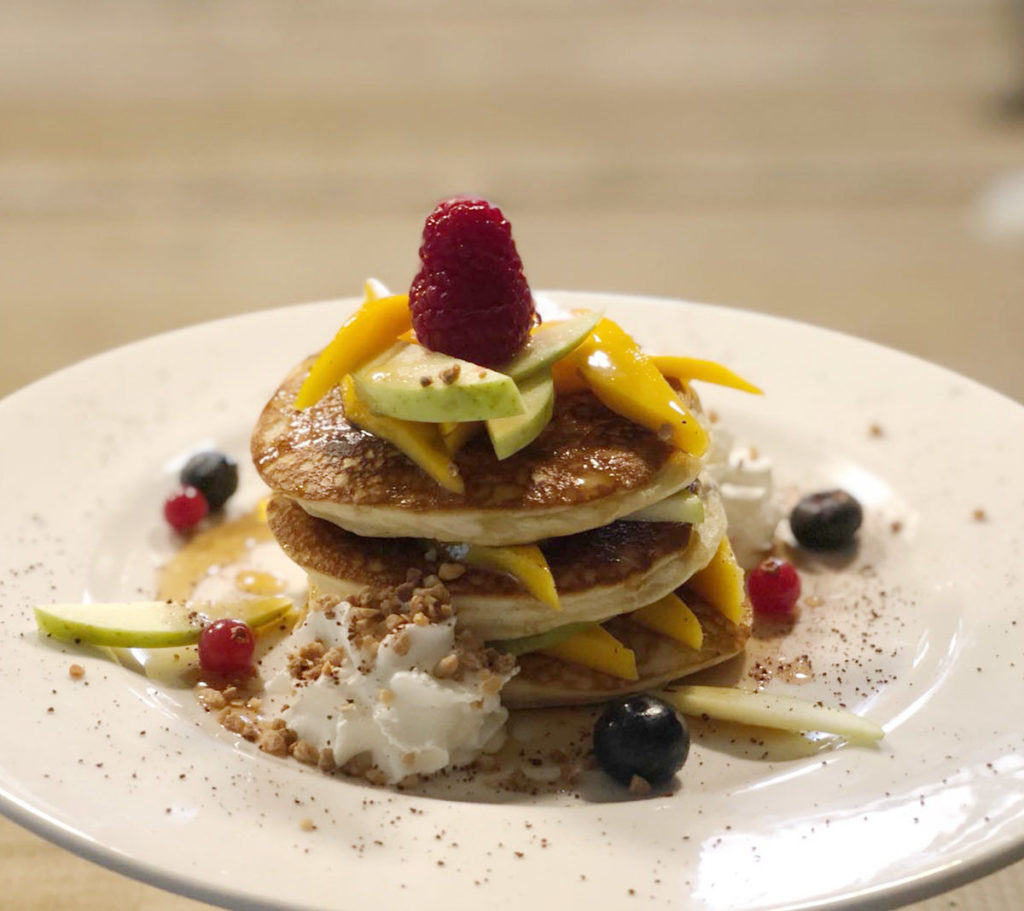 This attractive tent is located on the Plaza Mayor and has a sunny terrace and cozy interior with comfortable furniture and nice wall coverings. On top of that, the wines are also very good!
? Plaza Major 4, 07460 Pollença
⌚ Thu – Tue from 10:00 – 01:00 and Wed closed.
? + 34 971 87 62 06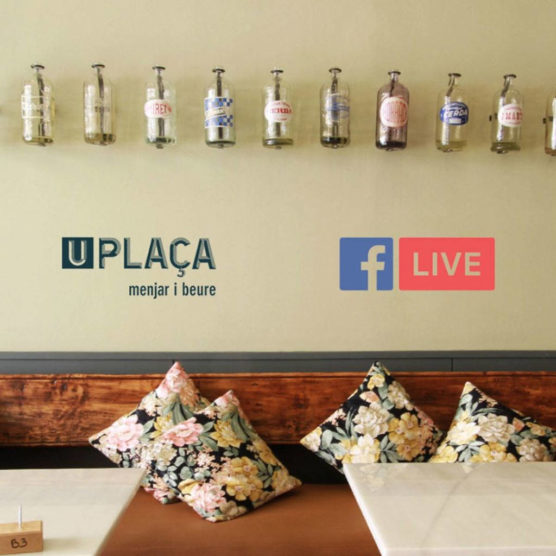 Cafè del Calvari
A very popular chain in Pollensa is Grup Calvari with various restaurants in the city, but we are now talking in particular about Cafè del Calvari. A cozy café located at the start of the stairs of el Calvari, a staircase of 365 steps that climbs to the oratory at the top of the mountain. El Calvari is one of the most characteristic places of Pollensa and from the top, you have great views over the city and the port of Pollensa.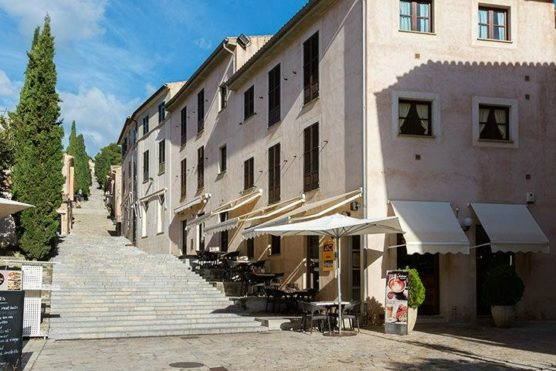 While there, you can enjoy a delicious lunch or dinner with sandwiches, baguettes, tapas, salads, kinds of pasta and variations of the typical Mallorcan Pan Amb Oli.
? Try the ensaimada here, a typical pastry from Mallorca. A sweet and softly baked sweet typical of Mallorca, it's occasionally filled but the traditional Mallorcan version isn't filled.
? Calle Ombra 6, 07460 Pollença
⌚ Mon-Sun from 8:00 AM – 12:00 AM.
? + 34 971 53 26 93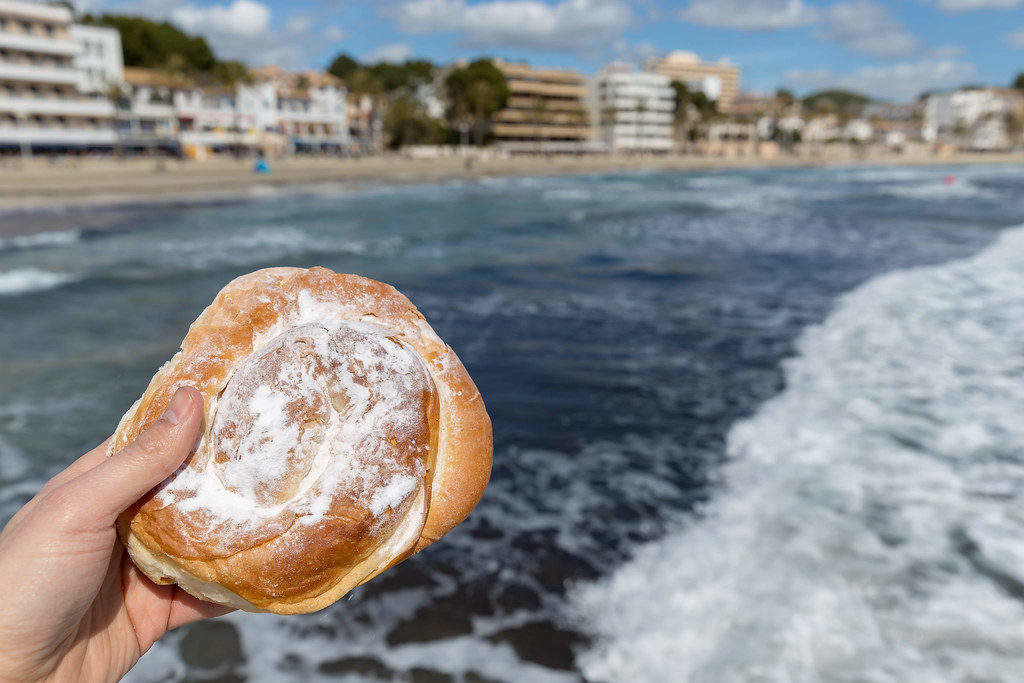 View all accommodations that are waiting for you on Mallorca.
This was our selection of restaurants in Pollensa that will enchant your taste buds. Have you ever eaten in one of these restaurants? What did you think of our list? ? If you are already planning your trip to this foodie heaven, discover the best beaches in Pollensa. Is the rich gastronomy not enough to persuade you to visit Mallorca? Then check out things to do in Mallorca for 3 days and the most charming places of the island.